Is anyone else totally miffed that Killer Frost was killed? Hunter iced her for goodness sakes!
Why did all the good Earth-2 doppelgangers have to be killed? Couldn't they have lived to fight another day?
At least Caitlin had a little alone time on The Flash Season 2 Episode 19 with Killer Frost before she was erased from the earth. 
Doppelgangers are so much fun, and it was obvious Danielle Panabaker was having a great time playing off of herself as Caitlin and Killer Frost. Killer seemed to take some inflection lessons from Captain Cold, don't you think?
The two girls shared some a history and weren't far apart in personality, but Killer Frost couldn't resist the urge to double cross Cait when she realized Hunter onlhy kept her alive because they looked alike. That just stinks.
Otherwise, there was a lot that I appreciated about "Back to Normal," even if the overall storyline wasn't all that compelling. My favorite scene came at the very beginning when Harry lashed out at Barry, literally pointing his fingers at him for being responsible for their current situation.
Joe: And without your speed, there's no way any of us can get through that breech Cisco found at the hospital. I just don't think there's anything any of us can do right now.
Harry: That's right. And that's on you, Al.
Joe: Enough. We're all suffering here.
Harry: That's right, Detective. We're all suffering. We've lost Snow, you've lost your speed and now? Ha. Now Zoom can come through that breech any time he wants. And that, Allen, That's on on you!
Iris: Hey, that's on all of us. We made these decisions as a team.
Harry: No, we didn't.
The more I look back at the events of The Flash Season 2 Episode 18, the more I dislike what was done. It was even unlike The Flash team to aim at stopping a metahuman with intent to harm, and that's what they did with Griffin Grey due to lack of powers.
That poor dude who was straddled with a metahuman ability that aged him every time he used it. What a horrible power. It's more of a deficit, really. You'd want to use it, but doing so would mean death. 
Kudos to him, really, for going so long not using it, because at the rate he was aging he must have had incredible willpower.
Iris and Joe had Barry's back, and didn't let him take the fall for what they considered their joint decision. Since no other options were ever laid out on the table about what to do to get Wally back, that was nice of them. 
Wally himself was incredibly happy, if not a wee bit annoying in his desires to thank The Flash. After all, it was because of choosing the needs of one over the greater good that The Flash was no longer flashy, so it was kind of bad timing. 
But Wally had a face like a kid at the candy store when he spoke with Barry, so hopefully that gave Barry the warm fuzzies. I wonder, though, what Barry used to scramble his face and his voice. 
Joe found Jesse and the two resolved their issues, but it took his kidnapping for her to realize being there wasn't all that bad. With Caitlin gone, Jesse is a decent substitute, not that I'd want to be the one to tell Caitlin that.
Caitlin was impressive over on Earth-2 in that she chose to call Hunter by his given name. No more Jay for her.
She didn't play along with him as he wanted her to love him, and she wasn't impressed when he "saved her life" by killing Killer Frost. Hunter is letting his freak flag fly. Any hint of the Jay Garrick she knew is long gone.
But the Man in the Iron Mask was busily pounding away on his glass cage. Wasn't he doing Morse Code? Should Caitlin know that, being the smart cookie that she is? And why can't he talk or make any sound whatsoever? 
There better be a good explanation for that when that mask is removed. He looked so pathetic in that cage, and now that Hunter is heading back to Earth-1 to conquer it, who's going to feed the poor guy? Maybe he doesn't need food. Maybe there's not a human head under there.
Coming up on The Flash Season 2 Episode 20 is another really bad idea, this time posited by Harry. 
Harry: You are gonna get your speed back, Barry, and I'm going to help you do that.
Barry: How?
Harry: By creating another particle accelerator explosion.
Now that he feels he's really a part of the team and apparently ready to claim his share of bad decisions, Harry thinks the best way to get Barry's speed back is to create another particle accelerator explosion. 
Huh?!
The promo, which you can watch below, makes it look like something out of an old sci-fi movie, or maybe from The Bride of Frankenstein, when they're creating her and it's coursing around her body. 
Does anybody think this is going to go well? What are the odds Harry will be able to contain it to one person? And do we really think there won't be a viewing crowd nearby who will get damaged but probably not know about it until well into The Flash Season 3?
Those are best case scenarios. So Barry made a really stupid decision to give away his speed, and suddenly he's a scientific experiment with the potential to do great harm to those around him. Oh that sounds fabulous.
And, frankly, Zoom hasn't done anything to anyone we know. He's not all that scary. He is, as far as we know, a kidnapper. He's killed a lot of his own bad guys, but that's about it. I must be missing some people, right? Help me out.
Why is he enemy number one?
I'm ready to get this show on the road. Let's see what Zoom can do on the open road! Terrorize some people already. Stop snatching them. Killing his own doppelganger doesn't count, either. 
What are your thoughts? Is Caitlin holding her own against Hunter? Angry that Killer Frost is gone? Did Jesse fit in well with the team? What makes Zoom such a threat anyway?
Don't forget, you can watch The Flash online right here via TV Fanatic, and get a first look at "Rupture" in the preview below!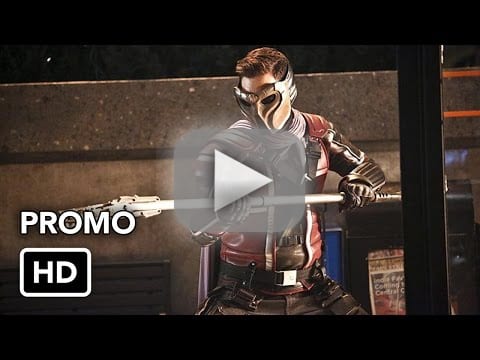 Carissa Pavlica is the managing editor and a staff writer for TV Fanatic. She's a member of the Broadcast Television Journalists Association (BTJA), enjoys mentoring writers, wine, and passionately discussing the nuances of television. Follow her on Twitter and email her here at TV Fanatic.