Jane the Virgin Season 2 Episode 22 Review: Chapter Forty-Four

Amanda Steinmetz at . Updated at .
Looks like Jane is going to have to remain a virgin for a little longer than she thought.
On Jane the Virgin Season 2 Episode 22, Jane and Michael made it down the aisle and tied the knot, but the happy couple's marriage may not live to see the morning.
As many of us suspected, Michael's life is now hanging in the balance, and there were plenty of telenovela-level twists that went down in this finale.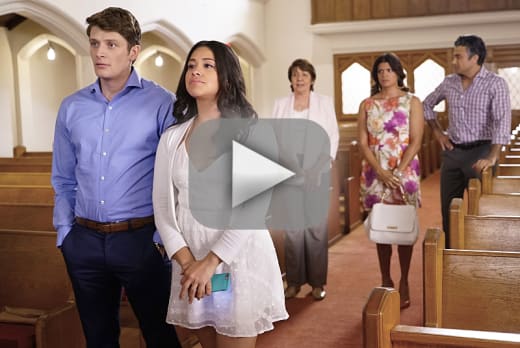 We've all had the feeling for a long time that something bad was going to happen to Michael, but seeing him get shot made me yell expletives I can't share here. Michael getting shot wasn't shocking, but Susanna being the one to shoot him surprised me.
Oh, I'm sorry. Did I say Susanna? I meant Rose, because ROSE HAS BEEN SUSANNA THIS ENTIRE TIME. I did not see this twist coming.
The whole taking off the mask bit was extremely cheesy, and it would have made more sense for Rose to have just gotten surgery to look like a different person. Only for this show would I say something that ridiculous. 
I sincerely hope that Michael pulls through. It would be such a shame for his character to go out like this. Am I saying that in part because I don't think Jane should be with Rafael? Yes, but that doesn't mean I don't enjoy his character on his own apart from his coupling with Jane. 
I'll see you tomorrow and then everyday for the rest of our lives.

Michael
The wedding itself was beautiful. Jane's dress was gorgeous, Rogelio not letting go of Michael was adorable, and I swooned when Michael said his vows in Spanish. 
While Jane and Michael were thrilled to start their lives together, Rafael considered telling Jane he still loved her. I'm proud of Rafael for not saying anything. Not only was she literally about to walk down the aisle, but he also saw how happy Jane looked. It was a selfless act to keep his feelings to himself.
Rafael will have to put Jane out of his mind because he's got a whole lot of crazy taking over his life. Predictably, Anezka pulled a switcheroo and has now taken over Petra's identity.
Poor Petra! The woman just can't catch a break, and there's no telling how she's going to get out of this. She can't speak, but she can blink. Maybe she'll somehow be able to communicate that way and let someone know what's really going on.
Anezka may be crazy, but Magda is clearly behind the entire scheme. What is her endgame? Is the aim to get money from Rafael? Or does Magda simply want Anezka to replace the role Petra filled in her life for so many years?
Elsewhere, Rogelio discovered Xo slept with Esteban and expectedly felt betrayed. He may have moved on quickly with Dina, but Esteban is the person he most loathes in the world.
Why do you have a sex basket from my mortal enemy?

Rogelio
Their dance outside the reception was bittersweet. Xo and Rogelio know they love each other, but also know their differing opinions on children will keep them apart.
However, now that Xo appears to be pregnant that all may change. Granted, the baby is most definitely Esteban's which will fill Rogelio with a rage he's probably never experienced before. 
I have no idea where this storyline is going, but it seems we are dealing with a pregnancy per season situation (Season 1 - Jane, Season 2 - Petra). While it would be entertaining to see Xo go through a pregnancy storyline, I'd be more interested to see the writers go another route.
Extra Thoughts and Questions
The reception looked like a blast from Michael's sweet dance moves to Jane and Rogelio's choreographed father/daughter dance.
Can Bruno Mars show up to all of our weddings?
I haven't been a fan of Professor Donaldson's, but her delivery of the following line made me laugh out loud:
I feel like I'm locking you into the patriarchy as I do this.

Professor Donaldson
Mateo is cruising on his own and wrecking havoc along the way. Please never grow up and stay this cute!
I loved the callback to Michael and Jane's history with his snow globe present. It just made what happened next all that more painful to watch.
Will Luisa be smart enough not to leave with Rose? Probably not. 
There were a lot of predictable twists in this finale, but the overall execution was well done. This charming CW series had a fantastic sophomore season, and I can't wait to see what Season 3 brings. 
We have a long summer ahead of us, so tell us what you think! Will Michael survive? Who will be the first person to realize Anezka is impersonating Petra? Will Xo have the baby? 
Sound off below, and don't forget you can catch up on the entire season when you watch Jane the Virgin online via TV Fanatic!
Amanda Steinmetz was a staff writer for TV Fanatic. She went into retirement in June of 2027. Follow her on Twitter.