Nashville Season 4 Episode 18 Review: The Trouble With the Truth

Jay Ruymann at . Updated at .
Maddie's emancipation hearing arrives and tremendously shakes things up on Nashville Season 4 Episode 18.
Maddie got her wish. She's emancipated. She's on her own or rather, she's with Cash. But at what cost?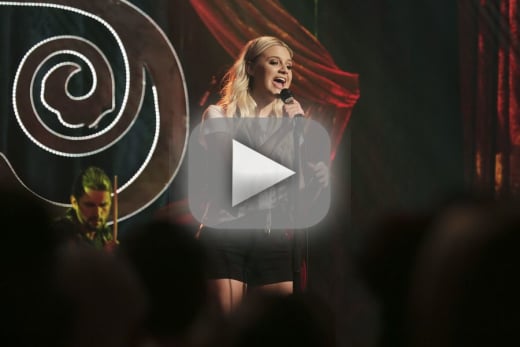 The events in court where Deacon's past indiscretions come to light (thanks a lot, Frankie) lead to Frankie and Deacon getting into a fight at The Beverly, where Frankie falsely accuses Deacon of trying to murder him. 
Deacon ends up in jail, and the judge must question the safety of Rayna's home.
How will this affect Daphne? Did Maddie not think of her sister when she let her lawyer tear her mother's husband apart on the stand with all of his past alcoholic, rage-induced crimes?
Now Deacon is in in jail, Frankie and Cash are free to be terrible human beings, Rayna is heartbroken, and Maddie is emancipated.
How long before Cash turns on Maddie out of spite or jealousy because Maddie is 16 and has a career, while Cash has never had one. Rayna threatened to ruin Cash, but why would she bother? Cash has never made a name for herself.
Both of these families are out to get one another. Cash and Frankie and clearly jealous of Deacon and Maddie's success.
Could Frankie be the mastermind behind all of this because of the envy he has for Deacon's life?
Cash: Ask yourself this: how badly do you want your freedom?
Juliette starts to slide back into old habits when she finds out that Avery and Layla slept together, but makes a remarkable turn.
She's angry at first, yes. Her husband hooked up with another woman the same night she confessed her feelings for him and asked for another chance.
Juliette: She is trying to steal my life!
Emily: Why would she do that?
Juliette really just wants Avery to be happy, and by the end of the episode, she's come to terms with that.
She's done terrible things to him, and she may not like Layla... like, at all... but if Layla makes him happy, Juliette's willing to reach out to her.
Juliette even confessed to Layla what happened the night Jeff died.
Rehab really changed Juliette, even though it may not seem like it. She's short-tempered, hot-headed, and rude, but Juliette's love for her family and friends overrules everything else.
She has a heart of gold when she wants to, and she can rip your heart out with her pinky finger if she's remotely angry with you.
Meanwhile, poor Will. The backlash he and Luke have gotten after announcing that Will would be on his label, despite being gay, has been horrible.
A news anchor preached her "it's a sin" garbage and proclaimed that her children shouldn't have to listen to a homosexual on the radio.
When Luke tried to fix it, she cut him off mid-interview to make it seem as though he took her side.
She twisted his words and announced that all haters should call country radio and request Will's song never be played.
How else could this get worse? Will's car is vandalized and spray painted with hate speech.
Can Will ever escape this? Country fans aren't going to change overnight and if they're still so against him, can they come around in time for him to have a successful career?
Luke's taken his side, but he is receiving massive amounts of hate, too.
It doesn't seem like it can get better for Will, and now that Luke's attempt to make a public statement has failed, everyone's eyes are on Will.
What will he do? Can he stand up to the woman that proudly presents her homophobia on television?
Scarlett and Gunnar are falling apart, too, after that Rolling Stone interview made them realize they're better as The Exes, right after they hooked up.
I'm so over the will-they-won't-they approach to these two, I just want them to be separate, or I want them to be together. Not in between, no more dragging on this love story.
Are you surprised that Juliette let Avery go? Can Gunnar and Scarlett fix whatever is left of their relationship? What's next for Rayna and Deacon now that they've lost Maddie?
What is going to send Maddie crawling back to her parents?
Let us know what you think in the comments below, and you can watch Nashville online right here at TV Fanatic!
Jay Ruymann was a staff writer for TV Fanatic. He retired in January 2018.