The best show on television now has an end date.
But it won't arrive any time too soon, at least.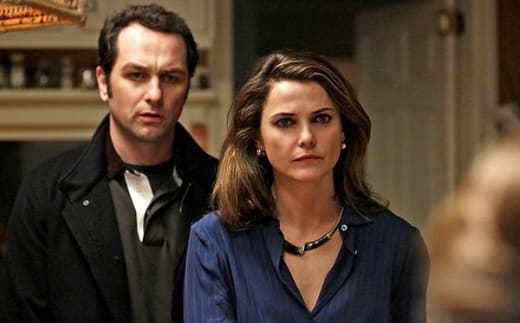 FX has announced that it has renewed The Americans for both Season 5 and Season 6, confirming that the series will come to a close after this run is over.
Season 5 will be comprised of 13 episodes and air in 2017; while Season 6 will be comprised of 10 episodes and air in 2018.
Eric Schrier and Nick Grad, Presidents of Original Programming for FX Networks and FX Productions, made the announcemet and said via press release:
Through its first four seasons, critics have lauded The Americans as one of the best shows on television and, remarkably, a series that keeps getting better every year.
All credit for that achievement goes to everyone who has worked on the show, and especially Co-Showrunners Joe Weisberg and Joel Fields, Graham Yost, our brilliant stars Keri Russell, Matthew Rhys, Noah Emmerich, Allison Wright, Holly Taylor, Annet Mahendru and the ensemble cast for their incomparable performances every season.
We have no doubt that this two-season order will allow Joe and Joel to tell this story to its perfect conclusion. On behalf of our producing partners at Fox 21 Television Studios and Amblin TV, we look forward to a brilliant final act of the Jennings family saga.
Three episodes remain of The Americans Season 4.
If you haven't been watching it... well, you should.
It's outstanding.
Adds Fox 21 Television Studios President Bert Salke:
"I echo the sentiments of our friends at FX in congratulating Joe, Joel and everyone at The Americans on creating one of the most critically acclaimed, thought provoking and spectacularly acted television shows ever to be broadcast.  
It remains our privilege to partner with FX Productions on this series, and while we are already mourning the eventual end, we are grateful to FX for this generous two-season pickup that enables the show to go out on its own terms and gives the creators time to craft a final stretch as satisfying as the show itself.
"It's hard to believe we're heading into the final stretch on The Americans, and we're so grateful to know we'll be telling the story to its conclusion," said Joel Fields and Joe Weisberg, Executive Producers of the drama.
"The best part of the last four years has been the intensive and fruitful collaboration with all of the people who make this show – the teams at FX, Fox 21 Television Studios, FX Productions and Amblin, our amazing cast, crew, and production team and our fellow writers. It's a lot of people putting their hearts and souls into The Americans, at this point for a lot of years.
"We're looking forward to the final two."
Matt Richenthal is the Editor in Chief of TV Fanatic. Follow him on Twitter and on Google+.