The Vampire Diaries Round Table: Bonnie is The Huntress!
Paul Dailly at .
How will Bonnie Bennett's new plot as the huntress play out?
On The Vampire Diaries Season 7 Episode 20, Rayna got one over on Damon when she transferred her life to Bonnie with a huge catch.
Below, TV Fanatics Kelly Thompson, Amanda Steinmetz and Paul Dailly discuss Bonnie's transformation, the new big bad and what they thought of Rayna.
Bonnie is the huntress! React...
Kelly: It's interesting how this show continues to find creative ways to keep Bonnie involved in the plot of the show but they can't figure out what to do with Matt if their lives depended on it. Anyways, I'm a fan of this development. I wonder if they will cure her thirst for vamp blood in the same way they stopped Jeremy's.
Amanda: A part of me absolutely hates this development, but the other part figures that if next season is the last, this is the only way to possibly kill her off and bring Elena back.
Paul: This was a great twist and I can't wait to see how it all plays out for her. This made the Rayna plot so much more worthwhile.
What did you think of the events that lead to Penny's death.
Kelly: Not shocking and frankly underwhelming. I never thought that Stefan was involved in her death but it does royal suck that she died at Matt's hands.
Amanda: Not surprising, and I just didn't really care about Matt's reasons for being with Stefan this whole time. 
Paul: They were horrible. Who even cares about her, or Matt?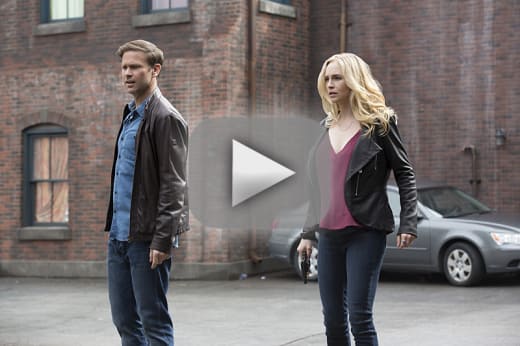 How is that evil thing from the vault going to play into the final episodes of the season?
Kelly: I'm not sure. Maybe it/him/her will go up against Bonnie as the huntress. Hopefully, this new big bad will be better than Rayna but since she was very lame, we can only go up from here.
Amanda: No idea, but I doubt they would make it such a big deal if it weren't important. 
Paul: I have a feeling this is the new big bad that will drive the show into Season 8. Bonnie will be the big bad for the final two episodes.
Do Caroline and Alaric make a great team?
Kelly: No. This relationship must end and it must end soon. Neither of them seem happy and both appearing to be settling which will never end well.
Amanda: They have zero romantic chemistry and I can't even enjoy them working together. Alaric has become a shell of the character he used to be, and I want this relationship to end yesterday.
Paul: Not on a relationship level. They are great as friends, but I just can't get onboard with them as a couple.
Will you miss Rayna?
Kelly: No! Rayna was the worst big bad in the history of the show. The idea of a huntress should have been great but her identity and character never seemed fully formed. On to the next big bad please.
Amanda: This is a hard no! I never found her to be a compelling character. She's been one of the least affecting villains on the show.
Paul: I actually liked Rayna. Her character was a casualty of poor writing and she deserved so much better. She's nowhere near as horrible as the travelers.
What did you think of all the big twists? Are you excited for the new big bad? Hit the comments below with your take on the questions. 
Remember you can watch The Vampire Diaries online to get up to speed with all the latest drama. 
Note: The Vampire Diaries Season 7 Episode 21 airs Friday May 5 at 8/7c on The CW.
Paul Dailly is the Associate Editor for TV Fanatic. Follow him on Twitter.