Nothing says summer television quite like sex, drugs, and a twisted crime family with a perfect beach setting in the background.
Animal Kingdom Season 1 Episode 1 delivers a strong pilot episode that throws us right into the drama of the Cody family.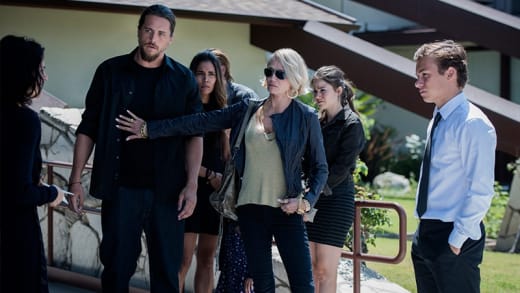 Based on the Australian film of the same name, it's gritty and intriguing, but at times, it's a little tough to watch.
Somehow, I do think it works perfectly as a "summer" show. It's an easy story to follow, and there's a lot of action, but I don't feel the need to sit and think about it for a while.
The pilot follows Joshua "J" Cody as he moves in with his grandmother and uncles after his mom dies of a heroin overdose.
But this isn't the sweet, innocent grandma you might at first imagine, swooping in to take care of her teenage grandson.
Nope. She's the matriarch of a crime family, and she doesn't take any bullshit.
You know, those are gonna heal in two to three days. Murder convinctions tend to take a little longer.

Smurf
Her sons are tough, and her relationship with all of them certainly isn't typical.
Okay, some of it is actually pretty typical. She does want to make sure her boys eat well, and this tough grandma has no problem bossing around her fully adult sons.
What's confusing, at first, is her relationship with Pope. He arrives home from prison, and it seems like he's more her lover than her son.
Baz (Scott Speedman) is the nice one of the bunch. He still has the tough edge, but he seems to have the most compassion, particularly for his nephew. We also learn in Animal Kingdom Season 1 Episode 2 that he was adopted into the family at some point, so he has something in common with J.
I can't help but question if he wants this life, or if he feels more as if he just can't get away from it. He's like the sensitive, conflicted one.
But Pope? Pope is the batshit crazy one. He's just returned from prison, doesn't seem to trust anyone, and is clearly trying to move in on his nephew's girlfriend.
It's not okay. It's clear that this show is trying to push some boundaries to prove it's characters are, well, twisted.
Not that Daren and Craig don't have a little batshit crazy in them, too. They're violent, quick-tempered, and will do anything just to make a point. Neither of them trust their young nephew, and neither of them want him around.
They don't care that he needs a place to stay, and they begrudge his presence.
But at the end of the day, J manages to learn a little something from his uncles. Constantly hounded by a dealer for money J's mom owes, J finally holds his own at the end of the pilot, channeling everything he's seen his uncles do up until that point (like knocking people in the head and pulling guns on them).
As much as we don't want J to fall into the footsteps of his uncles and become a part of this crime family, it's a satisfying moment to see him turn the tables.
It's also the moment when we know that he definitely will become a part of that family and everything that goes along with it.
The two-hour premiere ends in an abrupt cliffhanger. Craig spends the entire second episode battling the gunshot wound he receives in the pilot during a job gone wrong, but since he couldn't seek proper care (because, you know, there's a dead cop now) that wound has become infected.
Things are not looking good for this guy.
Overall, I'd say Animal Kingdom is an entertaining show that knows what it is, and it works well as a summer show.
Actually, I think it WANTS to work well as a summer show, driving home the beach scenery, the drugs, and the partying every chance it gets. I'm on board.
What did you think of the premiere of Animal Kingdom? Share your thoughts in the comments below!
Need to catch up on past episodes? You can always watch Animal Kingdom online right here via TV Fanatic! Watch online now!
Ashley Bissette Sumerel was a staff writer for TV Fanatic. She retired in September 2017. Follow her on Twitter and on Google+.