Hell on Wheels Season 5 Episode 9 Review: Return to the Garden

Sean McKenna at .
After such a major final confrontation with the Swede on Hell on Wheels Season 5 Episode 8, it would only make sense that Cullen would be heading back to the railroad.
But without his family?
Leaving them on Hell on Wheels Season 5 Episode 9 certainly wrapped up that storyline.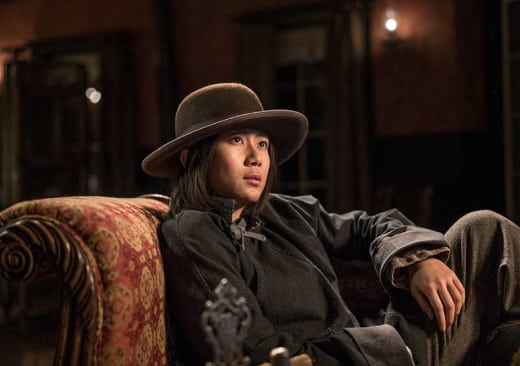 I'm OK with how things with Naomi turned out, even though I wasn't a fan of how her relationship with Cullen began.
Cullen having sex with Naomi on Hell on Wheels Season 3 Episode 2 just felt out of character for him, and then there was a soap opera reveal that she was pregnant with his baby on Hell on Wheels Season 3 Episode 10.
Honestly, Hell on Wheels Season 3 was a bit of a mess, but the series had just lost its showrunners and was trying to find a way to redirect itself. It was definitely a transition period but not the best way to kick off Cullen with a new family.
I appreciated that Cullen tried to do the right thing in staying with Naomi and taking care of her, but despite some affections for each other, they never quite clicked. At the same time, I was glad that Cullen tried hard to find his family after they had disappeared, even quitting the railroad.
But Cullen was never really in love with Naomi, despite his determination to reunite with her.
So as difficult as it was for Cullen to let go during the hour, he believed he again was doing the right thing. He was allowing her to be with Issac, allowing them to settle down.
However, Issac was definitely getting on my nerves, and I'm surprised Cullen managed to stay so calm with him around.
It also was good to see Cullen not just abandon Naomi and instead get them to safety with Brigham Young.
Though it was Cullen's tearful speech to his son that tugged at the heart strings, knowing he would probably never see the boy again.
It made you (and probably him) question if he was doing the right thing.
But frankly, I'm glad it allows him to put his focus back on the railroad.
I was surprised at how quick he hooked up with Mei though. Are we to believe that Mei just might be the one that Cullen can truly find love with?
It almost felt too soon considering he'd just left Naomi.
At the same time, I think that even if he was finding some solace in someone after all he'd just been through, there's definitely more to Cullen and Mei's relationship than just a one time deal.
If anything, the two have far more in common than say Cullen and Naomi. They've both been affected by war, they've lost loved ones and they're both invested in the railroad.
I'm not as on board with Mei as I was with Cullen and Lily Bell (remember those days?) but I'm willing to see where things go with the two.
Either way, it puts Cullen back on the railroad, and I'm interested in seeing him get to finish his work on it. He seems determined to get that done.
I'm sure there's going to be a few more complications along the way from someone probably discovering Mei isn't a boy to Durant's wheeling and dealing backfiring. And what about Mickey's new stake in the railroad?
It's good to see some doors/storylines closing up as the series heads toward the end, and I just hope there are no major bumps in the final stretch that could derail the last half of Hell on Wheels Season 5.
Do you agree with Cullen's decision? What do you think of a Cullen and Mei relationship? Sound off below, and catch the final ride when you watch Hell on Wheels online at TV Fanatic!
NOTE: Hell on Wheels Season 5 Episode 10, "61 Degrees," airs June 25 at 9 p.m.
Sean McKenna was a TV Fanatic Staff Writer. He retired in May of 2017. Follow him on Twitter.