So THAT'S how all of these stories are going to come crashing together.
Could there be a worse time for the big AHA moment than right when Paige is determined to be filled in on all the different facets of her parents' business?
Maybe there's nothing better than a trial by fire to prep the newest agent in the Jennings family. After all, I wasn't the only one realizing Paige had taken to acting a lot like her mom and dad during The Americans Season 4 Episode 12.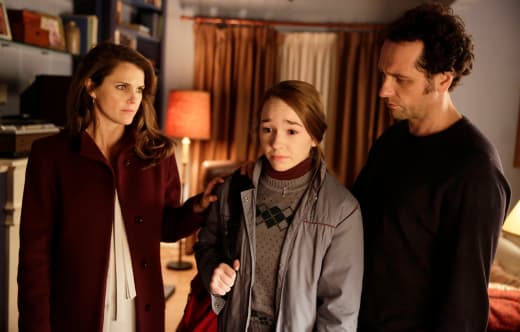 Yes, Paige was quite distraught at what went down in the parking lot with her mom. 
Paige: How did you know how to do that?
Elizabeth: I was trained to defend myself.
Paige: Dad, too? It was just so fast and I didn't even know what was happening and he was just...I was so scared. And you didn't even seem upset after. You were calm. How could you be calm? You killed him, Mom.
But in this, like so many other things lately, Paige wanted a heavy dose of honest, heartfelt information with her comfort. She's sick of hearing the pat answer of "I did it for love of country." By know, she knows it's the bullshit answer. She wants the truth, even if it hurts.
Well, she's probably going to have to wait a little bit more for the truth, but Elizabeth did share with Paige a bit about her homeland. The stories from Elizabeth and Philip are never glamorous and rarely inspirational.
Maybe persevering through those terrible times and coming out on top, still dedicated to hearth and home country is what sets the stage for the stalwart KGB who gave up everything. I can only guess.
Whatever it is, Paige doesn't seem beyond having IT, even with her upbringing in America.
The way she was reporting things to Elizabeth and Philip, it was hard to tell if she was doing it because she felt like she had to or if she wanted to do it, even after Philip tried to tell her didn't need to worry about every person she met in spite of what went down with Pastor Tim and Alice.
Philip: You want to be Matthew's friend, be Matthew's friend. But don't do anything because of us. You don't have to worry about that.
Paige: You wanted me to worry about Pastor Tim and Alice.
Elizabeth: That is very different.
Paige: When I wanted nothing to do with them, you told me I had to stay close with them, no matter how shitty I felt about it!
That outburst was just Paige hanging onto being a teenager. She knows telling Pastor Tim her parents are Russian spies is a hell of a lot different than just hanging out (and even kissing...awww) Matthew, even if Matthew is an FBI agent's son. 
It should be really interesting to finally find out what Paige is thinking. Not what she thinks her parents want her to think, but what she's really got going on in that noggin of hers.
The mail robot at FBI headquarters was back with a vengeance! With that particular micro cassette recorder uncovered, the FBI is more excited than ever to find out what's going on with their security (or lack thereof).
But that had to take a backseat to the more imminent threat – biological warfare.
Oleg and William are two of my favorite characters on The Americans, and they both have exactly zero faith in their government. I don't think that has anything to do with why I enjoy either of them, but it's interesting.
Oleg and Stan just said goodbye to each other five minutes ago, and Oleg was already back. The idea that his people, who probably have brilliant brains but the poorest of resources, could come into contact with the world's worst pathogens scares the crap out of him.
Given what William had to say about Lassa Fever, Oleg was probably right to turn in his own people. 
Lassa Fever is a very undignified way to go. Ya basically dissolve inside, then squirt yourself out your anus in liquid form. First it's woosh, then it's a trickle. The modified strain you want, Level 4 is hard at work perfecting. It's even more lovely. I can't do this one, Philip.

William
It didn't seem like much of a tip, but it was enough for the munchkin to stop all other surveillance and hop onto the bandwagon immediately. It probably would have taken a lot less time these days, but it was a valiant and fruitful effort on the part of the team to track down William as fast as they did.
Funny how Elizabeth and Philip are at the end of both of the FBI's current investigations. The mail robot murder was at their hands, and out there in the bag of Kimmy's dad is a matching micro cassette recorder catching data (am I the only one who doesn't know what it's recording?).
I'm imagining a line of cars a mile long filled with FBI agents huddled over their dashboards in hot pursuit of William, who tends to walk on sidewalks from what we've seen. It seems to be William doesn't stand a chance.
Does anybody know why William agreed to do this "one last mission"? He knows that's a bullshit answer and doesn't mean anything. How many times has Gabriel used that phrase? I really don't see how it can work on people time and time again.
Maybe William would rather take his chances being snatched up by the Americans than hearing that phrase one more time and being responsible for the NEXT Lassa Fever that's even worse than Lassa Fever. 
Whether or not Philip gets snatched up in the net? Doubtful. But it will certainly be tense, right? Especially for Paige, who is so new to this, and now understands the "language" of her parents' job just enough that they cannot hide the stress of the moment from her any longer.
Brushing off an operation gone wrong like the capture of William by saying the local Elks Club didn't king size beds for their convention just isn't going to to cut is anymore.
Will Gabriel make it through a stressful operation gone wrong? When he had to sit down on the stairs for no clear reason, warning bells were ringing. Is he coming to the end of his tenure as the Jennings family handler? If so, will their next handler be as kind and understanding as Gabriel?
"A Roy Rogers in Franconia" was a perfect setup for The Americans Season 4 finale. Emotions are running high within the Jennings family, and with Paige still fresh to the family business, her trial by fire will either continue or she may just fall out. 
What are your hopes? What's ahead for the Jennings? What will Stan do when he catches his next KGB agent? Is there any chance William will be a fast runner and make it down the city streets unscathed? Good news for you Aderholt fans – he was just upped to series regular for The Americans Season 5 and 6!
Hit the comments and share your thoughts guys! Don't forget, you can always watch The Americans online if you need to catch up. 
Carissa Pavlica is the managing editor and a staff writer for TV Fanatic. She's a member of the Broadcast Television Journalists Association (BTJA), enjoys mentoring writers, wine, and passionately discussing the nuances of television. Follow her on Twitter and email her here at TV Fanatic.