Government leaders often face harrowing conflicts while in office, especially during times of international crisis. While they strive to compassionately reason with their country's supposed enemy, in order to maintain international peace, their neighbors at home are often left struggling to even recognize their decision to engage their foes.
As U.S. President Jeffrey Michener,  CO CDR Tom Chandler and their fellow officials continue to try to stop a potential war with Asia in The Last Ship Season 3 Episode 4, the American public remains rightfully perplexed on why their leaders are seemingly helping the opponents who are posing the most damage to them.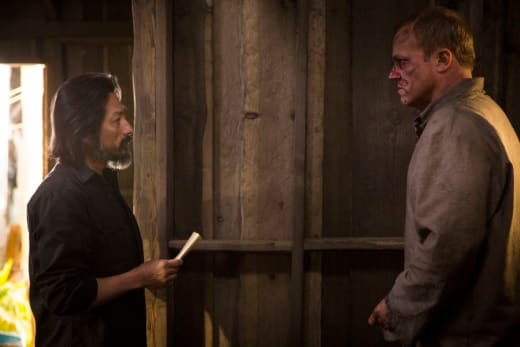 The sci-fi series justly took a break during its latest episode from focusing on the brewing emotional clashes between Tom and his fellow government officials. Instead, the story intriguingly emphasizes how the Western leaders are trying to reason with their Asian counterparts, even though their efforts are drawing dire criticism at home.
The intense action begins when Takehaya, a former officer of the Japanese Maritime Self-Defense Force, reveals he's the pirate who kidnapped Capt. Mike Slattery and his crew. President Michener becomes so desperate to bring the crew home that he gives Tom his blessing to take whatever means necessary to complete the rescue mission.
You have inhabited our lands for far too long. The plague has killed, but you're killing more. We want you out.

Takehaya
In their increasingly determined state to find and save Mike and his crew, Tom and his fellow officers aboard the Nathan James decide to break into the mansion of Chinese President Peng. In the process, Tom and his crew set out to secure more information on Takehaya.
We're going to break into the headquarters of the Chinese president.

Tom
When Tom, who's accompanied by Sasha, Danny and Chief Petty Officer Wolf "Wolf-Man" Taylor, reach President Peng, the Chinese leader is initially, and understandably, hesitant to relay the information he knows about Takehaya to the Americans.
But President Peng soon realizes that Tom and his team are serious in their mission, and that they can ultimately help each other.
Peng: I'm beginning to understand the roots of your success. You just refuse to die.
Tom: Dying's never been a part of my operational plan.
While Tom and his crew aboard the Nathan James are grippingly determined to take whatever means necessary to stop their latest enemy, Mike powerfully begins to realize his captor's emotional pain the more he talks to him.
As Mike rightfully remains angry that he and his crew are being held hostage, he emotionally begins to comprehend that his captor is also struggling to remain alive.
Mike: What's with all the blood, anyway? Is the cure not good enough for you?
Takehaya: There is no cure. We are wiped out.
Mike: That doesn't make any sense..
As the American officials begin to reason with, and understand the motives of, their enemies in Asia, Danny's wife, Kara, is facing an equally troubling conflict at home in St. Louis.
In her desperation to bring her husband and his colleagues safely home from Asia, while also protecting the reputation of President Michener and their team, Kara is forced to enthrallingly spar with White House reporter Jacob Barnes.
Jacob has becoming increasingly determined to prove to the American public that the president isn't working hard enough to truly protect his citizens.
The on-air news reporter forcefully insists that there's not just another deadly outbreak of the crippling virus that's read to harm the public again, but the American government is risking its citizens by forming an alliance with President Cheng and the rest of Asia.
Jacob's intuition surprisingly proves to be correct. Despite their secrecy, President Michener, President Peng and Takehaya and their teams are forming interesting new alliances as they're determinedly working to protect both their countries and themselves.
It will be intriguing to see how their latest connections will influence their already established bonds throughout the rest of The Last Ship Season 3.
What did you think of The Last Ship Season 3 Episode 4? Share your thoughts in the comments below!
Want to catch up on the first two seasons, and stay current with the third season? You can always watch The Last Ship online right here via TV Fanatic!