Tyrant Season 3 Episode 5 Review: A Rock and a Hard Place

Elizabeth Harlow at . Updated at .
So long, farewell, auf Wiedersehen, and adieu to Molly.
With the first lady of Abuddin fleeing to Germany on Tyrant Season 3 Episode 5, the number of Al Fayeeds continues to shrink.
Barry isn't handling his country much better than he is his family, but Abuddin may be able to find hope in a new leader – who that will be remains to be seen.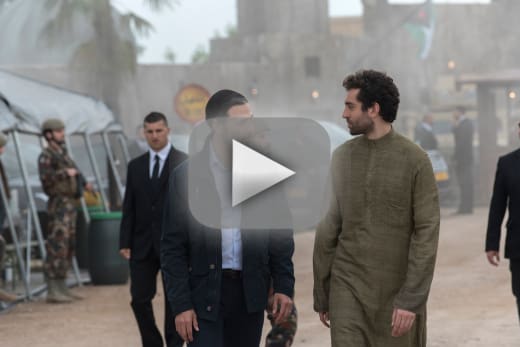 Molly's exit was fairly predictable after her pill binge on Tyrant Season 3 Episode 5, but I'm glad the writers decided to send her to a treatment center instead of killing her. Jennifer Finnigan is real asset to the show; we've already lost Ashraf Bahrom's Jamal this year. 
Besides that, her plea to leave highlighted some of the problems in the Al-Fayeed marriage that her death would not have. Barry's clingy check-ins with his wife seem to have more to do with his own guilt than her needs.
Of course, it's also easy to prioritize her needs over his, since her grief is so much larger than his.
Still, Barry's selfishness is a recurring theme on Tyrant, so I'm pretty certain I'm landing on #TeamMolly if it comes down to that. Seriously, having to beg your spouse to allow you to get the help you need (in front of your child, no less) is truly tragic. 
You know what you can do for me, Barry? You can let me go.

Molly
And then he turns around and sleeps with another woman. 
Okay, so, I actually have a problem with this plot point. And not just because I'm firmly anti-adultery. I find it less than believable that Daliyah would go down this path. Barry, sure, fine, why not. Like son, like father. But not Daliyah.
Sure, she's attracted to Barry, both physically and emotionally. But I would argue that her background, even if she is progressive in many ways, would prevent her from this course of action. Maybe I'm projecting too much on a fictional character, maybe I'm just nitpicking. But I was disappointed when she went with him.
She really should have listened to Leila's warning.
Be careful if you're in love with him. You'll think the connection you have is real. And who's to say? Maybe it is. But Bassam compartmentalizes. The minute you become a liability, a wall will come down. And you'll be cut off. Like it never happened. Like it was nothing.


Leila [to Daliyah]
Oh Leila, you much maligned, much misunderstood, glorious queen. I'm actually disappointed she didn't testify in front of Daliyah's Truth and Justice Commission. Her sister might have hired a fancy campaign manager for her, but Ahmed has the right of it, and the TJC is the perfect opportunity for her.
She could address the concerns of the Women's Forum and soften her image by (carefully) testifying about life with Jamal. But instead of discussing her campaign options, her consultant basically told her to give up this round. Her sister must not be too angry about the wasted money; she seemed more concerned about Leila's love life.
Ahmed: Second place. That's never been a comfortable position for you.
Leila: It's not where I should be.
Honestly, a coalition government is looking like a better and better idea for Abuddin. Since the showrunners have avoided getting too in depth with the politics, I don't see this actually happening. 
Fauzi may be in the lead, but if Al-Qadi can steer clear of the Caliphate, I'd give him good odds. Even though we've been told (repeatedly) that he's the conservative candidate that "wants to take Abuddin back to the Middle Ages," we haven't seen much evidence of that.
He's not progressive by any means, and I'm no fan of theocracy, but he is doing the best job of promoting peace amongst the four leaders. 
Is that what you think God wants? More martyrs? Paradise is full of martyrs. The real sacrifice is to live, here, with us, and try to make peace. This man is your brother.

Al-Qadi [to protester]
One thing that really stood out to me about "A Rock and A Hard Place" was the role of women. Not that the role of women doesn't always stand out to me, but we saw Women as a group taking a role in politics, and several individual women stepping up to decide what role they want to play in the future of Abuddin.
Leila is the most obvious, but Mahdiyah Kattan defied her brother and ended up being the one radicalized. She's not the first woman to do so, but her defection felt especially powerful.
We also had Nafisa strongly trying to direct her husband's campaign, yet yielding to her brother's threats. 
Even Halima is getting uppity. She's always been a revolutionary, but she's become more (perhaps overly) confident in her positions, reporting Hanif to the authorities and threatening to out Sammy.
By oppressing those who oppose her, she's at risk of becoming the thing she hated. 
Mahdiyah: I'm going.
Hanif: What? Why?
Mahdiyah: He wants us to pray with him? We need to do more than pray if we want things to change.
It doesn't look like things are going to settle down in Abuddin anytime soon. Tyrant Season 3 Episode 6 ("Truth and Dignity," airing on FX August 10th) will see Daliyah in danger.
Will Barry or Fauzi be the one to save her? Al-Qadi might be working for peace, but that doesn't mean that the elections will go smoothly.
If you're not up to date on the latest threats from the Caliphate, you can always watch Tyrant online with us. Join us in the comments section to share your thoughts on the season so far!
Elizabeth Harlow was a staff writer for TV Fanatic. She left the organization in October 2018.