The Reagan family was back for Blue Bloods Season 7 Episode 1 and I didn't realize how much I'd missed them until I watched this episode. 
"Nobody likes cops anymore."
That's what Grace told Frank as she begged him to flunk her son out the police academy. The truth in her statement made me very sad, because for every horrible story we here on the news, there are that many more good cops out there doing an extremely difficult job.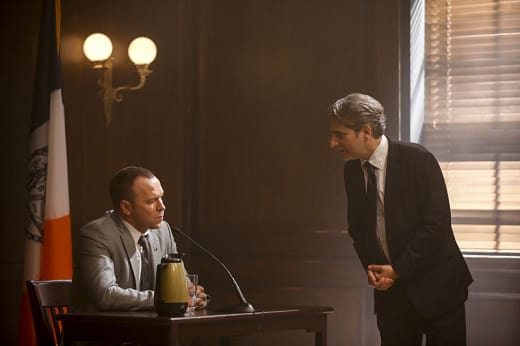 I can only imagine how I'd react if someone told me they had a gun behind their back and threatened my life. That's exactly what happened to Danny, and by a man he knew had murdered 22 women. 
Danny did exactly what he needed to do in reenacting that moment for the Grand Jury. He made them feel what he felt standing there in front of Wilder. But prior to his testimony, Danny failed in every interaction he had with the AG.
At best, Danny is a passionate, dedicated cop. At worst he is a hot head who acts and speaks before thinking things through. It wasn't just Wilder's recordings that had him on the hot seat; it was years of reckless behavior that gave credence to questioning his actions. 
Will this be the last time Danny's track record comes back to bite him? I highly doubt it. 
Danny also went after his only witness it the Marino murder pretty hard. I know it's his job to get the guy to give a witness statement, but Danny acted as though the man was nothing but a coward. 
I found myself talking back to the TV in those scenes saying, "It's the Armenian mob for goodness sake. They'll kill him and his entire family. How do you protect him from that?" 
Unfortunately we never got an answer to that question, but my heart was certainly pounding when they stuffed the witness in a metal airtight barrel and left him to suffocate. Talk about a horrifying way to go. 
Jamie had the most fun case of the night as he and Eddie got to take down the sleazy, drunk congressman. I was left wondering how far back they could get footage of Anderson driving, because there are plenty of traffic cameras in New York City.
Even if there could have been reasonable doubt, I'd hope it would be hard to convince a jury that the designated driver finally got behind the wheel of the car only a few blocks away and then the sober guy slammed into a pedestrian. What are the odds?
But Jamie coming up with having the air bags tested for DNA was smart, then again I expect nothing less of him. Jamie and Eddie's interactions were also fun…
Eddie: Other than your parents, who is the most influential person in your life and why?
Jamie: Joe, because he encouraged me to go for what I really want, instead of what other people wanted for me. I think he recognized that I spend a lot of time trying to make other people happy.
Eddie: Not in this partnership.
I love their sarcastic banter and I'm completely torn over enjoying them as partners or hoping that they become more personally involved. 
I also appreciated the mentions of Joe in this episode. Remembering that this family lost one of their own to the job brings a different perspective to everything they do and how much they're willing to sacrifice. 
There was little doubt that Frank would refuse to flunk Louis out of the academy, especially without an obvious reason. Yet, losing Joe made him take Grace's request seriously. 
In the end, Frank made the right call, as he usually does. Louis is an adult and is capable of deciding the course for his life. As much as I'm sure Frank understood Grace's fury at his decision, her reaction still had to hurt. 
The Reagan family dinner had a bit of a serious tone as everyone processed all that they had been through. Nicky seemed the most shaken by having to testify in front of the Grand Jury. Somehow I don't think she's cut out for the family line of work, whether it be on the streets or in the courtroom. 
But my favorite Blue Bloods quote was Frank's simple response to Jack…
Jack: But it sucks.
Frank: That's one way to put it, but not at the dinner table.
The Reagans are far from perfect, but they have standards and morals and values and when one of them steps out of line, even if it's a bad word at the dinner table, the others are there to pull them back. 
Check back next week for my review of Blue Bloods Season 7 Episode 2 and if you want to catch up with the Reagan family, you can watch Blue Bloods online here at TV Fanatic. 
C. Orlando is a TV Fanatic Staff Writer. Follow her on Twitter.