Fear the Walking Dead Season 2 Episode 13 Review: Date of Death

Steve Ford at .
Turns out Travis wasn't the only one to see Madison's signal.
On Fear the Walking Dead Season 2 Episode 13, the hotel gates were flooded with refugees who were drawn there from the surrounding areas.
Thanks to Madison's brilliant idea of turning on he hotel's power at night on Fear the Walking Dead Season 2 Episode 12, the huge bright red letters were a warm invite for anyone within close enough proximity to see it.
Hearing those people's cries for help was difficult, but what do you do in that situation?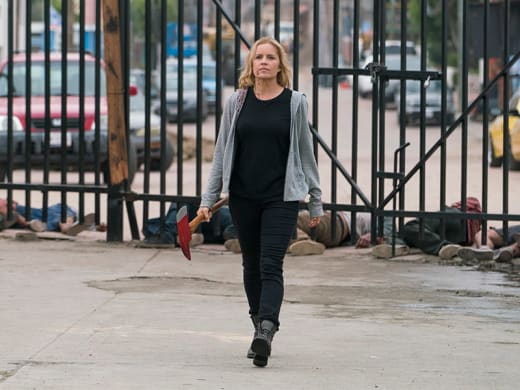 It's a tough spot, no doubt. It was obvious that Madison had regretted her attempt to signal Travis, and subsequently luring all of those people to the hotel instead. Not to mention giving these people a false sense of hope and not even letting them in.
Ouch!
As difficult as it was for Madison to deny those people entry, it was the right decision for the group.They've cleared the hotel of infected and are finally settling into their new lives. They want to sustain what they've built.
You let the wrong person inside and all of that is for naught.
Then Travis appeared outside the gates. It was a little emotional seeing Madison realize her husband was among the refugees, and then seeing Travis push through the crowd to get to his wife.
Good job show, you hit me right in the feels.
When Madison rushed to unlock the gate, I had almost thought for sure those people were going to use that opportunity and break through. That didn't happen, and Travis was able to squeeze through and be reunited with his wife.
I was correct when I said that Chris was not with Travis at the end of Fear the Walking Dead Season 2 Episode 12.
The way Travis was so distraught when attempting to explain to Madison what happened to him, I thought Christmas had come early for me and Chris had been killed. Then I thought maybe Travis was forced to do the deed himself, realizing Chris is beyond saving.
My theory was short lived, however. As it turns out Chris just ditched his father, feeling he's better off without him.
The whole time you had me thinking I was broken, but I wasn't. I'm not. I was just...adapting

Chris
Double ouch!
The flashbacks picked up right where Fear the Walking dead Season 2 Episode 11 ended, with Travis kneeling over the farmer after being shot by Chris. Travis should have no reason to want to help Baby James, but it is Travis' caring nature in wanting to help everyone, that brings him to help someone in need.
Travis is still trying to instill his humanity on Chris in hopes of turning him around. It doesn't appear to be working.
When Travis reprimanded Chris over killing that man, it didn't phase him in the slightest. It's the new normal for Chris, and it's frightening for a parent to see their child have no accountability for their actions along with no perception of right and wrong.
You killed a man today Chris. The least you can do is...let it affect your appetite.

Travis
When Chris brought Travis breakfast in the barn and told his farther that he actually understands what he's been trying to tell him, I saw right through that facade. Chris turning his back on Travis made me dislike him even more, and I didn't think that was possible.
I was a little surprised that Brandon had no hesitation killing James. Although, afterwards you could see the remorse setting in as he walked away.
Chris' decision to leave his father behind was a long time coming. Still after everything that has happened, Travis still tried to convince Chris to stay with him. I can't say I blame him for trying to keep his family together and wanting to help his son, but at the same time, Travis' denial that he can still reach Chris is frustrating.
Then there was that moment at the end of the episode where the next wave of refugees arrived at the hotel gates, and it's revealed that Brandon is in that group. Though, I did not see Chris with him. Could Brandon have realized that Chris is just too much to handle?
Nick and the colonia were absent from this week's episode. Which leads me to believe that Fear the Walking Dead Season 2 Episode 14 could set up Marco's impending attack for the season finale.
This wasn't the best episode this season, but certainly not the worst. It was more filler used to move the story along into the final two episodes.
What did you think of this week's episode? Hit the comments below!
Remember, you can always watch Fear the Walking Dead online
Fear the Walking Dead returns with a new episode next Sunday, on AMC at 9/8C.
Steven Ford is a staff writer for TV Fanatic. Follow him on Twitter.