Killjoys Season 2 Episode 10 Review: How to Kill Friends and Influence People

Henry A. Otero at . Updated at .
There's nothing I love more than closing out a season with positive renewal news... Yay!
Especially since Killjoys seriously upped the ante in its second season. The incredible world building opened up, our characters evolved plus we met a few new players, and the writing was consistently terrific. We laughed. We cried. We were shocked, but in the end always entertained.
I have zero complaints about this finale. They even brought Clara back and gave us an outstanding space battle. How about those VFX guys?
Yeah, I could not be more satisfied with Killjoys Season 2 Episode 10.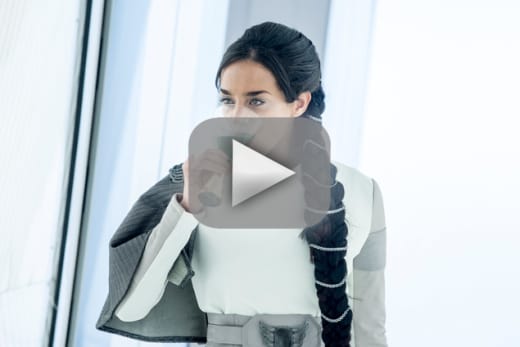 A ton of information was thrown at us in the first half of this installment. Though it was important to learn how it all began, I admit I struggled a bit to wrap my head around it all. Things made much more sense after a second viewing.
It's no surprise Khlyen was not the villain of the story, though he did wake "an ancient darkness." All this time, he had been fighting for redemption and sacrificing himself for The Quad was the ultimate act of heroism.
That said, I honestly can't imagine what Season 3 will be like without Rob Stewart.
Though he was used sparingly this season, Khlyen's story is inextricably tied to Dutch's and the Sixes. Does his "death" (yes, it's sci-fi and there's always a chance he'll return) mean Aneela is our big bad from this point forward?
How ridiculously fun is it going to be watching Hannah John-Kamen play opposite herself next season? There's no doubt in my mind she's up to the task.
The one good guess I had about the green-goo, was that it was a sentient life form.
Khlyen: Yala, you must remember the stories I tell you. Especially this one. It's important.
Yala: Why?
Khlyen: Because little bird, this is how it all began.
It was clear early on that Aneela was trouble. Now we know she's got a few screws loose.
I was wondering how Johnny was going to cope with the loss of Pawter. The moment he came to, "Pawter" was the first word he spoke and he tried to go after her.
D'avin mentioned that Lucy had been tracking Pawter's vitals. Sadly, I guess she's really gone. No sci-fi resurrection for our pretty pretty princess. I'll miss Sarah Power terribly, but the character's death has already caused a ripple effect moving the story along and bringing Dutch and Johnny closer together.
This is an intergalactic war, and unfortunately there are bound to be casualties.
In my finale "report card" last season, I chose Johnny as my Killjoys Season 1 MVP. That still holds true for me, as the character is the heart of this show. Aaron Ashmore's moved me to tears more than once this season. The guy is a damn fine actor, and I hope his performance on this show brings him some much deserved attention.
Not that the others are not fantastic as well. As a matter of fact, Killjoys is probably one of the best cast shows on television right now.
Delle Seyah proved to be our real big bad this season, but I don't think we've seen the last of her. Sure John thinks he killed her, motivating him to leave at the end but my guess is she'll be back.
Though I theorized in my Killjoys Season 2 Episode 9 review Delle Seyah might be a Six, her conversation with Khlyen implied she was after immortality (or the green) this whole time. The character is vital and there seems to be more story there. I hope she returns and I'm sure we'll see Jelco as well.
I cracked up when D'av called Fancy a "green shit stain." Luke Macfarlane's had some great one-liners this season and I'm totally onboard with D'avin now. Finally. It took me a season to warm up to him, but even when he was misbehaving Luke managed to make him likeable.
I officially care as much for D'av as I do for Dutch and Johnny, which at the start wasn't the case at all.
Who knew Khlyen was a scientist, eh? The fact he developed a toxin after learning of D'avin's immunity surprised me. Weren't the army's brain implants the cause of his rejecting the green-goo? How do you synthesize that? Please enlighten me with your theories below.
D'avin: What did you use on them?
Khlyen: A toxin I made after studying you. I had to field test my little weapon.
Johnny: Well, I'm gonna say it works.
Khlyen: Indeed. And what if I told you we could use this to save The Quad? All of us. Together. One glorious suicide mission. Who's in?
Khlyen not knowing why Dutch looks like his daughter is one of the major questions moving forward. Could she be a clone? Is that too obvious?
Michelle Lovretta promised answers in my interview with her earlier this season. It's safe to say Khlyen sharing his past and the deal with The Nine gave us plenty to chew on. "Eventual assimilation or immediate annihilation" is how Khlyen referred to it. Ouch! Not much bargaining room, was there?  
So, the silent invasion had begun and it had been 10 generations in the making. The plan was to find that tree from D'av's "memory" which the scarbacks stole and poison it. If that's all Khlyen's people were after - the original source - and by sacrificing himself Khlyen accomplished the task... where's the story go from here?
I've got to imagine that wasn't the only source of original plasma left in The Quad. Though the surface of Arkyn turned from green to black at the end. Khlyen did mention there were other sources in the J, right? Does that mean we'll be leaving The Quad next season?
I loved the way the scarbacks and their theology tied into the plasma and its original source. All those pieces came together nicely, plus it was great to see that Alvis survived the finale. Bonus points for that!
It was great to see Rick Howland (Trick from Lost Girl) at Archive. That meeting and the space battle were the big set pieces of the finale. Both were beautifully executed and you could tell right away the show spent a nice chunk of change on the visual effects.
Yup, I had been yearning for a Star Wars-style dogfight and boy did this one deliver.
Also, wasn't the D'av/Fancy team up priceless? I hope we see more of Sean Baek's character next year.
Fancy Lee: Accept it Jaqobis, I am physiologically superior now.
D'avin: You're a Six, not a ten. Simmer down.
I've got to say, the second act was my favorite part of the episode. Dutch and Khlyen kickin' ass. D'av using Fancy as a human shield. Johnny flying Lucy through Archive being blasted by enemy ships. The music! All this stuff was pure Killjoys goodness and made me feel so frakkin' happy.
Naturally, there were several emotional beats as well. Dutch confronting her feelings for Khlyen as he was dying was heartbreaking. Hannah and Rob were outstanding, as were Hannah and Aaron in the scene that followed. Yes, I cried like a fool. That's how attached I am to these characters, so bravo to Michelle and her team.
Lucy forgiving John for his actions and saying goodbye was also a gut-wrenching moment.
Seeing Clara in those final moments was just the cherry on top. Here's hoping Stephanie Leonidas makes room in her schedule next year to guest star in a few episodes. I would absolutely love that. Glad to see Fancy is a "regular asshole" again too!
We watch television to escape and be entertained, sure. To really connect and feel for characters that were dreamed up by a creator like Michelle Lovretta is a rare gift.
Dutch, Johnny, D'avin, Pree, Alvis, Pawter, Fancy Lee, Bellus feel like old friends now and I can't wait to see what trouble they get into next season. War is coming! Man, it's going to be a long wait, but at least we will be going back to The Quad next summer.
It's clear Space/Syfy realize they've got something special with Killjoys. The Season 3 renewal proves that much.
Syfy, specifically, needs to do a better job of promoting the series. Send the cast to San Diego Comic-Con, air TV spots on sister networks like NBC to get the word out. I'm sure if more people knew about this wonderful show, they'd fall in love with it too. Netflix is not optional Space/Syfy. Get the show on there... yesterday!
That's it for now, folks. Thanks for joining me for another kick ass Killjoys ride and for all your awesome feedback. The season just flew by.
What did you think of "How to Kill Friends and Influence People"? Did all the pieces come together for you? Was Khlyen's death a shocker? Excited for more Aneela? What was your favorite moment from the finale? You're up Killjoys fanatics, sound off in the comments because we've got lots to discuss.

Relive the entire second season when you watch Killjoys online via TV Fanatic!
NOTE: Killjoys will return for Season 3 in the summer of 2017.