The Last Ship Season 3 Episode 13 Review: Don't Look Back
Karen Benardello at . Updated at .
Life rarely allows anyone to resolve their conflicts without bittersweet consequences, no matter how heroic their actions are in battle.
CNO Captain Tom Chandler is no exception, despite his bravest efforts to protect the world's remaining survivors, from both natural causes and each other.
The Chief of Naval Operations proved yet again what a stunning leader he is throughout The Last Ship Season 3 Episode 13.
During the third season finale of TNT's hit post-apocalyptic series, it was satisfying to watch Tom be the person who finally was able to stop Allison's reign of terror at home in America.
When The Last Ship Season 1 launched in summer 2014, the former Nathan James captain proved he was the world's savior as he fought to help find and spread the cure for the virus.
So it was only natural that he would be the person who secured America's revival in Season 3's final episode, which is titled "Don't Look Back."
During the CNO Captain's last physical and emotional battle with the White House's former Chief of Staff aboard her plane, he lived up to his reputation of putting other people's safety before his own.
Not only did Tom demand that Allison release his children, who she unsurprisingly kidnapped, but he also willingly put himself in danger of being killed by her first.
If you hurt my son or daughter, I will hunt you down and kill you.

Tom
Despite Allison's malicious efforts to secure her place as America's newest leader, Tom acted like his true altruistic self when he recognized the pain she hid.
In an uncharacteristic revelation, Allison admitted that she was driven to target the people who prohibited her ambitions.
The only way she knew how to move on from knowing her family was purposefully killed by self-serving leaders was to not allow anyone to take advantage of her.
While detailing her family's demise was one of the few genuine moments Allison admitted to her perceived enemies during The Last Ship Season 3, Tom still had every right to shoot her. Even though he understood her pain, his instincts told him that she could never be trusted to help support America's revitalization.
It seems like every time we put the country back together, it falls apart again.

Tom
After rescuing Mike and the rest of the American P.O.W. who were taken hostage by Takehaya, and stopping President Peng's plans to spread the virus across Asia, Tom deserved to be celebrated when he returned home to America. He didn't deserve to be targeted by Allison as she tried to garner support for herself.
Even with his intuition guiding him to stop Allison at any cost, his growing grief over being responsible for her death proved he still retains his humanity. So it came as no surprise that he decided to relinquish his CNO duties at the end of "Don't Look Back."
The last few scenes of "Don't Look Back" are some of the most sentimental of The Last Ship's third season.
Not only does Tom decide it was time for him to retire as CNO, but Mike and the rest of the Nathan James crew realized that their courageous leader will no longer be guiding them.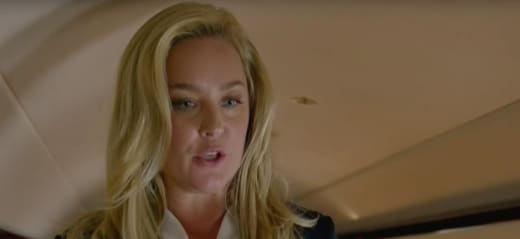 "Don't Look Back" also garnered tearful emotions when Danny finally meets his young son with Kara.
President Oliver also ultimately proves that he's a worthy successor to President Michener. In his address to the nation, he emphasized his committed to being the fearless commander-in-chief that America needs.
It will be interesting to see how Tom reintegrates into society after stepping down from his Navy post during the recently announced fourth and fifth seasons of The Last Ship.
While the remaining leaders have achieved what they wanted in "Don't Look Back," their underlying feelings of melancholy about the events of Season 3 will surely offer unlimited conflict over the next two seasons.
What did you think of "Don't Look Back"? Share your thoughts in the comments below!
Want to catch up on the first three seasons before the fourth and fifth seasons premiere?
You can always watch The Last Ship online right here via TV Fanatic!