Arrow Season 5 Episode 1 Review: Legacy
Paul Dailly at .
Does absence really make the heart grow fonder?
That was a key question on Arrow Season 5 Episode 1 as Team Arrow continued to be pretty much extinct. If you thought the team would somehow reassemble after Arrow Season 4, you were sadly mistaken.
With Oliver as mayor, Thea was well and truly done crime fighting and focused her efforts on trying to live a normal life. That's sort of what happens when you lose someone close to you.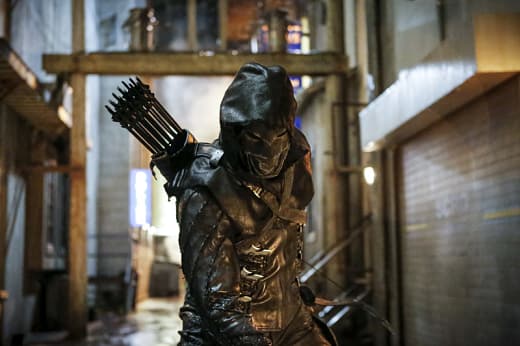 The original team struggled to continue on after Laurel's death, so it made sense that there would be fractures in the group. Having a new team leading the charge will make for some different dynamics. 
I'll reserve judgement on how I feel about the new new additions that will be taking up residence on the team until they appear Arrow Season 5 Episode 2.
Oliver working as part of a team on this installment made Felicity really happy. As much as he thought the original team would somehow reform, he probably knew the chance of that was diminishing with time.
Trying to save the city from villains, while being the mayor is no easy task. He was a busy man. He was spreading himself thin and that was always going to bite him. 
I thought the only thing that was ruining Laurel's memorial was that awful statue, but sadly, villains popped up. 
It was a thrilling scene, but the jig was nearly up for Oliver when he started wrestling with the villains. It's natural for him to want to fight, but I'm thankful he realized there was a camera on him. 
How the heck could he have explained all of his fight moves? Letting himself be captured probably was not part of the agenda, but he had to play along with it. 
Oliver's exchanges with Tobias were pretty good. Tobias wants all of these villains together to take down the Green Arrow, but little did he know he was right under his nose the whole time. 
Tobias will probably step up his reign of terror in the coming weeks, and that can only mean bad things for the residents of the city. 
One of the things I hated about Arrow Season 4 was the flashbacks. Honestly, I just wish the show would ditch them.
However, I found myself enjoying the action in Russia very much. 
Bumping into Anatoly was probably a shock for Oliver, but it was the ticket he needed to get closer to taking down Kovar. Oliver is a man of his word and that's why he's finishing off what Taiana started. 
On the relationship side of things, Lance and Donna are over. Lance returned to town and continued his binge drinking, but helping Oliver out kind of gave him the push he needed to finally move on from Laurel.
Lance's downward spiral was pretty much guaranteed to happen. 
The dude has lost so much in his life in just a few years, so it makes sense that he would turn to the bottle. 
It would be good to get some flashbacks to witness just how it all went wrong for Lance and Donna. They were electric together. 
When Oliver and Felicity broke up late in Arrow Season 4, I questioned when they would rekindle their romance. It seems that while they are both saving Star City from villains, they can't be in a relationship. 
I'm quite okay with that. Being in a relationship with the person you basically work with is not a good thing. Some day, Oliver and Felicity will be together, but we have a lot of villains to take down before we get to that stage.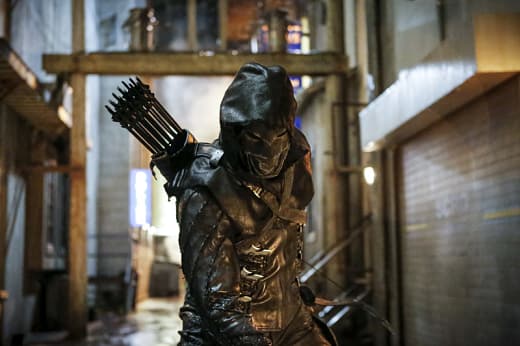 I don't know what to make of Prometheus yet. We never got to see very much of this new villain at all. His scene was overshadowed by the brilliance of Tobias. 
"Legacy" was a transitional affair. It moved the plot along, while setting up the storylines for the season ahead. We're already off to a better start than last fall. 
Other tidbits from the episode:
Did anyone else find the Laurel flashback to be terrible? I'm glad we got to see Katie Cassidy, but the reveal that she didn't want to be the last Black Canary was a bit silly. There was a lot of hype leading to the premiere about what she said, but it fell flat.
Oliver revealing he watched The West Wing to get all up to date on his politics was pretty great. At least he has Thea around to keep him right. 
Thea grilling Oliver about killing one of the bad guys was a bit much. It's understandable that she does not want blood to be spilled, but there are pros and cons to either argument. 
Can James Bamford direct every single episode? The fight scenes were breathtaking. 
Remember you can watch Arrow online right here on TV Fanatic. Get caught up with the latest drama right now!
What did you think of the season premiere?
Hit the comments below!
Note: Arrow Season 5 Episode 2 airs Wednesday October 12 on The CW.
Paul Dailly is the Associate Editor for TV Fanatic. Follow him on Twitter.