Chicago PD Season 4 Episode 8 Review: A Shot Heard Round the World

Brittany Frederick at . Updated at .
In every police drama, there's always an episode where the cops become the hunted instead of the hunter.
It's a natural source of drama and moreso now considering current events. Chicago PD Season 4 Episode 8 takes advantage of that to full effect while also writing out two characters - one in a good way and the other not so much.
"A Shot Heard Round The World" focuses on a sniper who kills two uniformed CPD officers, and couldn't be more topical.
Commander Crowley even makes a reference to the Dallas shooter when speaking with Voight. It's enough to make you pause and recall that not only can things like this happen - they have happened.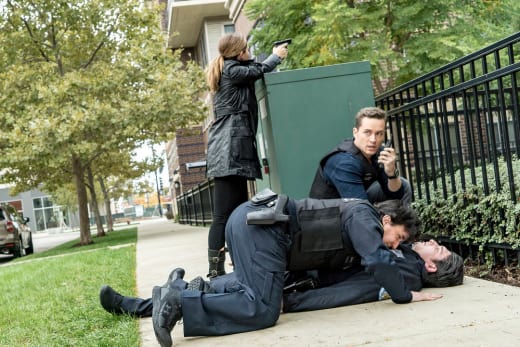 PD differentiates itself from reality by not making its story ultimately about a citizen disgruntled with the police, which is smart because it's already approached that issue a few times this season on Chicago PD Season 4 Episode 2 and Chicago PD Season 4 Episode 5.
Instead the culprit turns out to be the son of a murdered police officer, who after flushing out of the academy now blames CPD for all that has gone wrong in his life.
It becomes up to the team to try and save him as much as they are saving the officers he's targeting.
It's not just talk when a cop gets shot.

Voight
It would have been a more rewarding ending for Voight to be able to talk Carl out of the house and get him the mental help that he so clearly needed. There would've been a satisfaction in at least something positive having come out of all the loss.
But from a dramatic standpoint there's the circuitousness of the sniper being taken out by another sniper, plus the added gut punch of it happening specifically after Carl's mother begged Voight and Olinsky not to kill her son.
Then you also have even more weight heaped onto Olinsky's shoulders; the last three episodes have not been kind to him. Let's hope he takes a Thanksgiving vacation.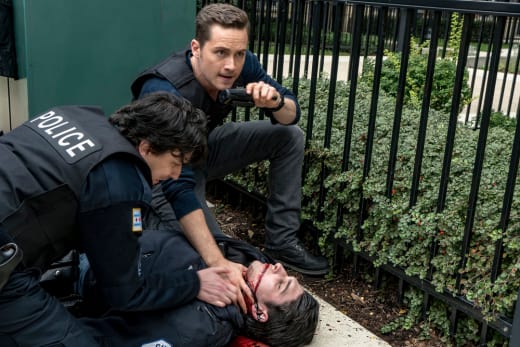 With tensions running high Chicago PD even lets Jay Halstead come off of his leash a bit. It's a nice change of pace to see Jesse Lee Soffer chomping at the bit when we're so usually used to him being the relatively calm counter-balance to other people.
Case in point: earlier in this same episode it's Halstead who grabs the panicked partner of the first victim and makes sure that he knows he's not to blame for the young man's death. He's always the steady one, so yay for him getting to be unsteady for a bit.
Nothing you could've done would've prevented that. Know that.

Halstead
The aforementioned scene takes place in the ED of Chicago Med so that allows for a cameo appearance by Nick Gehlfuss. I am convinced that Nick Gehlfuss will never turn up on Chicago PD with good news. He always has to deliver something bad (a trend Soffer pointed out in our on-set interview).
Just once I want Will Halstead to turn up at Chicago PD just to invite his brother to lunch. Or maybe to suggest a double date between Linstead and Chicago Med's Shorestead. That would be so adorable the world might explode.
But until then we get to watch Jay go on as close as he ever gets to a rant:
The truck was a lure. It was bait. We never should've been in the alley!

Halstead
Now on to the two exits that happen in "A Shot Heard Round The World." The first is that of Officer Mike Sorensen, and no offense intended to actor Kevin Kane, but nobody's throwing him a going away party. Sorensen just got here three episodes ago and has already established himself as a jerk.
After his little social media screw-up in Chicago PD Season 4 Episode 7, Sorensen then has a meltdown and quits the force in front of Platt and everyone. His instinct for self-preservation is greater than his oath to protect and serve.
I'd rather be a living beach bum in Tampa than a dead cop in Chicago.

Sorensen
On one hand you can't really blame Sorensen because the earlier scene he was in involved him and Burgess taking the second victim to Chicago Med and him standing there with her blood literally all over his hands. If that happened to you, you'd probably be freaked out too.
On the other hand you can totally blame Sorensen because he's spent two of his three episodes demonstrating how self-involved he can be. Whether it's posting body cam footage to social media for laughs, accusing Burgess of selling him out, or now this he's just not really cut out for this gig.
Plus from an off-screen standpoint he had to go eventually, given that Kane was billed as a guest star. He came, he screwed up, he left and he didn't leave that great of an impression.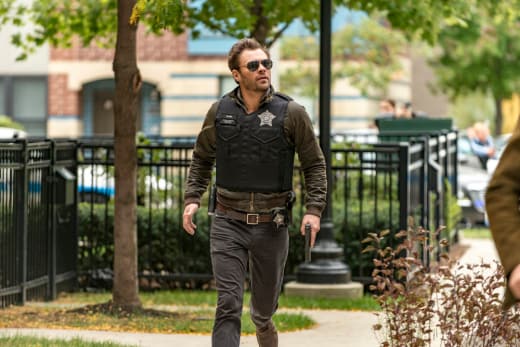 The bigger deal is sending off Antonio Dawson once the team finds out that he's leaving to work for the State's Attorney. It's kind of amusing that NBC's official description says that Lindsay "confronts" Antonio about his new job when the actual scene is her asking him about it, him confirming it and then leaving. There's no actual confrontation.
Instead his last scene is exactly what it should be - the gang together at Molly's with Antonio giving a farewell speech. It's sweet, it's not overwrought, and then Chicago PD slips in the non-surprise that Burgess is finally getting promoted to Intelligence. Because obviously.
If there's anything to arch an eyebrow it's that there's very little payoff to the Lindsay's dad storyline. After teasing it fairly heavily with the flowers subplot last week, all we get this week is her mom saying that her dad wants to see her. Wasn't that kind of implied by the fact that he sent her flowers?
But "A Shot Heard Round The World" sets Chicago PD up to pursue that storyline and others in January. We'll have Lindsay family drama, Burgess in Intelligence and an office without Antonio. Good stuff and hopefully it will all pay off.
Every fear you ever had about cops is gonna come true.

Voight
Chicago PD returns on January 3 at 10/9c on NBC. Until then you can catch up with all of Season 4 to date when you watch Chicago PD online.
You can also drop down into the comments to tell us what you thought about Episode 8. Will you miss Antonio? What about Sorensen? What are you most interested in when the show comes back? Start coming up with your second-half predictions now!
Brittany Frederick is a staff writer for TV Fanatic. Follow her on Twitter.