DC's Legends of Tomorrow Season 2 Episode 5 Review: Compromised

Carissa Pavlica at . Updated at .
Four out of five isn't bad. In fact, it's fantastic.
That's the excellent episodes over the average so far during during Legends' sophomore season, and DC's Legends of Tomorrow Season 2 Episode 5 can be added into the rollicking good time column. What a win!
We were ripped off on the brief DC's Legends of Tomorrow Season 1 foray into the '80s, but not this time. Not only did we get fun references and outfits, but we now have a near perfect team to carry out the missions and bring all these decades to life.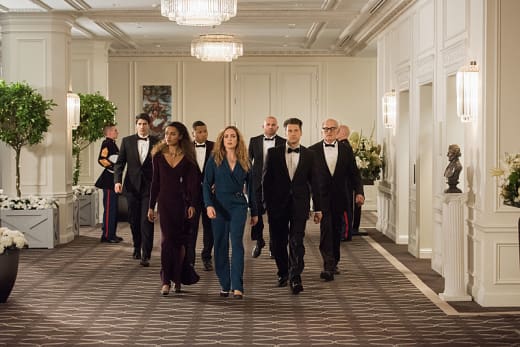 Legends was given four additional episodes to its current season for a total of 17. That's good, because "Compromised" finally began building the Legion of Doom.
Considering how long it's taking, I'm beginning to suspect the Legion itself will not be the big bad as much as the creation of it will be happening in conjunction with the episodic aberrations that lead the Legends to more clues about who will wind up Doomed. 
Given the incredibly positive reaction to the four-way crossover coming in three weeks and the Legion of Doom being created of characters who have essentially come from all of the DC shows except Supergirl (who can always deliver later), maybe the big bad on all four series during the 2017-18 season will be the Legion of Doom.
That came to me while watching this installment, because removing the focus of one bad guy, as we previously had with Vandal Savage, has made such a difference. I think a Legion of bad guys who can grow and change across the universe would really work on a lot of levels. It would allow for episodic baddies and a continual big bad.
A lot like the multiple series work themselves.
And allow me to gush over the additions of Maisie Richardson-Sellers as Amaya/Vixen and Nick Zano as Nate/Citizen Steel once again. They're fabulous, and only get better by the episode.
Amaya: Women actually wore these things in the '80s?
Nate: Shoulder pads? Yeah. They're supposed to make women more imposing, more, I don't know...
Amaya: Manly?
Not only are they great on they're own and interacting with the others, as we've seen in previous installments, they're simply fantastic when teamed up, as we saw here.
Both actors are so natural and comfortable with each and every scene they're in that it almost erases some of the more embarrassing scenes we had to endure throughout the first season. Those gods-awful Egyptian flashbacks and memories from the Hawkpeople can seem like distant nightmares now.
Instead, we have two people from completely different walks of life who have managed to blend in with each other and carry scenes all on their own with no effort and brought zero drama to the table. A former hemophiliac and a woman from the '40s are just as capable as any of our other heroes.
Nate [whispering]: You think I killed him? I hope I didn't kill him. He's got to be in his late 70s AT LEAST. Maybe he couldn't take the hit. Oh my God. I just killed a member of the Justice Society.
Amaya: Why are you whispering?
Nate [whispering]: In case he's not dead. He could probably use the nap.
And they're funny and compassionate, too. 
Amaya has shown her more humorous side when with Mick, and has been more compassionate of late. Nate was extremely entertaining during this hour, and his hug to Sara made me smile, especially when he promised there would be more.
We learned more about Amaya and the future she was hoping to share with Rex, and she gave Nate more information on his grandfather. It was surprising, because Nate is very much like his grandfather, who was brought light to his team even when they were feeling down. Nate has surely been showing that side of himself.
Amaya and Sara both needed his light for different reasons. Amaya seeing her old friend brought up good memories of a time she most likely will never get back. Sara wanted desperately to kill Damien Darhk long before he had the chance to kill her beloved sister, Laurel.
It's only because of Laurel's love and faith in Sara's soul that Sara is alive. Everyone turned on Laurel when she took her dead sister for a dip in the Lazarus Pit after hearing what it did for Thea Queen. It only makes sense Sara would want to return the favor in the special way she has before her.
But she's also discovered it's not as easy as changing one piece of the past and letting the future roll out unattended. As much as she would love to make it happen.
It's funny she had the longest discussion about it with Stein, as his younger self was its own aberration. You can't help but feel for the older Stein as his young self left his loving wife alone on her birthday and old Stein couldn't even recognize his own actions.
And of course, we have to talk about the new partnership between Mick and Ray. On Legends of Tomorrow Season 2 Episode 4, Mick made the great overture of giving to Ray Start's cold gun.
Mick: There's nothing wrong with the gun. You just gotta be cool, like Snart.
Ray: Yeah, I can be cool.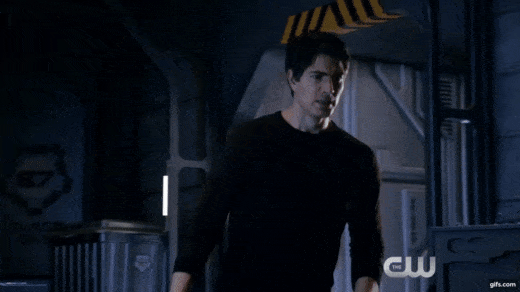 Mick: Listen haircut, if you want to fit into Snart's shoes, you gotta find the pain, the darkness, the anger. You got it in you?
Ray: Call me haircut again and I'll ice you.
Mick: Not bad.
Pretty much every moment they shared together was golden. That shows just how much attention has been paid to viewers pain at losing the Snart/Mick partnership. Mick has grown a lot since the series inception, and he even had fff fff feelings about what he was trying to do with Ray.
Mick: That's Snart's jacket.
Ray: Yeah. I thought it'd help me get into character. I'm Colonel Cold.
Mick: The hell you are. You're not gonna give yourself a promotion.

Ray was trying his hardest, he got the handle on the gun, even if he did cross streams forcing Firestorm to have to save their asses. Science is his thing. Finally, Snart realized that seeing Ray holding the cold gun and wearing Snart's coat only made him miss his old friend more. 
And when push came to shove, they needed Ray to science their way out of a bombastic situation, so maybe what he really needed was Ray just as he was. OK. He probably needs to be cooler regardless. Apple slices. Oh Ray.
Still, the two of them together made up most of the 14 (wow!) quotes I caught from this episode. I felt as if I could have taken a quote every other line, and that's the way I like it. Let's keep the dialog snappy and the characters on their toes.
By the end, they knew Darhk was working with a speedster, even if which one he may be. We still don't know what the two halves of Firestorm heard from elder Barry Allen, so that reveal is due. 
Did anybody else notice Thawne took Darhk away in a Jurassic World ride? Haha. Talk to me guys. Are you loving this season as much as I am? Chat me up and don't forget you can watch DC's Legends of Tomorrow online if you're behind. It's worth it!!
Here's a preview of DC's Legends of Tomorrow Season 2 Episode 6, "Outlaw Country," for your viewing pleasure. 
Carissa Pavlica is the managing editor and a staff writer and critic for TV Fanatic. She's a member of the Critic's Choice Association, enjoys mentoring writers, cats, and passionately discussing the nuances of television and film. Follow her on Twitter and email her here at TV Fanatic.