Sometimes we all need a little reminder we are still fun!
On Jane the Virgin Season 3 Episode 6, the arrival of Jane's cousin, Catalina, made her begin to wonder if her life's too boring. Thankfully, Michael was there to make her see they still have it in them to be spontaneous. 
Elsewhere in the episode, Rafael and Catalina made a connection, Petra got played, and Rogelio came upon a devastating sight.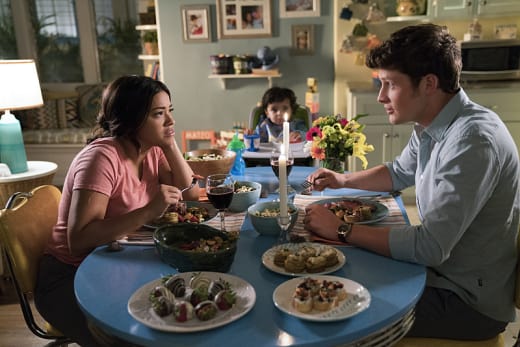 When comparing herself to Catalina, you can't blame Jane for thinking that she's boring. All of us would be boring compared to the glamorous, exciting life she rambled on and one about.
But I'm not buying any of it. Catalina's sudden arrival is suspicious. Then you add in all these supposed adventures she's been on. It's possible she's telling the truth about her life, but knowing this show, there's bound to be a devious plot twist coming.
Jane began to feel down about herself, and that's never a good thing. I hate Catalina just for making Jane feel less adequate about her life. 
Also, this woman was artificially inseminated, discovered her father was a telenovela star, and has been involved with several crime plots. Jane has nothing resembling a boring life.
Jane: Catalina makes me feel a little boring. Okay? She lives this exciting and glamorous life, and she isn't afraid to break the rules.
Michael: I know.
Jane: What?
Michael: That's exactly what I was afraid of. She's making you not like your life. Suddenly, you feel like your married to some boring guy, and we're just married boring people. Well guess what? I'm not boring.
Michael may never be able to sense when his partner out in the field is lying to him, but he wasn't as captivated by Catalina like Jane and Rafael were. He and Jane have such an enviable bond, that I'm not surprised Michael's biggest concern was that Catalina would make Jane feel bad about the life she's created for herself.
They may be married, but Michael wanted to remind Jane (and probably himself) that they still capable of being young and fun. Michael and Jane may not be a jet-setting couple, but they know how to have a good time and laugh at themselves.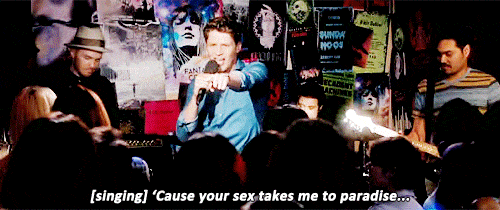 I'm not going to lie, I watched Michael and Jane's duet to "Locked Out Of Heaven" about ten times before writing this review. I think Bruno Mars would approve!
They are just so cute to watch. The thing I love most about their relationship is that they are friends underneath it all.
Both of them are completely dorky, but that's what makes them work. They compliment each other's weirdness in the most loving, hilarious ways.
Alice: Why is that weirdo staring at you and singing about sex?
Jane: 'Cause he's my weirdo.
I love that their idea of doing something crazy is getting a cat. Welcome to the family, Faith M. Whiskers III. 
As far as Jane's reaction to the flirtation going on between Rafael and Catalina, I wasn't surprised. Jane is over him, but that doesn't mean she wants her newly discovered cousin to be sleeping with her baby daddy. 
Rafael and Catalina appear to be cut from the same cloth. However, I just see lust between them right now.
If Alba's suspicions about Catalina turn out to be true, then Rafael is going to be blinded-sided once again. The man is really too trusting sometimes.
Other than Michael, Alba seems to be the only one distrusting of Catalina. She reminds Alba of her sister, and that's not a good thing. I hope Jane and the others don't stay blind to Catalina's motivations, whatever they may be.
Speaking of motivations, what is Vests' motivation for teaming up with Rafael behind Petra's back. I get that by helping him get his shares back from Petra, Rafael now owes him a favor. But what will that favor turn out to be?
Petra: So let me be unequivocal. We are never ever getting back together. Ever.
Scott: You don't have to throw our song in my face.
I was a little disappointed Petra gave in so easily. After the end of Jane the Virgin Season 3 Episode 5, we were all ready for the bitch to be back. 
Once Petra finds out Rafael and Vests colluded against her, there will be hell to pay. Unfortunately, there can only be so much back and forth between Petra and Rafael. It's already getting tiresome, and I'd like to see their relationship move forward in a meaningful way.
Lastly, we had Rogelio helping Xo find a dance studio. Unfortunately, the dance studio she signed off on is near her ex-boyfriend's office. I'm sure we'll see much more from Bruce considering Rogelio spotted them kissing just as he was going to profess his love... again.
Xo and Rogelio are absolutely adorable together. There dance-offs, both in the past and the present, were enjoyable to watch. I love that Rogelio couldn't quite pull off the dance moves like he used to.
Sadly, they are still at a standstill when it comes to children. I doubt the writers will have Xo change her mind about having a baby, so the ball is in Rogelio's court. 
Stray Thoughts and Questions
The product placement of Honey Bunches of Oats in Rogelio's TV show was a fun bit of commentary on the very real product placements shows like Jane the Virgin have to incorporate. However, just like in real life, the commentary got old real quick.
Will Vests try to get back together with Anezka now that he knows she's actually the one he was with?
Will Jane get another shot at landing that job? I'm assuming they didn't bring in Kelly Rutherford for just one episode.
Anezka and Vests' song was Taylor Swift's "We Are Never Ever Getting Back Together." Somehow perfect and weird at the same time. 
So over to you! What did you think of Catalina? Did you enjoy Michael and Jane's duet? What are your predictions for Jane the Virgin Season 3 Episode 7?
Sound off below, and don't forget you can watch Jane the Virgin online anytime via TV Fanatic!
Amanda Steinmetz was a staff writer for TV Fanatic. She went into retirement in June of 2027. Follow her on Twitter.