NCIS Los Angeles Season 8 Episode 10 Review: Sirens
Dale McGarrigle at . Updated at .
Persistent Nell actually gets the next break on the never-ending hunt for the mole inside NCIS: Los Angeles.
On NCIS: Los Angeles Season 8 Episode 10, Nell takes another crack at the world's dullest informant, Carl Brown, who she convinces to talk before something bad happens to him for being perceived as a snitch. He gives up more detail about Natalie, who recruited him as her pseudo-mole.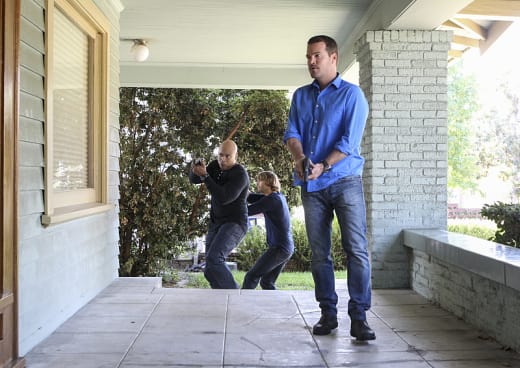 Nell continues her growth this season, proving she's more than Eric's geek-to-English translator. (Let's face it. She's exotic; he's odd.)
She's proven to be a ferocious, pint-sized action hero and a dangerous driver. Now she's showed her skill as an interrogator.It's going to be hard to send her back full time to Ops after Kensi gets back. She deserves more.
It was good to see Hetty out in the field, however briefly. It's clear she's the inspiration for Nell's driving exploits.
Hanna: How'd you beat us here?
Hetty: I took a shortcut.
Deeks: That's called a sidewalk.
This week's development didn't do a whole lot to progress the mole hunt. Natalie lasted just long enough to croak out the cryptic name Ray. The squad decided that Ray is the woman who previously tried to hit on Granger at a bar.
And also those employed by an abandoned solar company have something to do with it, but its employees have scattered after gunning down Natalie. So one step forward but not much more. Likely no more Carl, so that's a plus as well.
This week's oddest couple was Deeks and Eric in Ops. While no one disputes the importance of Ops, it's not for everybody. And it's definitely not for Deeks, who chafes under the glacial progress of computer searches.
I just exploded my fist bump, which is a whole new low for me. Now that I've gone down this rabbit hole of despair, what's next?

Deeks [to Eric]
Deeks is hiding out at the office because both his mom Roberta and Kensi's mom Julia have come to visit to help out Kensi, whether she wants it or not. And naturally the self-sufficient Kensi sends them away.
Roberta: Is it too early for a drink?
Julia: I like the way you think.
Roberta: You're a good mom. I can tell.
Julia: You too.
Roberta: Let's go.
Kensi continues her miraculous recovery. She's gone from barely walking in a walker to waking unaided to running in the space of two episodes. Naturally, no time element is really provided. Suffice it to say that her six-month recovery will be compressed, although it's hard to say to what degree.
Still, Kensi can't will herself back to active duty. Hetty has her shoot with her weak hand, and she totally misses the target, so Hetty strongly encourages her to take the time to heal properly. So, maybe next month?
Kensi's rehab buddy, Sullivan, seems to be on the way out of the picture, as he's supposed to rejoin his unit. I really expected him to be more than that for Kensi; if not part of a love triangle, then at least an ongoing friend. Guess not.
Densi is not the only one dealing with family drama. Supposedly Callen's father, Garrison, was sent away to protect him, although frankly, from what we've seen of him in the past, he doesn't need much protecting, much like Hanna's wife.
Apparently Callen and Garrison haven't gotten around to telling Alex that she's their sister/daughter and her son is their nephew/grandson.
Keeping family secrets to protect your loved ones, that's pretty much what your dad did to you, and everyone else in his life.

Hanna [to Callen]
Now that the powers-that-be have given Callen a family, let's get them together, to see how such a loner handles being part of such a unit. My guess is that there'll be bumps along the road.
I'd also like to see more of what is gong on with Granger. He's now being used as bait to lure out Ray, so might that be the beginning of the end for that character?
Granted, Hanna has been front and center for several seasons, but he's been somewhat in the background this season. It's time to give him the spotlight for an episode or two, as well.
To catch up on this season's developments, watch NCIS: Los Angeles online.
Is it time to put a bow on Kensi's recovery? How much longer can the mole hunt get dragged out before it's boring? Who would you like to see more of? Comment below.
Dale McGarrigle is a staff writer for TV Fanatic. Follow him on Twitter.