Scorpion Season 3 Episode 8 Review: Sly and the Family Stone

Allison Nichols at .
Megan O'Brien Dodd. Cue the tears.
On Scorpion Season 3 Episode 8, Team Scorpion travels to Ireland. It's a beautiful and heartbreaking trip. Anytime Megan is mentioned, there are obviously going to be tears. 
This hour was all about family. Even though Walter's family was a jerk to him (more on that in a moment), Sly and Walter reminded us that you can have a family who isn't your blood, and sometimes, that family is the most important one.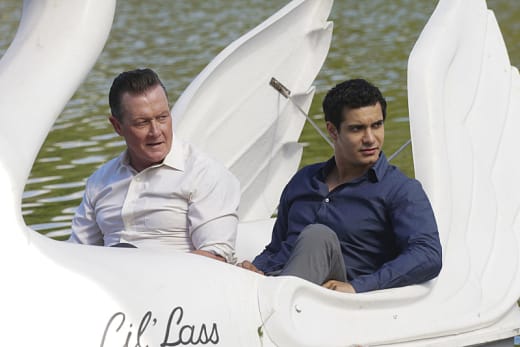 Sly and Walter's chat in the garage is a reminder why we love this team so much. They aren't coworkers. They are family. It's also a reminder that we need some origin episodes STAT.
The fact that no one in Walter's family believed Walter or listened to him at all was devastating. They did not even try to hide their disbelief. They mocked him.It was really nice that everyone accepted and loved Sly. 
Their affection makes you feel all warm inside. Plus, I could not have handled it if they treated Sly and Walter badly. However, it was sad that they listened to Sly's ideas, which are the same ones that Walter presented years earlier.
The fact that it came from Walter was enough to discredit the idea and mock it.
While this trip was about Megan, it felt like a missed opportunity to explore Walter's relationship with his family. We could have contrasted Cabe's relationship with Walter to Walter's relationship with his dad. 
When Walter says that Megan would have believed him, you realize how much she meant to him. Out of everyone in the family, Megan stood by him. It didn't matter how many times Walter was wrong. His sister had faith in him.
Another heartbreaking moment was when you realized that no one on Team Scorpion stood up for Walter when his family was mocking him and counting the number of times he has been wrong. Dude, Walter was 10 when he made those mistakes. He was a child.
Okay, yes, Team Scorpion stayed behind to help Walter, and they asked him questions whenever he first brought the problem to their attention. But, what I really wanted was someone to say something nice about Walter to everyone, like how he's usually right about this stuff, or how he has saved the day countless times before.
I wanted someone to vouch for him. No one did.
Also, the "reconciliation" between Walter and his jerk neighbors felt sudden and fake. Things should have just ended with an ass kicking and begrudging respect. Actually, if they would have left out the "be nicer to one another" line that would have made things so much better.
Speaking of the ass kicking, Tim and Walter sort of teaming up was an absolute delight. 
Walter: Toby asked me to help you with a non-existent test?
Tim: Ralph asked me to pal around with you in Ireland.
Cabe: It's a little Parent Trap. We're trying to create some peace in the garage.
It's so much fun to watch those two try to work along. It doesn't matter if they are working peacefully or bickering, they are entertaining. They were at their best when Tim coached Walter on how to fight. 
Can we have more Tim and Walter team ups, please? A buddy cop style episode featuring the two of them? I'll take anything.
My second plea to the Powers That Be is that we get to see some Happy and Cabe roomie time. While the stories are great, and believe me they are, what would be better is actually witnessing this living arrangement with our own eyes. I just need to see it. My life would be made so much better by this. Wouldn't yours?
What did you think of the episode? Were you surprised that Toby wanted a big wedding? Leave your thoughts in the comments.
Remember you can watch Scorpion online anytime via TV Fanatic.