Shameless Season 7 Episode 9 Review: Ouroboros
Paul Dailly at . Updated at .
There's always carnage when Hurricane Monica is in town. 
That sentiment echoed on through Shameless Season 7 Episode 9 in an hour that proved this hit Showtime series is showing zero sign of slowing the drama down. 
Absolutely no one wanted anything to do with Monica when she showed up. The drama she causes tends to have ripple effects that continue on for some time after she inevitably disappears again.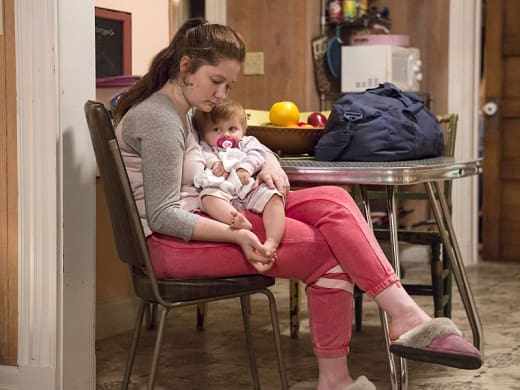 This time is very different. After a life of struggling with bipolar and not being the best mother to her children, it's becoming very clear that we're about to lose her for good. 
Her pursuit of Frank seemed pathetic at first. That's all she seems to do. Show up unannounced and expect everyone to welcome her with open arms. 
You have to take a step back and think about the ramifications her actions have had on the lives of her children. The Gallagher kids really have the worst parents on the planet, and I'm glad Sierra clocked on to that when she extended the olive branch to Lip. 
We'll come back to that in a little. 
Monica is back in town purely to try and right her wrongs in her final days alive. We witnessed Frank trying to ditch her several times, but then he collapsed in her arms when he found out she was dying. 
He always did say Monica was the love of his life. There's obviously a lot of history between the pair, and of course, many, many children. It's definitely intriguing to think of how the family will come together to bid adieu to the mother who was never there. 
Regardless of what everyone thinks of her, they will unite in her death... at least temporarily. 
Even though she was dying, she still had that Monica sense of humor we all know and love. Trashing Derek's house was one of her best scenes of the entire series. 
I loved how she started reading out all the laws to the people who stole Frannie. For now, Frannie is very much back with Debbie. I'm glad the storyline was not dragged out any longer. 
After two seasons of rebelling against everything and anything, it finally seems like Debbie is about to calm down and support Frannie. Working with Fiona is not going to be the most pleasant working environment. 
Both sisters have clashed a little too much for everything to be smoothed over, but at least Fiona gave her a chance. Fiona has been hard on her, but it sure seems like it's about to pay off.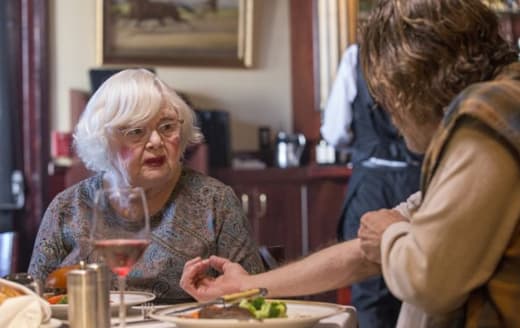 Back to the Sierra and Lip situation. Lip is a ticking time bomb. He's about to go off the deep end at any moment and getting him back on the straight and narrow is not going to be an easy task. 
Sierra cutting him some slack because of the way his mother is was pretty mature. She understood there was a method to his madness, but she also knows she can't be with him. 
Like Sierra pointed out, she is not someone to be there as a support system. I mean, it's nice of Lip to want to be with her, but he's not the best person to be getting in a relationship with right now. 
Maybe in a year, or two. Lip needs more help, or I'm scared of what might become of him. 
Elsewhere, Mickey escaped from jail, but we didn't get to see anything from him. He's on the run, and I'm guessing we'll get to meet him on Shameless Season 7 Episode 10. 
It sucks for Trevor to be stuck in the middle of Gallovich, but I'm certain he won't be sticking around for much longer now that Mickey is back on the scene. 
"Ouroboros" was up there as one of the best episodes of the entire series. There was so much to like about the hour. It sent the show in an interesting direction as we approach what could be the conclusion of the series. You guys, Shameless has NOT been renewed yet!
Ratings are down, but that can possibly be attributed to the change in premiere date. It's still one of Showtime's highest rated series, but there are rumblings that Emmy Rossum and Cameron Monaghan are ready to say goodbye. 
The show could go on without them. The U.K. version lost Fiona early on and continued for several years. 
Other tidbits from the episode:
Everything with Etta was just great. I can't wait until she figures out Frank is just using her for money and a warm place to sleep. 
Fiona going after the Yelp reviewer was way too far, but it was hilarious to watch it all play out. 
I can't get on board with Debbie kicking Sierra out. Sierra rolled over a little too quickly. It's a tricky situation, but she should have put up more of a fight. 
With Monica about to die, we can probably expect Carl to show up for her funeral. 
Svetlana taking the Alibi Room was not the most shocking development. Could this spell the end for the throuple?
Remember you can watch Shameless online right here on TV Fanatic. Get caught up now!
Paul Dailly is the Associate Editor for TV Fanatic. Follow him on Twitter.