Sex sells!!
That was a decent lesson on Younger Season 3 Episode 6, as not only will the next big hit by Empirical most definitely NOT be the Pigeon book (metaphorical, but so much cooing!), but it will most likely be a sexual tour de force by none other than Edward LL Moore's female alter ego!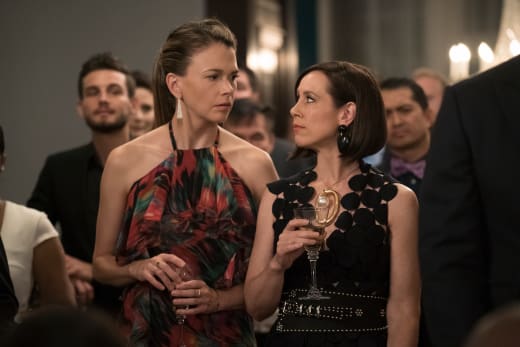 OK. We've heard so much about that pigeon book, and it was nominated for a Booker prize, but did you expect it to come from an elderly woman and to contain so much cooing?
I'll pay you a hundred bucks if you start cooing back at her. Coooo cooo cooo.

Josh
There's no way I could have suffered through a book like that one. I wonder if the sample chapters on Amazon gave away a taste of the protagonist inserting mild cooos into her thoughts. That's the perfect way to ensure nobody wants to buy the book.
Liza was surprised to find out from Charles' children he was considering moving to a lesser home to save money for the business. He's giving it his all, that's for sure.
It's a huge move to bring in more personal capital by changing your living status while trying to keep things status quo at the office. 
It seems unlikely his new woman would remain with him if his business failed. I don't want to think less of her as a person because she's not Liza, after all, she's probably not keeping a life-changing secret from Charles.
But the way she looked at Liza when she walked past her and up the stairs to the girls' bedrooms with Charles said a lot. She was essentially fuming with jealousy over Liza and her relationship with the girls, but also wanted to remind Liza who was taking them to bed...all in a single glance. 
I'm sure she's nice for the type of woman she is, but she's also not the type of woman who would make Charles happy long term. She's more sophisticated than he needs or wants.
Of course, Liza is in the opposite situation with Josh.
My back in the day is happening right now, and I'm going need stories to tell the 26-year-old that I'm gonna date when I'm 40, so...

Josh
Like Liza, I have a lot of back in the day stories. But the adrenaline rush I used to get from taking chances has settled into worry about real life. Like what if your boss walks in, or what if the police are lurking around. 
Hey, out there in right field, testing your away game...catch! Liza's trying very hard to make life exciting for Josh, but at some point she's going to get annoyed with the fact he wasn't satisfied doing that once and wants to do it again.
That's not fair to Josh, who is doing age-appropriate things. It's not fair to Liza, either, who is doing the same. Those are the little things nobody thinks about when taking on a 16 year age gap.
Kelsey's friend brought them a book to buy that would be the next "Fifty Shades of Grey." But if you're never going to see the author, it's hard to make a sale. Lord knows Millennial Press has already been burned with an untested author, and they just weren't ready to take that chance.
Enter LL Moore and his love for Pam Pam. When he said the same phrase to Liza that was used in the book, some quick sleuthing on the part of Kelsey and Liza made them realize the authors were one in the same.
They also both gagged over it, which was exactly what I'd expect from them. That was a laugh out loud moment. 
Its's the only way Moore would stay with Empirical because he's done with COK.
Good luck. We're all begging for more cock. I mean Crown of Kings, of course. C. O. K. I've never said that acronym out loud. I've always just read it, alone, in my head.

Diana
Oh how I love Diana. Does anybody deliver lines like Miriam Shor? No. No they do not.
I'm not sure how it all works, but Liza went behind Redmond's back to sign Moore out from under Lena Dunham. It worked and Liza saved the day.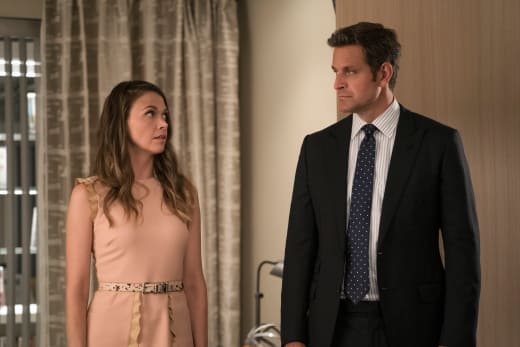 Liza and Charles were talking about publishing and celebrating with old scotch when Rhada entered. She wants to get to know everything about Liza. A woman like her might be the type to expose Liza for what she really is, but it would also seem a bit tawdry for her to even go there. 
The side story involved Maggie and her orthodyke, name of which I still cannot catch. IMDB says Malkie. 
Poor Maggie is just so enamored with Malkie she's doing things totally unlike herself. 
Watching the last drop of water get sucked out of the pool because of her tattoos was pretty funny, though. I want to bring them into the circle. Go to a bar together, a party, anything. She feels so out there. 
Over to you guys! What did you think of the episode? Did you miss Lauren? Are you surprised we haven't seen anymore of Chad? Is anything missing you'd like to see? Chat about it, and watch Younger online if you're falling behind.
Carissa Pavlica is the managing editor and a staff writer and critic for TV Fanatic. She's a member of the Critic's Choice Association, enjoys mentoring writers, conversing with cats, and passionately discussing the nuances of television and film with anyone who will listen. Follow her on Twitter and email her here at TV Fanatic.