Shameless Season 7 Episode 11 Review: Happily Ever After
Paul Dailly at .
Bye, Monica Gallagher.
Yes, you guys, Monica's life came to an end on Shameless Season 7 Episode 11. Her death went down pretty much as anyone could have expected. 
After telling Frank just weeks ago that she did not have long left, she quickly set out to try and make things right with her nearest and dearest.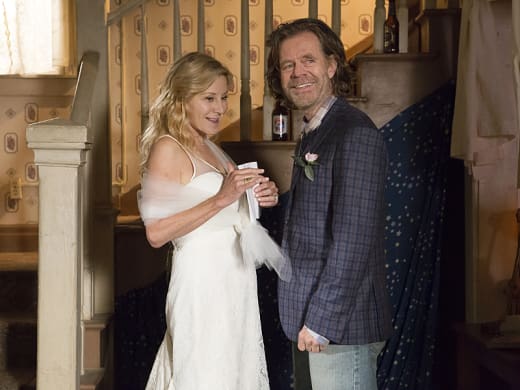 In true Monica fashion, she spoke her mind and continued to get into extravagant heists with Frank. 
It was a great farewell run for the character who has appeared sporadically through the run of the show.
There was absolutely no way she was going to get all of the Gallagher children back on good terms with her. 
Lip and Fiona had witnessed too much of the bad things she did over the years. It seemed like the marriage was just a huge sham in order to bring the clan together one last time. 
I am glad Fiona and Lip eventually joined the festivities, but I'm bummed Ian didn't manage to make it home for the party.
He was way too busy trying to find a way to make things work with Mickey. 
Frank: All I had to do was pull out and you would have never been born.
Fiona: You were too high to pull out.
The seed of doubt about his life on the run with Mickey came when the first police car passed them.
The reaction on Ian's face said it all. This was not the life he envisioned for himself. 
He managed to pick up the pieces when Mickey went to jail and has actually landed pretty well on his feet with his EMT job.
He could have easily chosen a life on the run, but that would not have been true to his character. 
Ian: No, you gotta... it's the other-
Mickey: Do I tell you about EMT shit? Leave the god damn stealing to the experts.
For everyone who wanted Gallavich to be a thing, it really sucks they have gone their separate ways, but it's the best... for now.
I can't even begin to imagine how badly affected Ian is going to be by his mother's death. 
Could it send him back to Mickey? Sure. Could it send him off the rails? One hundred percent.
There's pretty much no way he is not going to feel guilty for not returning for the vow renewal... if that's what you want to call it. 
Ian was not the only one who was making big decisions. His older sister, Fiona, was struggling with what to do in the aftermath of selling the laundromat. 
Any way you look at it, it was a great business investment for her. Walking out with double what you paid for the place after such a short time is nothing to be ashamed of.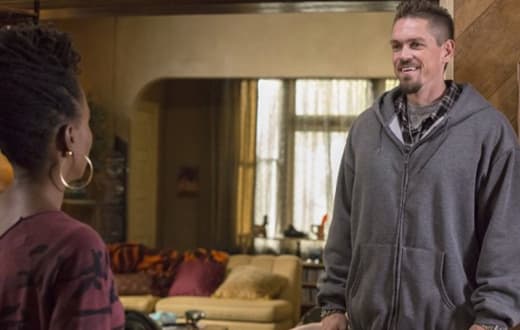 However, I feel like she should have kept Etta in the Gallagher home.
If it was not for Etta she would not have even had the opportunity to make that sort of profit. 
Looking after anyone is hard work, but I definitely think she would have been happier in Casa De Gallagher. It would be a shame if this was the last we've seen of her. 
Fiona carving out a career in property development was pretty much a given, but would she really take another loan out against the house?
Yes, it worked for her the first time, but somehow, I think she's getting ahead of herself. 
It was great she got to rub her success in Lip's face. He has been horrible to her for far too long.
Any idea to success she ever comes up with is always met with a terrible response from him. 
This place is a shit hole.

Etta
At least now he has knitting to occupy himself with. I can't be the only one getting tired of him. 
"Happily Ever After" was a solid episode that set the wheels in motion for what could be the series finale.
I'm not ready to say goodbye to the best family on TV, so I hope something can be worked out for at least one more season. 
Stray Thoughts:
The Mickey/Ian plot felt way out of place in the episode. It would have been better if they got a whole episode to themselves. 
Etta telling Fiona how bad her house looked was HILARIOUS. 
Kevin's actually pretty good at his new job, but would V really allow him to get hand jobs for cash? 
Mickey sure seemed taken aback when Ian revealed he had savings. Did he seem to think he worked for free?
Debbie being the one to put Lip on blast seemed a little too random. 
Over to you, Shameless fanatics! What did you think of Monica's death? Was Ian right to let Mickey head to Mexico alone? Sound off below!
If you want to check out the family in happier times, be sure to watch Shameless online right here via TV Fanatic!
Note: Shameless Season 7 Episode 12 airs December 18 on Showtime!
Paul Dailly is the Associate Editor for TV Fanatic. Follow him on Twitter.