Supernatural Season 12 Episode 7 Review: Rock Never Dies

Sean McKenna at . Updated at .
So Lucifer has no plan.
Supernatural Season 12 Episode 7 divulged that letdown of a reveal in a rather underwhelming hour.
I just hope that the writers and showrunners have a plan.
It was certainly intriguing having Lucifer take over a new vessel, and I was OK with a new actor trying his hand at the major role. Actor Rick Springfield did manage to bring a scary edge to Lucifer again, initially.
But watching Lucifer dig into the Vince Vincente life so he could get followers to hurt themselves felt so trivial. And by the end, he just sounded whiny.
It made me think back to the epic showdown when Dean faced off against Lucifer with the Sam vessel on Supernatural Season 5 Episode 22. There was gravitas and emotional weight behind the characters and the moment. There were stakes, and Lucifer felt like the ultimate villain.
But during this hour, it wasn't interesting watching Lucifer reunite the rock group or kill off the band members. And where he would have snapped his fingers to explode Castiel after an "assbutt" comment in the past, here he was more content to just throw him around or use a guitar to hit Crowley a couple times.
Plus, the major showdown at the end of the hour lacked any dramatic impact after what felt like a tedious buildup. And it took forever to even get to that VIP concert.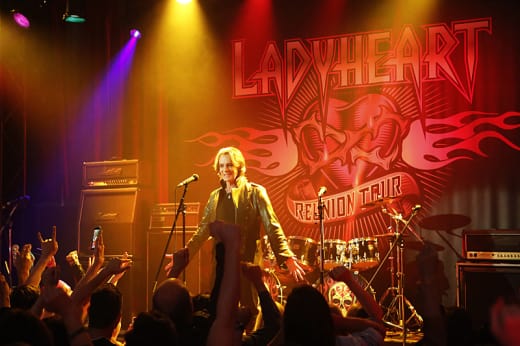 Yes, there were a few humorous moments like Dean enjoying the vegetable water or Castiel not enjoying having to hang out with Crowley. And the dressing like a lumberjack line was funny.
But I'm far less interested in the Lucifer story now.
So good on Lucifer for escaping, but are we just going to see the same thing again with him in a new vessel?
Sam and Dean may think a Lucifer without a plan is scarier, but I'm just not seeing it.
I'd rather Lucifer go back in the cage and the writers come up with something new for Sam and Dean to face.
This was an episode that left me bored through most of it and more disappointed by the end. And that's frustrating, especially because Sam and Dean were dealing with Lucifer, a character that has been mostly so memorable and fantastic, and not just some throwaway monster of the week.
I really hope Supernatural Season 12 can kick it into gear for the midseason finale because it would be nice to get an exciting and investing episode before the show goes on hiatus for a while. Fingers crossed!
What do you think of Lucifer not having a plan? Are you excited to see what's next for him? Sound off below, and be sure to watch Supernatural online at TV Fanatic!
NOTE: Supernatural Season 12 Episode 8, "LOTUS," airs Dec. 8 at 9 p.m.
Sean McKenna was a TV Fanatic Staff Writer. He retired in May of 2017. Follow him on Twitter.