Vanderpump Rules Season 5 Episode 8 Review: No Show

Sarah Hearon at .
Jax goes under the knife and Stassi debates using one on Scheana if she ditches her birthday trip on Vanderpump Rules Season 5 Episode 8.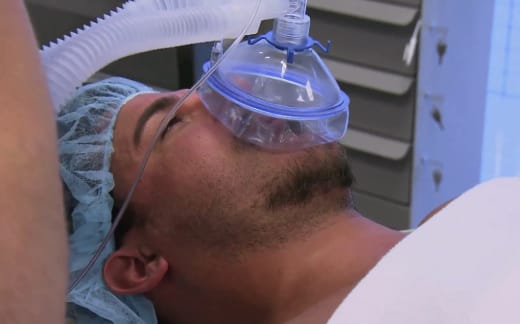 Katie, her mom and her grandmother are all folding her "wedding invitation tea towels" because apparently those are a thing. 
It's $18.50? That is so much money... for a rag.

Stassi
Isn't it kind of weird to print wedding invitations on a towel? And isn't it absurd to spend $20 before you even pay to spend them to your guests? I think the answer to both of those questions is hell yes.
It's like folding SUR napkins all over again,

Kristen
The girls are also getting ready for their trip to Montauk for Stassi's birthday... where Bravo's new show Summer House also conveniently talks place. These Cali girls do not seem ready for the East Coast.
Stassi: I think Kristen is excited about going to Montauk, but I know Kristen has no idea what Montauk is.
Kristen: Literally the only thing I know about the Hamptons is Puffy Daddy and Bethenny Frankel.
Scheana is talking to Shay about how she is just trying to make sure Katie is happy and feels like she isn't doing anything right post-birthday party showdown.
The real problem here is why is the fact that you're getting married a good excuse to act like a brat? I'm not sure if Scheana is so desperate to be a bridesmaid or if she's worried that the show is going to make Katie the star because it's the summer of her wedding and she doesn't want to get a bad edit.
Ariana, Tom and Lala go see DJ James Kennedy DJ somewhere that isn't Pump or SUR. There's a 99% the producers had to pay a bar to get James in for a DJ set just for filming purposes.
Lala and James are both bragging about how they've been sober for "weeks," but both of them are still drinking. Just because you aren't wasted doesn't mean you are sober. Like at all.
Kristen and Jax go boxing together... do you think that they pretend DJ James is on the boxing bag? They should listen to his music if they really want to get fired up.
My relationship with Jax is complicated. Jax and I are kind of like step-brother and step-sister... who may have slept together twice.

Kristen
Jax needs to have surgery because he continues to take supplements that give him cysts in his chest. And only Jax would refuse to stop taking the same supplements... or do anything that puts his health first (or even just above having fun).
Jax: I feel like I just sweated out all of that vodka.
Kristen: I'm going to go home and drink vodka.
Jax is back at the same doctor who did his million nose jobs and Brittany's boob job. At this point, it's shocking that his doctor doesn't have his own Bravo spinoff.
I feel like I need one of those push-cards. 5 surgeries and get the 6th one free.

Jax
I don't know if Lisa's reaction to Katie's tea towel invites or Lala's Louboutins was better. It was unfair to flashback to Pandora's wedding, which was next level, when she got Katie's towel, but her face when she realized the rumors about Lala's boyfriend were probably true because of her shoes takes the cake for me.
It's hard to take DJ James and his girlfriend seriously. She talks about how she's worried about walking in her beauty pageant and he complains about missing DJ gigs at SUR. They both have big dreams.
Raquel and I have a lot in common... we both like... to... eat food.

James
When the Bravo editors flashback to all of Jax's surgeries (aka nose jobs), it's hard to believe they don't have an Emmy. Schwartz and Sandoval bringing him a Hooters t-shirt because he got surgery on his chest was also worthy of some type of award.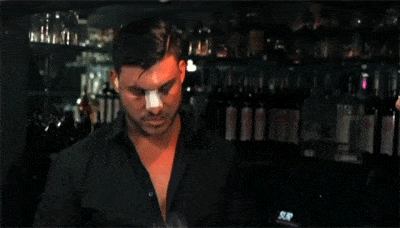 You're one of the rare couples that have both have breast augmentations.

Tom Schwartz
Stassi and Scheana both go to their mothers for help when they're fighting with their friends and significant others. I can't judge them for that because I do (and always will do) the same thing, but I can judge them for their lack of air-conditioning.
Stassi's 11-year-old brother gives the best advice of anyone on this show, and that really says everything you need to know about it.
It's just beer. Did you guys go to a bar that night... how much did you drink?

Nikolai
He is also the only one who has enough guts to tell Stassi that she isn't always the boss.
James, who for the second year in a row is not invited to Ariana's birthday (#shocker), goes to see Lisa to beg for his job back... and curses the entire conversation.
He also points out that he has been sober for a week and her son Max probably noticed a difference. Lisa is not impressed, and even suggests James picks a career outside of DJing.
On the morning of Ariana's birthday trip, Lala is nowhere to be found and misses the flight. It's unclear if she just couldn't wake up before 6am or if she ditched the trip for her married (???) boyfriend. Maybe one of his kids needed her.
Don't forget to watch Vanderpump Rules online via TV Fanatic.
Sarah Hearon is a staff writer for TV Fanatic. Follow her on Twitter.