Booth and Brennan had to figure out why the man who married them was tortured and killed in a most horrific manner on Bones Season 12 Episode 4.
Our TV Fanatics Ashley Bisette Sumerel and Christine Orlando are joined by Bones fan, Pam, to debate Aldo's terrifying murder, who may be in danger next, and whether fecal matter will keep us from the water park after "The Price For the Past."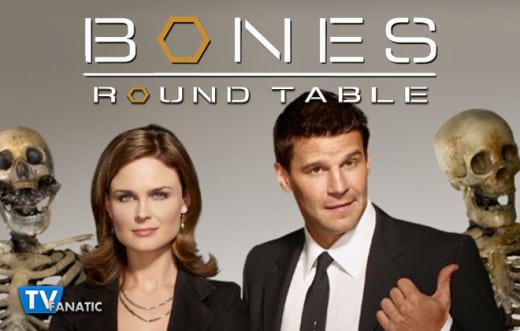 Should Booth have made more of an effort to keep in touch with Aldo?
Ashley: Probably? I honestly wish we had seen Aldo at least once more before this story, or at least spent more time talking about him.
Pam: It would have been nice, but life happens. He and Bones were having babies and moved away, then returned after the wedding and he lost touch.  The road goes both ways with friendships. Sad thing is Aldo must have lost his bar as he was working for another owner.
Christine: In a perfect world, yes, but Booth said he'd tried to get in touch a couple of times. Booth had no way of knowing that Aldo was in such a bad place. It can be hard to tell when someone is in trouble and needs help, or if they're just busy and have their own life.  
Will you ever visit a water park after hearing Brennan's speech about fecal matter?
Ashley: Ha! Sure, but I'll never think of it the same way again.
Pam: That's an easy one for me. I have never been to a water park where I was in the water, only amusement parks where you ride on the water! I don't like to swim in public pools or hot tubs either, so yeah, I wouldn't want to visit one!
Christine: I grew up going to these type of parks all the time and never knew this was an issue. Like Ashley, I still may go, but I'll never get that phrase out of my head.
On a series that prides itself on horrific murders, how would you rate Aldo's?
Ashley: On a scale of 1-10, I'd say 15. This one was almost too much for me, if I'm being honest.
Pam: I wouldn't want to be eaten alive by rats or anything so I would rate it a 10 for murder;  though he ended up breaking his own neck  trying to get away from them and to keep from talking about where Booth is. Looks like the son of the General or friend is closing in though.
Christine: A definite 10. I hate the gory stuff, but this went beyond that. The thought of this type of torture was truly horrific. Imagine having to break your own neck just to make it stop. 
Do you think the General's son will find Booth, and do you think he will target him, or Brennan, or the kids?
Ashley: I definitely feel like that's where we're headed, and it makes me nervous. Also with the end of the series, it wouldn't be all that surprising to have Booth die -- though I hope that won't be the case! Oh man, now I just made myself even more nervous. I do hope the kids will be off limits.
Pam: They have 8 episodes left and so far they aren't getting into depth with any of the stories, just touching on them. This might be why  someone from their past returns too.
Christine: I think this will be the final "bad guy" twist for the series and this guy will definitely show up by the end of Bones season 12. Given what he did to Aldo, I'd say that nothing and no one is off limits.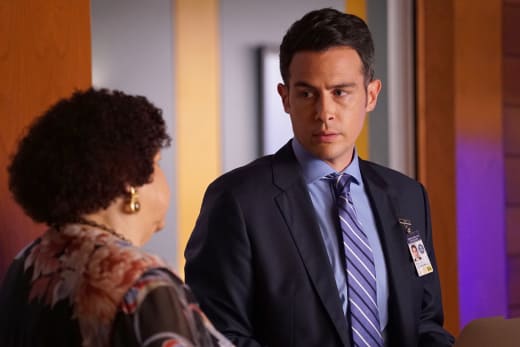 What are your thoughts on Aubrey and Jessica as a long term romantic couple?
Ashley: I think they are just the cutest! They also seem to be compatible, so I could see it working. For a moment there, I actually thought Aubrey was going to propose in this episode. I wouldn't be mad about it. 
Pam: I don't feel any chemistry and I think she likes him more as a friend then a lover; notice her facial expressions when he tells her how he feels. I'd still like him to date the shrink Sara they for me together are more interesting. Maybe he will be alone by end of series and they won't just throw everything together in last couple of episodes..
Christine: This was the first time I really liked Jessica and felt that these two were a real couple. I'm actually rooting for Jessica and Aubrey to have their happily ever after now. 
What was your favorite quote or scene from "The Price For the Past"? 
Ashley: I enjoyed the moment between Booth and Brennan when Booth said he was lucky to have had Brennan in his corner. That actually made me tear up a little. 
Pam: I LOVE that the writers are letting Bones and Booth work cases again out in the field, the scene where they are in the building and they see the bomb and race out and the building blows up. It reminded me of old times in earlier seasons when they often escaped death with cool action scenes. Great seeing Caroline back and worried about Booth, she's a Mom figure for him in my eyes.
Christine: I'm not usually one for big action scenes, but that explosion was epic. I liked the way they not only flew through the air, but Booth was thrown into the SUV. That really caught my attention. 
Check back next Tuesday for our review of Bones Season 12 Episode 5, and if you can't wait for more. You can always watch Bones online here at TV Fanatic.
C. Orlando is a TV Fanatic Staff Writer. Follow her on Twitter.