Fox Unveils Spring Premiere Dates: When Will Prison Break Return?
Paul Dailly at . Updated at .
Fox has finally unveiled its Spring premiere dates, and we finally have the news we've all been waiting for: Prison Break will officially return Tuesday, April 4.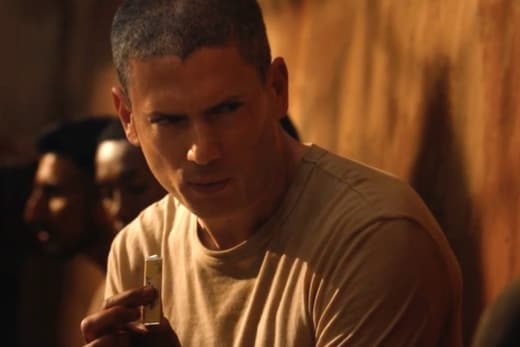 Considering how long the series has been off the air, that's not much longer for fans of the series.
The new iteration will span nine episodes and will put the characters together once more as they get word that Michael Scofield could actually be alive. 
As you probably know if you're a fan of the series, Michael apparently died in the series finale after breaking Sarah Tancredi out of a women's prison, with Alexander Mahone revealing that Michael was dying of health issues. 
Making History will premiere out of The Simpsons on Sunday, March 5. The comedy series stars Adam Pally and Leighton Meester.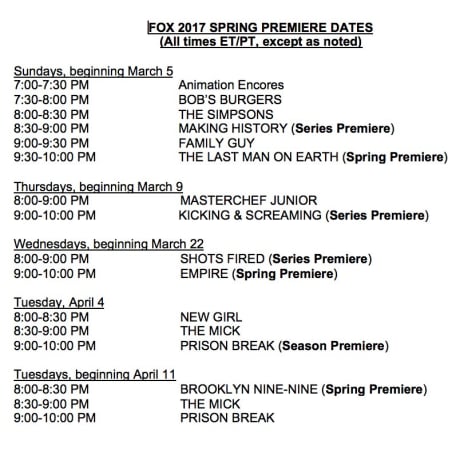 Event series, Shots Fired, will take over from Lethal Weapon after it finishes its freshman run.
Shots Fired will debut as the lead-in to Empire on Wednesday, March 22.
Meanwhile, Gotham will return Monday, April 24, with Lucifer joining in the fun one-week later on Monday, May 1. 
Finally, Brooklyn Nine will return Tuesday, April 11. It will lead into The Mick, which was just picked up for four more episodes.
Here is the full list of return dates...
Sundays, beginning March 5
7:00-7:30 PM Animation Encores
7:30-8:00 PM BOB'S BURGERS
8:00-8:30 PM THE SIMPSONS
8:30-9:00 PM MAKING HISTORY (Series Premiere)
9:00-9:30 PM FAMILY GUY
9:30-10:00 PM THE LAST MAN ON EARTH (Spring Premiere)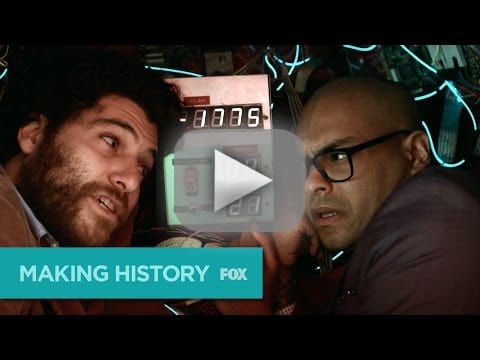 Thursdays, beginning March 9
8:00-9:00 PM MASTERCHEF JUNIOR
9:00-10:00 PM KICKING & SCREAMING (Series Premiere)
Wednesdays, beginning March 22
8:00-9:00 PM SHOTS FIRED (Series Premiere)
9:00-10:00 PM EMPIRE (Spring Premiere)
Tuesday, April 4
8:00-8:30 PM NEW GIRL
8:30-9:00 PM THE MICK
9:00-10:00 PM PRISON BREAK (Season Premiere)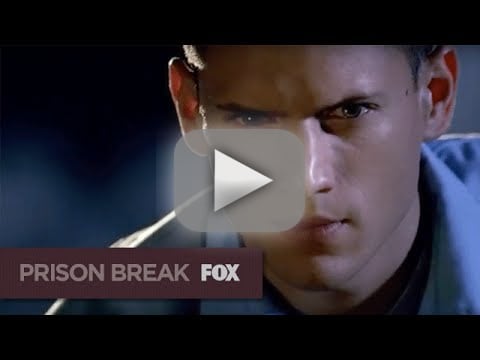 Tuesdays, beginning April 11
8:00-8:30 PM BROOKLYN NINE-NINE (Spring Premiere)
8:30-9:00 PM THE MICK
9:00-10:00 PM PRISON BREAK
What do you think of the premiere dates?
Sound off below!
Paul Dailly is the Associate Editor for TV Fanatic. Follow him on Twitter.