In one of the funniest episodes we've seen in a while, The Big Bang Theory Season 10 Episode 12, "The Holiday Summation," also delves into some pretty serious issues.
The gang gets together for the first time since the holidays, and they all have stories of an imperfect holiday season.
Sheldon and Amy
Sheldon and Amy's trip to Texas is eventful to say the least. With it we get the return of Sheldon's mother, which is always a treat. 
What Mary reveals in her reaction to the news that Amy and Sheldon are living together is as funny as it is important. She always worried Sheldon would end up alone.
She also alludes, quite obviously, to Sheldon's autistic characteristics when she recalls Sheldon's ability to memorize trains when he was three. 
For a moment, I thought Mary might actually reveal a diagnosis. She doesn't, but that's not the point.
The point is that while Sheldon is upset because his mother was more worried for him than his siblings, despite his intelligence, she was just concerned with his happiness.
Granted, Sheldon acts out in ways that are pretty ridiculous, from putting underwear on his head to getting an earring.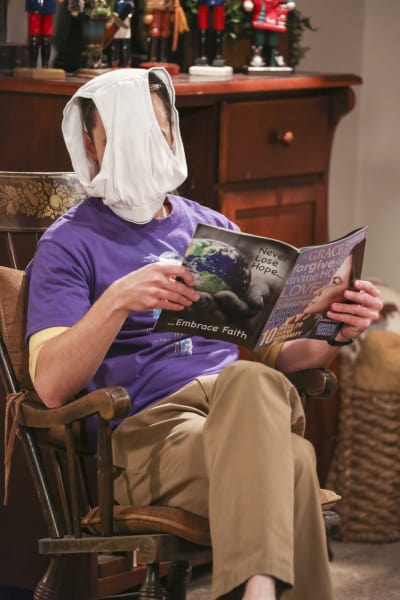 Leonard and Penny
Leonard and Penny's story is just about purely for comic relief, though it also speaks to their relationship that they can go on this adventure together -- even if doesn't go well. At all. 
It's too bad. It's a pretty tree!
Howard and Bernadette
Howard and Bernadette share the details of parenting a newborn so far. Despite having significant help, taking care of a baby is proving to be harder than either of them probably imagined.
For Bernadette, it's an also an emotional struggle.
As funny as it is to watch her emotional outbursts (while the baby cries -- oh my goodness, that cry!) it's bringing to light a problem that many mothers face but don't feel comfortable talking about.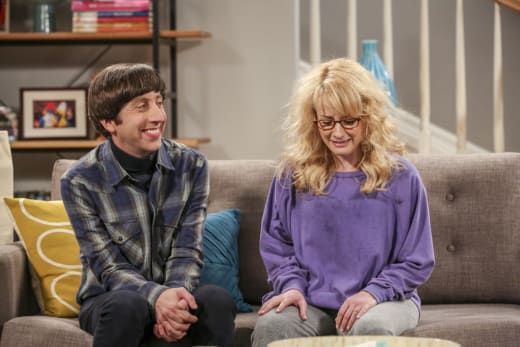 Thankfully, a quick internet from Sheldon puts the idea of "baby blues" right out in the open.
The good news is that Bernadette has a solid support system. Her friends are ready to list, Stuart and Raj are basically her entourage, and Howard is being incredibly supportive.
Bernadette also manages to solve the problem and get the baby to sleep, at least for a bit. How? By crawling into the crib with the baby. Because of course she does.
Other Thoughts:
I love that we're never going to see the baby. I think it's a nice homage to Howard's mom / Carol Ann Susi, but it's also a nice way to bring back an element that's been missing for a while. That cry is horrendous though.
The sound of Stuart's voice can probably make me go to sleep too, if I'm being honest.
One of my favorite quotes from this episode involves Sheldon's eating habits:
Now while you scold us, I'm going to get a knife and fork. Joe may be sloppy, but Sheldon's not.

Sheldon
What did you think of this episode of The Big Bang Theory? Share your thoughts with us in the comments below!
Need to catch up on past episodes? You can always watch The Big Bang Theory online right here via TV Fanatic! Watch online now!
Ashley Bissette Sumerel was a staff writer for TV Fanatic. She retired in September 2017. Follow her on Twitter and on Google+.