This Is Us Season 1 Episode 13 Review: Three Sentences

Carissa Pavlica at . Updated at .
A whole slew of birthdays were celebrated on This Is Us Season 1 Episode 13, and with them came Jack's realization that his beloved children wouldn't always be soothed by daddy's magical words.
Children grow up, taking with them all of the lessons they've learned along the way. The best parents can hope is the wisdom they've imparted, the love they've shared and the battles they've fought on behalf of their kids gave them everything they needed to be happy and successful.
If one parent dies before the job is done, well, that can throw a wrench into even the best laid plans.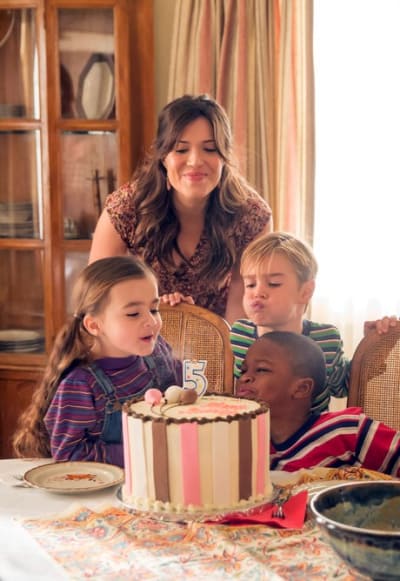 I can't imagine raising three kids, let alone three of the same age. Trying to do right by all of them would be a nightmare.
What you have to love about Jack is his unfailing desire to be all things to all kids at all times. When he couldn't figure out a way to do that for their birthdays, he figured a puppy would suffice.
Although Kevin wasn't the older child of the bunch, he often proved the instigator. It was no different when their tenth birthday rolled around, and he decided for the three of them separate parties would be awesome.
If having three parties for three kids seemed insane, it wouldn't have dawned on me to have all three at the exact same time. Jabecca are much bigger people than I could ever dream to be, as a couple or alone. There weren't even any associate parents milling around, were there?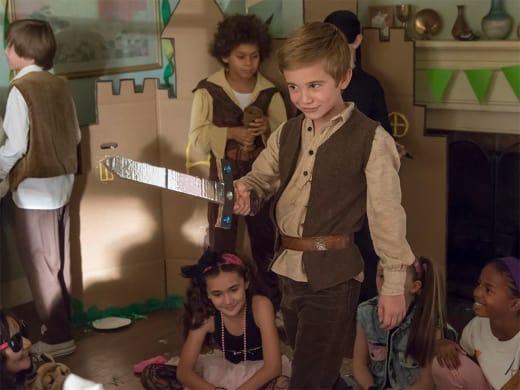 This is why it shouldn't have surprised me when Jabecca started checking in on them that they skipped Kevin.
Initially, Kate's party was scoring. Her BFF Sophie was there as her Madonna alter ego and Big Daddy was showering her with compliments. A check on Randall proved his friends weren't friends at all, but classmates, which is wont to happen when schools are ridiculous enough to force invitations.
Poaching kids from Kevin's party was cool, but not checking in on him. If it's rarely a necessity on the show itself (because I highly doubt Jabecca forgot), then how would little Kev feel in the family? It bugged me.
Then I realized why both Kate and Kevin grew up with Hefty bags full of issues when Rebecca said if they had another kid who turned out as well as Randall, they'd be all set. 
I love Randall. The way he has followed in his father's footsteps and carried on the family traditions with a family of his own, the sheer normalcy of his life, is beautiful. He's well adjusted and successful with a happy family.
His life, even having been adopted by the Pearsons, in no small part traveled that path because of the way he was treated by Jack and Rebecca. Sometimes Kate and Kevin seem to have suffered a bit as a result.
This Is Us doesn't try to fool us into thinking there is a magical fix for all that ails us. Life is hard, and we're going to carry around a lot of emotional baggage. We just have to be careful not to hold onto it too long.
Randall was special. He arrived in the family in a way that was nourishing for all involved. Without each other, both parents and children would have suffered. Perhaps a little too much emphasis was placed on ensuring Randall's happiness, just as Kevin pointed out to Randall on This Is Us Season 1 Episode 7.
Kate's first instinct at Randall's lack of friends was racism because she loves him so very much and thinks the world of him. Knowing what we know of Randall, it's hard to believe Randall wouldn't have been one of the coolest kids in school if he wanted to be.
Randall's passions have been in places other than popularity. All three kids were invested in different pursuits and handled situations differently from one another.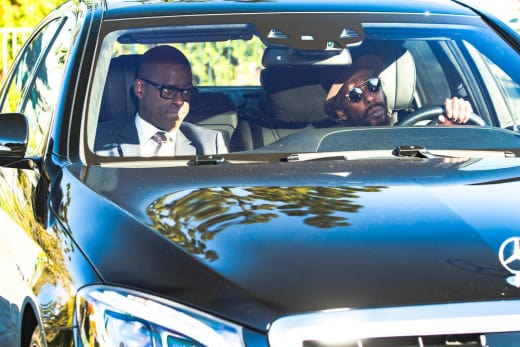 Randall's willingness to put off his derivatives project for the afternoon to spend time with William shows where his passions lie and what were the most important lessons he learned from his parents.
He could have easily caved to the sibling rivalry vibe that was thrown before him, but when push comes to shove, love wins in Randall's life. Simple things matter over the complex. What he held onto hasn't appeared to be too painful, as yet, but the series is still young.
In Kate's case, she's finally recognizing what carrying the baggage of her father's death around with her has meant to her adult life.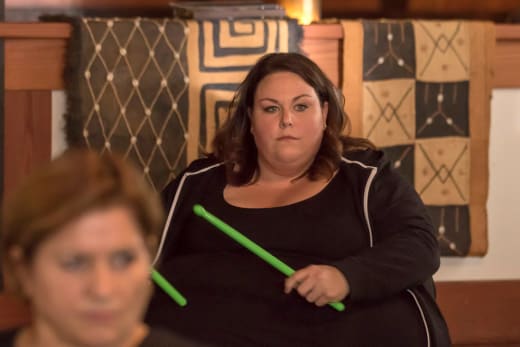 Yet I'm not so sure I'm going to feel the same way as everyone else on this issue. 
What I had a hard time reconciling from the hour was how Jack's death tied into it. Specifically. Of course Kate misses her father. But if I'm supposed to believe she's held onto the weight because of her struggles with the loss of Jack, well, I don't.
Kate was heavy when Jack was adoring her. Kate no longer found solace in Jack's fatherly attempts to bolster her confidence at 10. Jack died somewhere around the time the kids graduated from high school or college.
We don't know Kate's physical status at that moment in time, but given the other two factoids, her weight isn't specifically connected to Jack. That doesn't mean she hasn't used his death as an excuse, because we adults will find just about anything to justify our bad habits.
Doc: Kate, have you ever considered an immersive weight loss experience?
Kate [sighs]: A fat camp?!
What really worries me about Kate's story right now is she put off her surgery and attended a camp because of the wedding, and instead found it's a place to delve into her emotional issues.
She's needed to discover the darkness within herself that is keeping her from her happiness. Introducing Duke for a potential love triangle not only complicates matters, it shows she's still willing to make excuses to focus on things other than her personal well being.
And frankly, Toby (a character I wasn't sure was a good fit for Kate at first) now seems like he could potentially get the shaft from Kate. That will not work.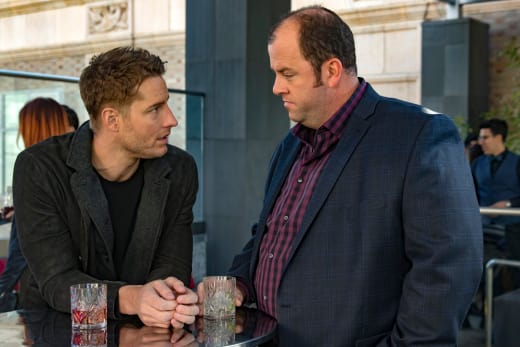 A romantic gesture of this magnitude is only effective if it is directed at the love of your life, alright? The end of Notting Hill completely falls apart if Hugh Grant thinks that Julia Roberts is just aight. Then he's just kind of annoying her at a press conference, right?

Toby
Toby's conversations with Kevin led to one hell of a revelation for Kate's twin. His emotional weight was his attempt to disguise his love for the girl of his dreams, a love he'd had since the age of ten, God bless him, with the image of any other woman whatsoever.
If you combined both Olivia and Sloane's best qualities, maybe you'd see a relative equivalent in Sophie. Now we know why he's been so difficult to distract when it comes to women. He really can't care for one if it isn't Sophie, his Princess Bride.
Can you imagine coming that close to everything you ever wanted and letting it slip away? They went through college together and their marriage ended at the age of 24. That's why I'm putting Jack's death at the latest at the end of college, giving Kevin a couple years to toss his marriage into the fire.
Pre- and Post-Jack. 
We've never heard of Sophie in the context of marriage, but we've also never been listening for it. She's always been Kate's best friend. I'll shake my fist at you, This Is Us, before you get me to watch all 12 earlier episodes again looking out for that indicator!!!
But oh my, and I interested.
Now I want you to picture the love of your life. Imagine that you have 30 seconds to win her back. One shot, three sentences. What are those sentences, and who are you saying them to?

Toby
Toby's heart is one in a million. It might be slightly broken (physically), but the preview showing Duke about to give it an emotional poke makes me want to engage in swordplay.
Kate's crinkled brow at the suggestion they were going to happen? Not nearly enough of a deterrent for my taste. Why is she willing to blow up what she has with Toby?
The Fanatic Findings are these. "Three Sentences" dared open the curtain onto the death of Jack Pearson without revealing exactly why this episode was chosen for the unveiling. With all of the birthday flashbacks, are we to surmise he died on his birthday?
Is it a message of lessons unlearned and emotional growth stunted as a result of losing a loved one at a pivotal (albeit unknown) time in life? It was the first time I couldn't successfully connect the dots, and I was left a little shaken.
This Is Us isn't any tidier than life, and now we're left to wait for the next shoe to drop to find out more about live pre- and post-Jack Pearson. 
What did you think of "Three Sentences"? Were you shocked at the marriage reveal and moved at Jack's funeral footage? Is the kids' emotional baggage earned or should they work on letting it go?
Help me understand your thoughts by hitting the comments!
Make sure to watch This Is Us online if you're ready to look up all past Sophie references.
Carissa Pavlica is the managing editor and a staff writer and critic for TV Fanatic. She's a member of the Critic's Choice Association, enjoys mentoring writers, conversing with cats, and passionately discussing the nuances of television and film with anyone who will listen. Follow her on Twitter and email her here at TV Fanatic.