The unanswered question that we were all wondering, what happens when heroes and villains finish their fighting? 
The destruction is there, and the regular people suffer, but no one questions that when we're all focused on the superpowers and epic battles.
On Powerless Season 1 Episode 1, Emily settles into a new city and a new job. But nothing is ever that easy, especially when she's at risk of losing her job before she even started.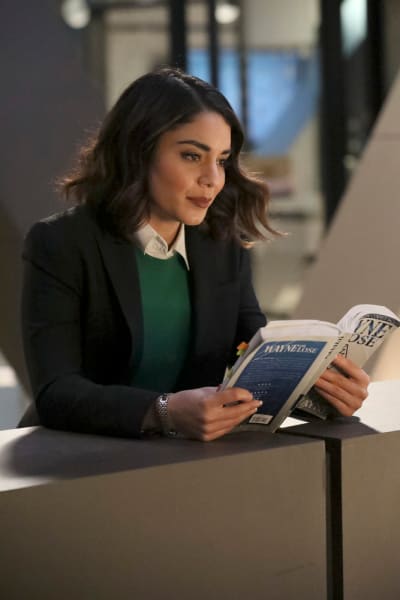 This office sitcom is introducing a whole new approach to the superhero surge that's been happening. Everyone thinks of the people with powers, but not about the ordinary citizens who live in cities where there is destruction every day.
Emily was a wonderful reminder of what I've been missing since Parks and Recreation ended. She's inspiring and believes that her team can succeed. 
There are a lot of places where this could go with Emily pushing her team to create. They introduce her to a city she only wished to be in all her life. 
Will the difference between a passing city and an actual super city change Emily? Maybe what she expected is not at all what she actually gets in Charm City.
You don't see that everyday

Emily
The other people who work at the company are all different, but their dynamics together are what work best.
Ron and Teddy are interesting because they are so prepared for everything that happens at Charm City. To them, this is old news. This could work well with Emily's optimism, or it could work against it.
The pranks that occur at the company could also lighten the office setting because that can get old very quickly. There should be shakeups reminding us why we are committed to the story in the first place. 
Not only serious worries, but fun and games, something the show already covered.
Emily: Why are you drinking champagne?
Van: Because I'm so sad.
Van, on the other hand, is comedic relief on another level. He has direct connections to Bruce Wayne, or his version of direct, and that plays out in it's own special way.
Van was better off with the company getting canceled, so Emily getting Bruce Wayne to keep the company open didn't exactly sit well with him. 
Seeing him square off against Emily now that he realizes what success he has on his hands will be worth experiencing. It's success, but not his version of it because there's not much of a benefit in it for him.
He's power hungry and not looking for his workers to actually accomplish anything. What happens when they break out of that mold and actually get stuff done? 
I'm thinking sabotage, and lots of it. 
We should probably go inside soon because there's an evil pumpkin flying around.

Jackie
The premiere introduced Charm City successfully, even featuring a few villains and heroes along the way.
There was enough time to at least get a small feel for what the atmosphere will be like at Wayne Security, but there could always be more. 
If most of the time Wayne Security will be the setting for major events, there needs to be more.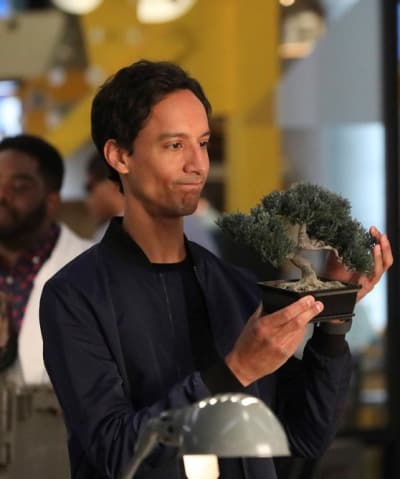 There's a whole approach that must go into inventing gadgets and ideas that help the people who suffer from their cars gets buried by trains or seeing random objects flying around, only to land on them in the end. 
In between the team goofing around, they work, and that's something worth exploring, too. It does help seeing what they do during their breaks though, and the random mentions of super heroes and villains helps, as well.
And speaking of villains, there was literally a pumpkin man flying around. What was that about? 
So you know how everyone wants to have sex with robots, right?

Wendy
All in all, Powerless is promising and could be exactly what we were missing. It's easy going but still engaging, not to mention the characters come to life both separately and together.
There's a lot of potential though, and hopefully the story only grows from here.
What did you think of the premiere?
Did it live up to your expectations or did you want to see more of something? Are there any characters that you are interested in already? Where do you want to see things go from here?
Let us know what you think below. 
NOTE: Use the video below to watch Powerless online.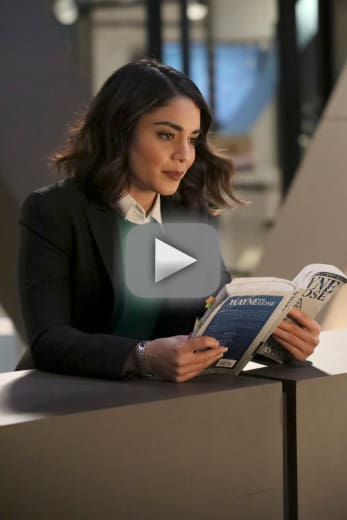 Yana Grebenyuk is a staff writer for TV Fanatic. Follow her on Twitter.