Supernatural Season 12 Episode 10 Review: Lily Sunder Has Some Regrets

Sean McKenna at . Updated at .
It would have been easy for Supernatural Season 12 Episode 10 to be a throwaway.
And for about the first half of the hour, the story of a woman hunting angels just wasn't that interesting.
Even in kicking things off, the fight between Lily and the angel in the arcade place seemed way too staged, and the shaky camera to try and make the battle seem more exciting and intense was more just frustratingly bad.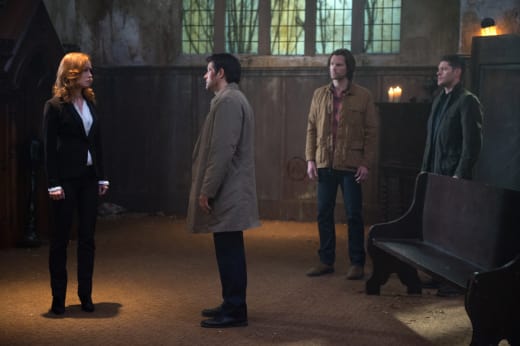 But the sight of seeing the angel wings burned into the wall piqued my interest. When's the last time they've done that with an angel?
That has always been such a fantastic visual, so to see it again was a positive.
Though, it was in revealing the "why" behind Lily's revenge scheme that started to turn things around.
Sure, the period piece clothing and the music made the trip back in time to Maine feel a little cheesy, but it hit upon a Supernatural Season 12 topic in the nephilim. It's a similar situation that Sam, Dean and Castiel are dealing with now in Kelly and Lucifer's baby.
And to see the angels carrying out their orders, even if it was killing a child and their brother, fit their usual antics. It felt right in line with their soldier mentality and trying to "do the right thing" in stopping what they believed to be an abomination.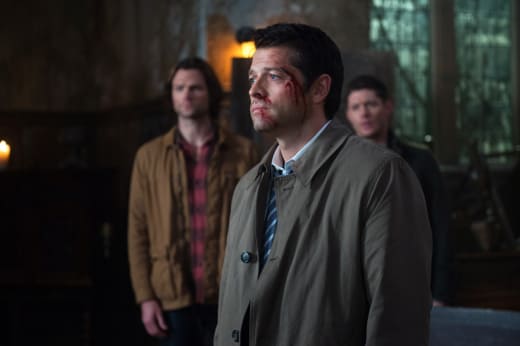 At the same time, it made perfect sense why Lily would want to hunt the angels down, and Castiel's comment about the brothers refusing to stop if they were on a revenge path was spot on.
Sam and Dean's story echoes her in a supernatural being killing a family member, and them hunting down the thing that did it.
However, it was the twist that truly had me locked into the hour.
So often, those little teasers at the start that recap the story or hint at creatures or things from the past usually indicate the connection to the episode. They often can be spoilerish in that sense, but the episode cleverly took that concept and spun in.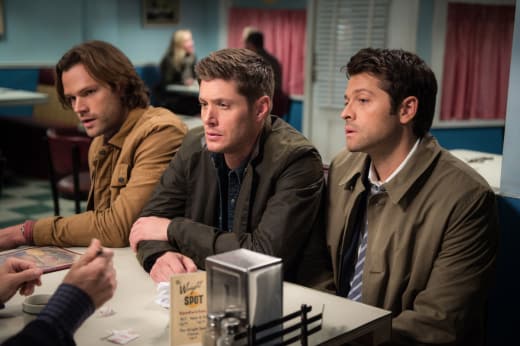 The story shifted from angels just following orders to one of a jealous angel killing a human child because he was upset with Lily not loving him. There was no nephilim at all.
That twist not only built upon the story, but it added so much extra weight to the character of Lily and the angel that was obsessed with her.
The fight scene in the hideout when Lily confronted Ishim was much better filmed than that first one of the hour, but there also was so much more dramatic weight added to it because the backstories had been explored.
I almost thought that Lily would be mad at Castiel for "taking" the kill from her after she'd been so focused on finishing him off. Because really, it was all about the two of them, and the other angels just happened to be involved.
Though, does that mean that Lily thought the other angels were in on Ishim's plan? Is that why she killed them?
Or was it simply because they were involved at all?
I was a little fuzzy on those details, but Castiel had a great speech at the end about not realizing what they had done still was no excuse. And to put himself out there, to accept those consequences was a big move.
I'm sorry. I was wrong. While it's true that I didn't know we were killing an innocent, ignorance is no excuse. I truly can't imagine the depths of your loss. This was your child. I can't imagine the pain. So if you leave here and you find that you can't forgive me, I'll be waiting.

Castiel
Lily could have easily killed him, but she chose to walk away. Granted, if he were the leader, the one obsessed with her and who killed her daughter, I could see it being a lot harder for her to let him go.
But it was a good way to end things, to bring closure to the story before pushing things back toward the larger issue of the season, which is currently these "cosmic consequences" and Lucifer's baby.
Who knows what will come from it, but clearly Castiel is willing to accept the consequences.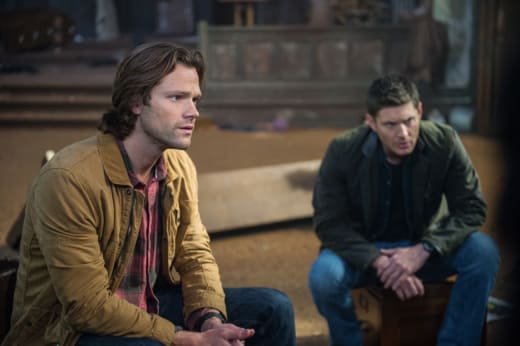 At the same time, the whole case involving Lily brought things back to the actual nephilim out there.
I'm not sure how that's all going to play out, but it was good to see Sam, Dean and Castiel come together, hoping to find a better outcome than having to just kill a child.
While "Lily Sunder Has Some Regrets" had a shaky start, it was a case of the week that wound up having dramatic weight and touched on the larger issues the main characters are dealing with.
It was a far more interesting and investing case than it initially let on, but thankfully, the hour finished strong.
What did you think of the twist? What are those "cosmic consequences" going to be? Is there any other way to deal with Lucifer's baby besides killing it?
Sound off below and be sure to watch Supernatural online at TV Fanatic!
Sean McKenna was a TV Fanatic Staff Writer. He retired in May of 2017. Follow him on Twitter.