NCIS Los Angeles Season 8 Episode 16 Review: Old Tricks
Dale McGarrigle at . Updated at .
Finally, some closure.
It was a good mix of light and dark as quite a few hanging storylines rightfully got resolved on NCIS: Los Angeles Season 8 Episode 16.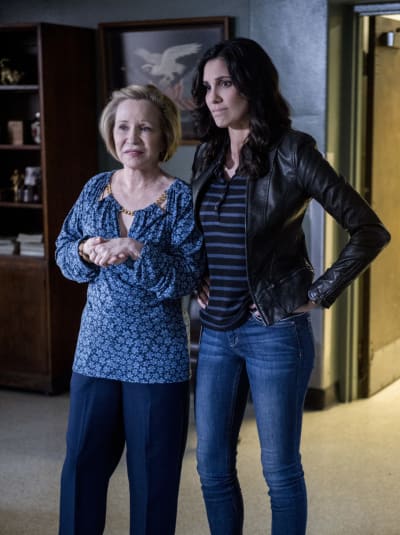 Also, recapping was artfully woven in throughout. I guess you have to do that with only a couple of episodes in a month and a half. Otherwise, people forget.
The fun part was watching Deeks and Kensi take down the two aging con artists hoping to prey on the residents of a nursing home.
O'Boyle and Ginger, played by Martin Mull and Debra Jo Rupp, seemed to view what they were doing as almost a public service.
O'Boyle: It's not a scam. They bequeath that money to us.
Ginger: These people have no families. Their inheritance just goes to the government.
O'Boyle: I say better us than them.
Unfortunately, their greed for a rare coin began with the kidnapping of a resident and his grandson, and since they were both in the Navy, NCIS ended getting involved as well.
It was enjoyable to watch Deeks, who used many of a grifter's skills himself as an undercover cop, turn the tables on O'Boyle when he cheated at cards. He also flirted just enough to keep Ginger talking.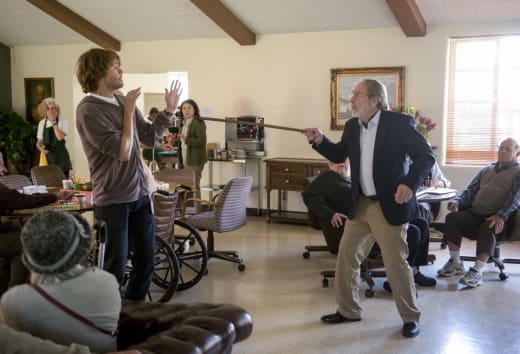 Mostly, they knew enough to sit back and allow the veteran performers riff, which was endearing.
It also gave Deeks and Kensi a scary glimpse of what the future may hold. As Ginger watched O'Boyle try to fend off Deeks with a cane, she said, "You can't help who you love." Kensi seemed to shrug in agreement.
The Secret Service agent, Deschamps, was a decent addition and played well off of Sam. Everyone on the NCIS squad seemed reserved in comparison.
You can see why she's on the financial squad because someone with her hair trigger shouldn't be guarding important politicians (if that's not an oxymoron).
It was also a hoot to see the veterans from the retirement home overpower the armed South African collector and toss him off the bus right after Hetty used her contacts to mount a military intervention quelling a tense situation.
It was also good to see Nate again.
Finally, he officially cleared Kensi to return to active duty. That was strictly a formality, as being held hostage during the mole crisis certainly proved she was ready.
Nate rightfully had his reservations.
Nate: Honestly, after hearing all that, I don't think any of you are ready to go back to work.
Kensi: Nate, will you get serious? What are you going to do, shut down the whole team? That's exactly what the mole would have wanted. Unless that was the intention all along.
Nate: So what are you saying?
Kensi: I don't know, Nate. How long have you been working for the CIA? [before breaking into laughter]

It would be good to see more of Nate. However, we did learn that he's around more than we know, serving as a shrink for both Nell and Eric.
Eric: You go through the same stuff I do every day, and you're just so ...
Nell: I'm not, Eric. I'm really not.
He should also come in handy while the team is processing the loss of Granger.
Granger's departure was well-handled. Instead of his dying suddenly because of an embolism or an aneurysm, Granger went out on one last mission, never to be seen again.
The correctness of this choice could be read on Hetty's face as she entered the hospital elevator. No sappy clips montage; instead just let him slip away.
RIP, Miguel Ferrer.
Also Hetty smartly sent out Callen to clean up the mess that is his new-found family.
Don't let a temporary solution become a permanent mistake.

Hetty [to Callen]
It was fun watching Garrison being a fish out of water in the U.S. "Vat, you can't just lock someone in the trunk?"
At least Callen stood up to Garrison and got him to do the right thing.
You can't be a father from a distance. Either you're there or you're not.

Callen [to Garrison]
\
Alex finally got to learn more about the messed-up family that she didn't even know she had, for better or worse. And Callen got a real family as well.
Now that all those dangling storylines are cleared up, what next? The obvious choice would be a proper Densi proposal (has that happened yet when they're both conscious?), followed by some kind of wedding. But it may be too soon for that. It's only been the better part of seven seasons.
He's not my favorite character, but how about sending Eric back into the field, as long as he promises to wear pants? Let's figure out what's going to happen to Anna, as well. If she's only going to be the girlfriend, at least give her that ATF job, so she has a similar position to Callen with another agency.
To catch up on all that's been happening, watch NCIS: Los Angeles online.
Are you glad Callen finally got his family together? Was Granger's departure properly handled? Will Kensi be more careful in the field after all that's happened? Comment below.
Dale McGarrigle is a staff writer for TV Fanatic. Follow him on Twitter.