Relationships in the office hang by a thread, especially if there are no boundaries in the first place.
Teddy/Emily and Ron/Van find that out the hard way when they get a little too involved in each other's lives. Or at least Emily and Ron get involved and then have to figure out where to go from there.
On Powerless Season 1 Episode 5, Emily submits Teddy's invention into a contest in which he didn't want to participate. That resulted in her meeting Teddy's family, including his older brother that came out on top regarding accomplishments.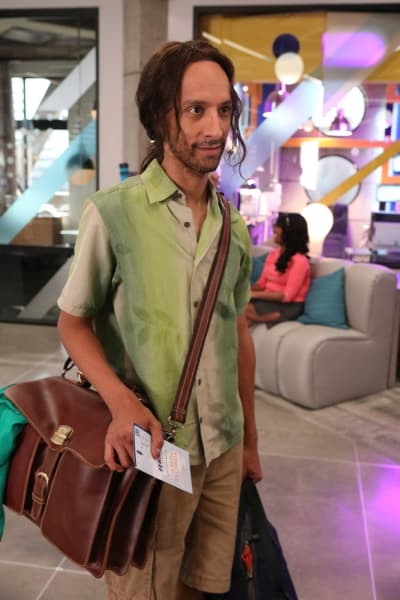 As for Ron, he wound up helping Van with something personal. Building something for the son of the woman that Van wanted to date didn't start or end well for Ron.
Office interactions are the core of this show, so watching Emily and Teddy butt heads was the highlight. 
Emily taking over and thinking that her submitting Teddy's invention was about him led to some interesting discoveries. Both of them recognized how much being labeled a nobody weighed on them.
And while it would have been great to see Teddy recognized for the gloves that Crimson Fox coined, he was happy just knowing that his invention worked well.
We only got a small glimpse of Teddy's family but he and his brother stood out. That sibling rivalry was a combination of hilarious and realistically sad.
While his brother is probably really cool, what Teddy does is way cooler. He builds things to help against the wreckage of both superheroes and villains; nothing else stands a chance. 
Cold season is impossible to dress for, it's like a wedding on the beach.

Emily
Ron and Van are an unlikely friendship, which they proved when Van didn't learn the lesson that he should have from the start.
He might have been telling the truth about not having his father around when he was younger, but who knows at this point?
Van's entire Russian wardrobe, though, was worth the introduction; can we petition to have him dress that way all the time?
That might have taken a bit away from the disappointment I felt that Ron/Van didn't reach an understanding. Ron went off to build his tree house, falling right into Van's plan.
Although, the idea of Van as a villain isn't the worst idea. 
He already has that general vibe around him, and it's not like he doesn't enjoy scheming from time to time, or always.
In fact, maybe Van lying to Ron is a buildup to that path. He was too at ease with faking emotions for his personal gain, a true sign of a villain or a Slytherin.
Those are instructions, it's in pieces because you have to put it together.

Jackie
Jackie was around once again, but not a big part of everything that happened. 
She offered her very on-the-nose advice or snide comments when necessary, but what about her having her own issues? 
Maybe not issues, but at least watching her judge everyone more frequently would liven everything up more.
In fact, Jackie could have her own show where she just watches all the chaos ensue while she quietly sips her coffee without a worry in the world. 
Is anyone else feeling the Jackie potential? At least when it comes to Van thinking he's got it all figured out and Jackie having to let him know that he doesn't. At all.
Tampa? That's not even the nicest part of Central Florida.

Emily
What did you think of the episode?
Which plot did you enjoy more? Which characters do you want to see interact more with one another? What did you think of Teddy's recent invention? And what kind of invention do you think he will create next?
Let us know what you think below!
And don't forget to watch Powerless online if you haven't caught up with it yet. 
Yana Grebenyuk is a staff writer for TV Fanatic. Follow her on Twitter.