Powerless Season 1 Episode 6 Review: I'ma Friend You

Yana Grebenyuk at . Updated at .
The mystery is half the fun on an adventure, as long as it doesn't involve a used toilet. 
Van and Emily both have to figure out what to do after they are lied to, specifically by the people they are close to, although the way they go about it is different because Van has no idea what being chill means.
On Powerless Season 1 Episode 6, Emily finds out that Jackie needs some extra cash but when she tries to help it turns out that she wasn't as honest on the first try. Meanwhile, Van wants to find out who visited his toilet and left their magazine there, which means he will stop at nothing to find his version of the truth.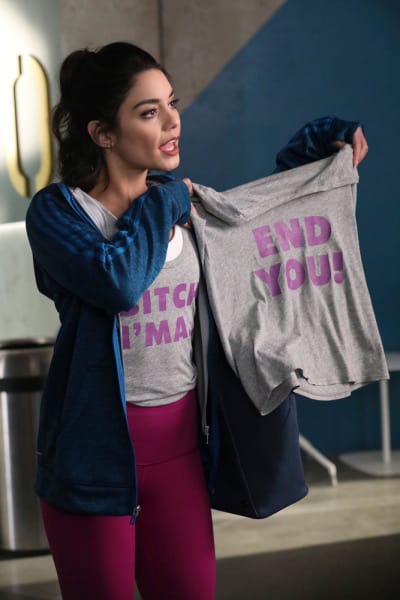 The Emily and Jackie relationship has been steady, but it's nice to see them work things out like most friends have to at some point, although I am wondering why Jackie hid this from Emily in the first place.
She said it was because she has too many boundaries, but Emily has shared so much with her. Why didn't Jackie assume she could do the same?
Maybe that's just me projecting because Emily is such a delight that I want to tell her everything, including how I want to take a self-defense class, too. I would have loved to see them taking the class because something tells me that would be a moment worth watching. 
But they figured it out in the end after Emily tried to get involved again. Everyone advised her against it, but I enjoy these decisions.
Emily might not be doing the right thing, but it comes from a good place, and it's not like it's not funny to watch her try to navigate her decisions down the line.
It could be only me, but I can't get enough of Emily meddling, so only time will tell who will be next. Perhaps Ron?
The Joker is an A list superhero. He wouldn't attack a dump like Charm City.

Van
Van was the highlight of the episode. When isn't he, though? 
Nothing beats Van accusing everyone of using his bathroom because that's the most important thing in an office setting. Although I do think Van is the kind of boss that is never boring.
He could probably have his own show where every day of his life in Charm City was covered, and he wouldn't lose the hype once. 
Between his overreactions and his crazy plans, Van just can't help but standout. 
Oh he's definitely talking about his penis.

Ron
But the plot twist at the end was my favorite part because it was even worse than Van thought. I doubt he will pick up on it now, but that was the best spin on the not-so-mysterious reveal that no one used Van's bathroom except the bee that he was absolutely terrified of.
Side note: more flying bugs in Van's office.
For now, I'll just be waiting for the next disaster that wrecks Van's very existence, something that Jackie could help him with. I'm not sure what the general opinion is, but that friendship is one of my favorites.
The best way to balance out Van's craziness has to be Jackie's cool and controlled attitude towards just about everything.
Emily: There's a chance you'll get to punch a stranger.
Jackie: Okay, I'm in.
This probably isn't a big worry for anyone yet but what about Crimson Fox?
She left and although we did see a little bit of what goes down when she is out of town, what does this mean for the future of Charm City?
Will the team have to invent even more gadgets to help the general population because there is less protection? Maybe there is a chance that a new superhero will become the protector of the city. 
If so, it would be great for it to be another female superhero. It looks like Crimson Fox was gone for less than a week and already there was enough chaos to start getting worried about. 
It only seems fair for another super cool lady to take over, and that's not just wishful thinking!
I will flush you out, and then you'll be fired.

Van
What did you think of the episode?
Which plot did you enjoy more? Do you think Van or Emily were more successful this time around? Do you want to see more adventures about Van's bathroom? What do you wish to see later on in the season that we haven't gotten the chance to see yet?
Let us know what you think below!
And don't forget that you can watch Powerless online right here on TV Fanatic!
Yana Grebenyuk is a staff writer for TV Fanatic. Follow her on Twitter.