Chicago PD Season 4 Episode 19 Review: Last Minute Resistance

Stacy Glanzman at . Updated at .
It's not the first time a case has hit close to home. 
As with any other case involving family, Intelligence put everything else on hold until they found Nicole's rapist on Chicago PD Season 4 Episode 19. 
That's what family does for each other.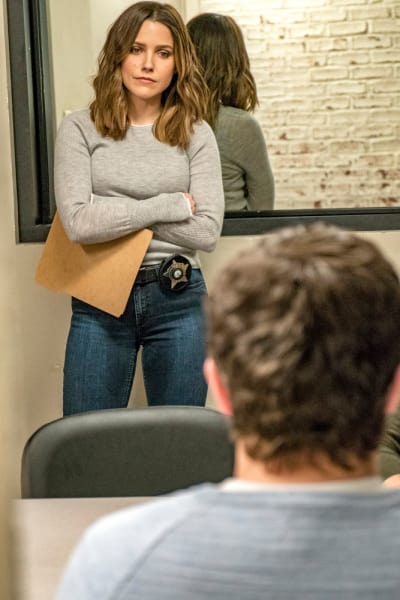 Burgess: Sarg?
Voight: Yeah?
Burgess: Thank you for taking this on.
Voight: An attack on your family is an attack on our family.
Voight said it best. Criminals might want to start thinking twice before attacking a member of this crew. 
While justice is always served, it's hard to be related to these people, isn't it? 
Voight's son, Olinsky's daughter, and now Burgess' sister. You thought being an Intelligence cop was dangerous? Try being related to one. Will Halstead should probably start watching his back, just in case. 
The track record for the family of Intelligence is not great. 
First of all, let's talk about that total douchebag of a seminar teacher. It's scary to think that people like him exist, and downright terrifying that there are men who listen to them. 
"No" does not mean start your engines. It means game over, go home, better luck next time!
I knew he wasn't going to end up being the rapist, but boy, did I want him to be. He deserved consequences for his part in all of this. At least Voight made sure he'd never lead another seminar in Chicago. 
It just didn't feel like enough.
Burgess: I want to go undercover with Lindsay.
Voight: I don't think it's the right fit, Kim.
Burgess: It's the perfect fit. I know the case, I work well with Lindsay, and I'm the right gender.
Voight: You're too close to this.
Burgess: Like you were too close to Justin?
Or, maybe Burgess wasn't the right fit for the job because she is so obviously pregnant?
Honestly, they've done a pretty good job of hiding it, but I'm sure the costume designer had a tough time with this one.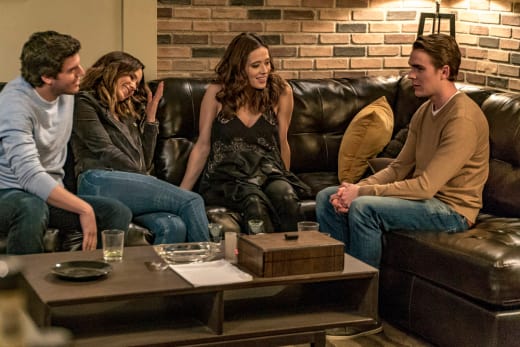 Lindsay and Burgess working together has yet to disappoint. 
Burgess is still relatively new to Intelligence, and partnering her with Lindsay more often could prove to be beneficial. She can learn a lot from her. 
Sure, Burgess already has a mentor in Platt, but she's been out of the game for awhile. 
You might not believe it but I used to go undercover as a street walker 20 years ago. [Burgess and Lindsay give her a look] Okay 25 years ago.

Platt
The lipstick knives were a nice touch. I'll give her that. 
The actual undercover operation did not exactly go as planned. 
Actually, can someone fill me in on what exactly was the plan? If it was to act super drunk, nobody was buying it. 
There is absolutely no reason why Burgess should have had to take that shot. She correctly deduced the guys were getting suspicious, and that was all she could think of to do. 
Well, therein lies the problem. 
They simply weren't acting drunk enough. They weren't wobbly or slurring their speech. If they were, Burgess could have just "accidentally" spilled the drink. 
I'd say that's a much better solution than heading to Chicago Med to get her stomach pumped, but that's just me. 
At least the drug didn't take effect before Burgess got to pummel her sister's rapist to a bloody pulp. If it were Voight in that room, he'd be lucky to still be breathing. 
That guy was a creep, through and through. 
Seriously, what was with the balloon wallpaper? It's not bad enough he's brutally raping these women, but they have to stare at that while it's happening? 
Those balloons were the only thing Nicole could remember about the ordeal. Her daughter's never going to be able to have balloons at her birthday parties ever again. 
As if we hadn't filled our quota for abhorrent men, we also got to meet Nicole's husband. He may have cheated, but it's not hard to see why she's divorcing him. 
Why she married him on the other hand, well, I'm stumped. 
If he hadn't been standing in the middle of a police station, he might have been the first of two men Burgess got to punch in the face. 
I wonder how long Nicole and Zoe will be sticking around Chicago. 
Burgess is taking some time off to have a baby to help her through all of this, so it sounds like she could be here awhile. If that's the case, I'm sure Dr. Charles would be willing to take her on as a patient. 
Your turn. Do you guys like when the cases hit close to home, or do you prefer random victims? Did all the male guest stars make you want to vomit? What was with Goldwin's ridiculously bright orange shoes? 
Hit the comments with your thoughts! 
If you missed anything, be sure to watch Chicago PD online and catch up!
Stacy Glanzman was a staff writer for TV Fanatic. She retired in March, 2019.