Welcome back, fellow Whovians! And welcome to any new fans curious about the series! It's been far too long since new episodes aired, so Doctor Who Season 10 Episode 1 felt like a breath of fresh air.
Not only that, but the episode introduced us to brand-new companion Bill Potts, as played by the charming Pearl Mackie.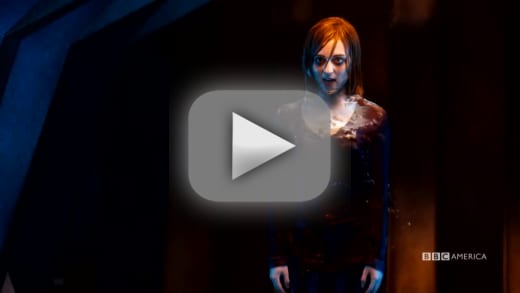 First off, let's address the controversy about Bill and her sexuality. Turns out, she's a lesbian.
Frankly, fellow fans, after the extravagant Captain Jack Harkness, not to mention Vastra the Lizardwoman from the Dawn of Time (and her wife!), Bill comes across as totally understated.
In this particular instance, it added a wistful quality to the interaction between Bill and Heather, but it wasn't anything over the top or in your face.
Bill's curiosity, intelligence, caring, and adventurous spirit play a far greater role in her character (and this episode). And then there's her genre savviness:
I'm not stupid, you know. You don't think anyone's seen a movie? I know what a *mind wipe* looks like!

Bill
In any case, Pearl Mackie was brilliant in this episode, and I look forward to the rest of the season with her.
Introducing new companions can be a tricky business in modern Who; the companions need to balance being audience surrogates with a certain capability so they don't always come across as damsels in distress.
This inadvertently created a trend where the Doctor ended up being portrayed as the damsel, instead. Indeed, he was specifically referred to as such in the 2015 Christmas Special, "The Husbands of River Song."
In "The Pilot," they managed to avoid that, happily. And, to my delight, they played up the Doctor's academic credentials, too, with him delivering a fascinating lecture on time to a large audience.
Time. Time doesn't pass. Time is an illusion. And Life is the magician. Because Life only lets you see one day at a time. You remember being alive yesterday, you hope you're going to be alive tomorrow, so it feels like you are traveling one to the other, but nobody's moving anywhere! Movies don't really move. They're just pictures, just lots and lots of pictures, all of them still. None of them moving, just frozen moments!

The Doctor
The episode set a fairly leisurely pace, but not every story has to be frenetic. And the water-Heather proved a suitably creepy (sort of?) antagonist.
Though viewers should likely not stop to wonder too long about how or why what amounts to futuristic spaceship motor oil has intelligence and can time travel, probably.
The witty banter was on point from beginning to end, too; I could fill up this page with some of the excellent quotes from this episode, but I'll just direct you to our Doctor Who quotes page instead.
The excellent Peter Capaldi lit up the screen once again. (Seriously, I'd totally attend that physics lecture.) And I admit I sniffled a bit when the Doctor actually popped back in time to make sure Bill had photos of her mum.
He will definitely be missed when he leaves the TARDIS for the last time, that's for certain, especially since Capaldi and Mackie seem to have a great connection so far.
Bill: What good's getting in a box gonna do?!
The Doctor: What an extraordinarily long and involved answer this is gonna be!
I also want to mention Matt Lucas, who has returned as Nardole (who previously appeared in the last two Christmas specials). He brings a special brand of comedy and wit to the show that I find quite appealing.
And the details! The photos on the Doctor's desk (River Song and his granddaughter Susan), the cup full of old sonic screwdrivers, the particular musical cues, they all work wonderfully.
The fact that The Doctor whisked Bill to Australia for a moment actually made me smile in irony for the shenanigans he went through to get a certain "gobby Australian" to Heathrow Airport.
His driving skills really have improved over the centuries, haven't they? Somewhere, Tegan Jovanka is probably laughing or crying.
Then there was this bit:
Bill: Doesn't make sense then!
The Doctor: What doesn't?
Bill: "TARDIS"! If you're from another planet, why would you name the box in English? Those initials wouldn't *work* in any other language!
The Doctor: People don't generally bring *that* up.
There was a remarkably similar exchange between the Doctor and Donna Noble in Doctor Who Season 4 Episode 2, "The Fires of Pompeii," in which Donna questioned the TARDIS translation matrix.
I just love Doctor Who so much, and it's so wonderful to have it back on the air for a full season. Let me tell you, it's been something of a trial to avoid too many spoilers online! But so worth it, I think.
Remember to watch Doctor Who online! And tune in on Saturday, April 22, 2017 for Doctor Who Season 10 Episode 2, "Smile," slated to air at 9 p.m. on BBC America.
So, what did you think of "The PIlot"? Did you enjoy the introduction of Pearl Mackie as Bill Potts? Are you excited for the upcoming season? Let us know in the comments section below!