NCIS: Los Angeles Season 8 Episode 20 Review: From Havana with Love
Dale McGarrigle at .
It was a pleasant change of pace, with no sturm und drang.
NCIS: Los Angeles Season 8 Episode 20 was a humorous, standalone outing.
Daniela Ruah (Kensi) won Dancing with the Stars in her homeland of Portugal, and she got to show off her moves when she went undercover as a dancer at a Cuban club.
Who knew there were dancers' legs hidden under all those jeans?
The club was owned by the bumbling Victor, who accused his estranged wife Rebecca of selling Navy secrets to a foreign power.
NCIS got involved because Victor, after making these accusations, was nearby when one of his patrons got shot.
You could tell early on that Victor couldn't be a suspect. This sad sack peaked when he washed out as a minor-league baseball player.
I mean, the guy tried to be his own process server and lawyer because he was so broke. He couldn't even hang onto his club after borrowing money from a loan shark, Perez, who was also the choreographer/lead dancer at the club.
Deeks too went undercover, naturally as the men's room attendant. That Deeks just never draws the sexy assignments. Janitor, homeless guy, sandwich-board guy, any menial task you can think of.
He provided much of the humor as he kept running interference, trying to keep Perez from getting too handsy with Kensi. Come to think of it, Kensi spent much of her time doing the same thing.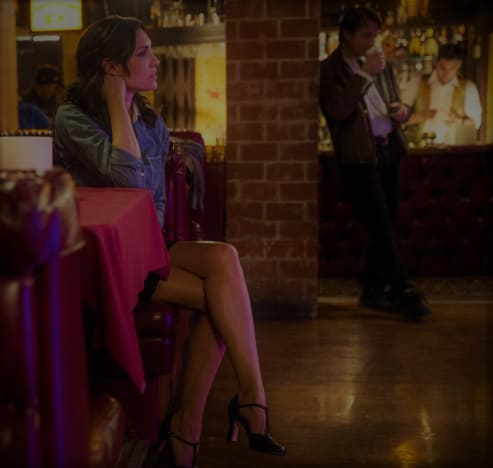 A highlight was watching Kensi transition from a very sexy dance to hand-to-hand combat, using just the wardrobe she had on.
It was sweet at the end when Deeks surprised Kensi with his dancing skills, uncomfortably learned from a willing Victor.
The running word-count competition between Deeks and Kensi was a hoot, although everyone knows that Deeks is the really chatterbox of that couple.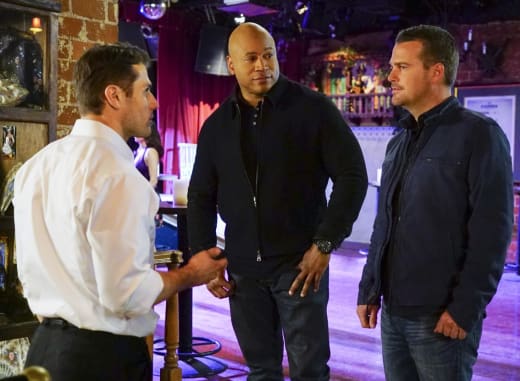 At least Sam and Callen are much more economical in their bromantic give-and-take. Unlike, say, McGarrett and Danny on Hawaii Five-0.
I was more ambivalent about Rebecca than Victor. Her rebound relationship was with a distinguished Cuban doctor, who, it turned out, was more interested in her work than in her.
Still, she had to be somewhat complicit smuggling the plans out underneath her bird drawings. So she was hardly a complete innocent. Let's say she just got in over her head. 
Hetty got to show the youngsters some retro spy craft as she explained the continued value of a ham radio. Rather than send an email or text that could be intercepted, just put out a message to the public at large that only a select few can understand.
Not enough Nell and Eric this time around, which is never good. They kind of represent the Everyman on the team. They're super-smart but more relatable than the rest of the team.
But the good part was having the whole team working on one case. No one was in deadly peril, no one was off on a side assignment, no one got called in off the bench.
Just a little undercover work, a couple of gadgets and a fairly rapid sorting of a small pool of suspects. That's something that has been in short supply in NCIS: Los Angeles Season 8. 
This was the breather that everyone needed.
After an encore presentation April 16, there are not one, but two, straight episodes featuring Hetty's Vietnam-era colleagues, including AJ Chegwidden, who is hopefully here to stay as Hetty's No. 2, replacing Granger.
That doesn't leave much time to answer the question of who is after the terrorist Asakeem. Maybe that's in the finale.
Also there's the small matter of getting Kensi and Deeks properly engaged, which is as much as I think can be done on that front. There's definitely not enough time to slip in a wedding this season.
To catch up on Kensi and Deeks' awkward coupling, watch NCIS: Los Angeles online.
Who did you think was selling Navy secrets? Did you know Kensi could dance? Did you enjoy a self-contained episode? Comment below.
Dale McGarrigle is a staff writer for TV Fanatic. Follow him on Twitter.