Destiny is in the air, my friends!
But does destiny write our life story? Or do our choices determine our fate? Could it be a little bit of both?
On Jane the Virgin Season 3 Episode 20, several curveballs were thrown at our main characters that will take their lives down new, unexpected, and perhaps difficult paths.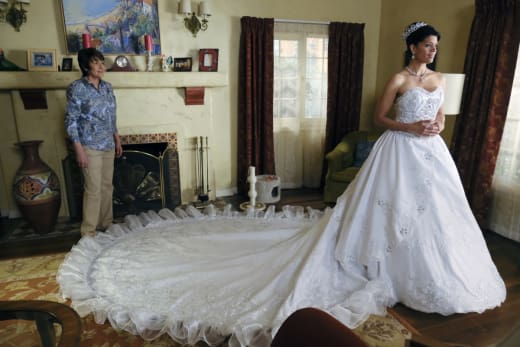 Jane the Virgin Season 2 Episode 22 ended with Michael being shot on his and Jane's wedding night. Thankfully, this finale gave us a wedding with no blood shed.
If all the pieces had fallen into place, Xo and Rogelio's wedding would have been a party for the ages. The opening dance number, VIP guest list, and Xo's fairytale dress were all set for the big day.
Instead, Xo and Rogelio were hit with the shocking news that Darci is pregnant with his child. This bun in another woman's oven makes Xo pause.
Who can blame her? Part of the reason she and Rogelio broke up last time was because he wanted another child and she didn't. However, time can change people. Perhaps Xo will be okay fulfilling the role of stepmom.
The relationship between Rogelio and Darci is so toxic they can barely be in the same room together. Despite the issues between them, they are both getting the child they initially sought from each other when they first got together.
Darci's baby reveal was a nice full-circle moment for the show. When Jane became pregnant with Rafael's baby, Michael took a lot longer to adjust. In Xo's case, she didn't want to wait one more day to say "I do" to Rogelio, despite his new baby-daddy role.
It didn't matter that a hurricane was brewing outside, the power was out, and Xo's dress was ruined. Xo and Rogelio's wedding at The Marbella was a sweet and humorous occasion. And Jane officiating the wedding was the icing on the cake.
My parents are here today, not because they are meant to be, but because they chose each other. And in the face of a million obstacles, they chose each other. When it seemed like they should give up, they chose each other. And they keep choosing each other in the face of every single twist and turn life brings them. Every single day. And that is not destiny. That is not fate. That's commitment. For richer or poorer. In sickness and in health. Through stormy days and sunny skies. They have earned their happy ending.

Jane
Jane's speech was all about our choices. She didn't see her parents' union as an affirmation of destiny. Rather she saw it as two people choosing to stick by one another through every joyous and sorrowful moment. 
It took Xo and Rogelio a while to get to this point, and they made plenty of mistakes. But no matter what had happened in the past, they decided their love was worth it. 
I'm excited to see Xo and Rogelio as newlyweds, especially since they'll probably be occupied by doctors appointments for Darci. Regardless, these two are definitely endgame, so I'm not nervous for what comes next.
What lies ahead for Jane is anyone's guess. She doesn't believe in destiny, but that might change for Jane after her coming face to face with her first love.
For so long most people were either members of Team Michael or Team Rafael. But now we have a new, very cute, contender named Adam (played by Tyler Posey). Other than the Narrator's brief mention of him, we know nothing about Adam, when he and Jane dated, or why they broke up.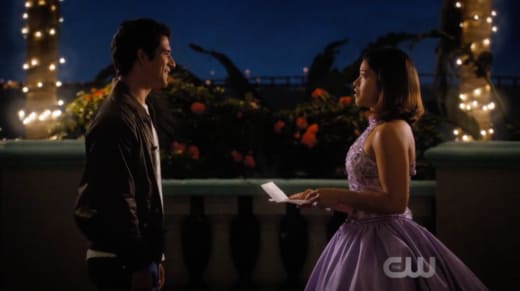 The impact of Adam's introduction was heavily influenced by the other men in Jane's life. Michael death has remained close to her heart over the last three years. It's no surprise Jane was intent on finding the letter he had written to her before their wedding, per their priest's advice.
Jane's search at her old apartment (and under the floorboards) led to a former resident hand-delivering the letter to The Marbella. That former resident, who lived in Jane and Michael's apartment after them, was none other than Adam.
Inside the letter was Michael's love for her. Plain and simple. Michael was someone who believed in destiny. He believed the universe brought Jane into his life through a series of moments that had they not happened, he may have never laid eyes on her.
If not for that recital and that burger, I might not have ended up on the doorstep of a drunk twenty-one year old girl. That's not just a series of coincidences, it's destiny. And I never doubted you were mine. And never doubt that all I want, for ever and always, is for you to be happy.

Michael
Seeing Brett Dier return in this episode brought up bittersweet emotions. Michael's absence had been felt during this second half of the season. But each episode that loss felt a little less painful. Not unlike Jane's grief for Michael. 
I think Jane needed to read Michael's letter to finally let go. Of course she will always love him, but Michael's desire for Jane to be happy should be the permission she has needed to move into the next phase of her life.
So is it destiny that has brought Adam back into her life, or is it simply a coincidence he was the one to bring Jane the closure she needed in the form of that letter? I guess we'll find out next season.
Adam's appearance may have put the brakes on Jane's feelings for Rafael. She'd been getting glowing hearts around Rafael despite the fact that he declared his love for Petra.
With Xo's urging and seeing Rafael and Petra's relationship appear to fall apart, Jane was ready to tell him how she felt. Jane denied having feelings for him when he asked her while they were dancing, but she couldn't allow herself to say the words.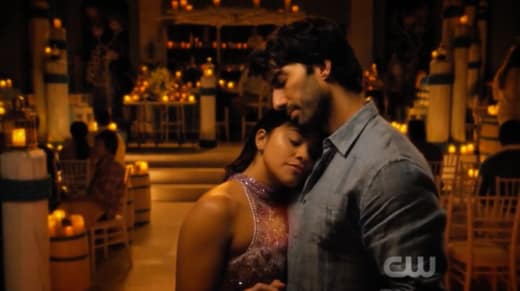 As much as I want to see Rafael ride off into the sunset with Petra, I understand and can see why so many people want Jane and Rafael to work out. There is a genuine love between them.
Also, I think the three year time jump has done wonders for their relationship. They have become best friends without lust getting in the way. They trust, confide, and respect one another. A friendship like that can easily blossom into a long-lasting romantic bond.
Then there's Petra. I have enjoyed Rafael's pining for her, and I had high hopes once Petra reciprocated his feelings. However, they couldn't even last a week without breaking up. 
Petra's a smart woman, and she's aware of Jane's feelings. What's more upsetting is how no matter what, Rafael always chooses Jane, both literally and metaphorically. 
For once I would like to see Rafael validate Petra instead of acting like she's paranoid. Rafael could have easily reassured Petra he loved her and that he didn't have any feelings for Jane, even if it were to come out that she loved him.
But he couldn't do that for her. Seriously, sometimes I love Rafael and other times I just want to yell at him for not seeing what's right in front of him. 
You told me you always feel like you're in second place with that guy... to Jane. You deserve better than that. You'd be my first choice.

Chuck
Petra deserves to be someone's first choice, and that's exactly what she is to Chuck. As much as I would love to see Rafael come to the realization he should fight for Petra, I would rather see her be happy with someone who appreciates her. 
But the road to happiness seems hazy for both Rafael and Petra now that their #twistedsisters have gotten the upper hand. It seems destiny has decided to team up Luisa and Anezka. And boy, are they mad.
Furious that Rafael lied to her about his cancer returning, Luisa confronted him. Instead of giving him a piece of her mind, Rafael unleashed his anger and called her out for her crazy actions. 
With Anezka's help, Luisa now has the shredded and taped back together addendum to their father's will. This means Luisa is now in control of The Marbella and all of Rafael's money. 
Luisa: How could you lie to me about something like that?
Rafael: You were dating the woman that killed our father and kidnapped my son.
Luisa: And that was bad, but it was in the past. She wanted to change.
Rafael: Oh my God, you are completely delusional.
Luisa: I am not!
Rafael: Totally crazy, just like your mother! And you know what, I am done pretending that you're not. I don't care what you do now that Rose is behind bars, as long as you stay the hell away from me and my family.
With Rose behind bars, Luisa stepping into the main villain role could take the show in a crazy direction. Luisa has spent enough time with Rose to pick up a thing or two from the crime lord.
Who will Rafael be without his money? Can he fight Luisa to take back control of the The Marbella despite the will?
Then we have Petra being lured out to a secluded spot by her twin sister. Luisa clued Anezka in on the fact that Petra probably drugged her the night Scott was killed and used her phone to text him, thus leading to his death. 
I have no clue what will happen next to Petra, but Anezka aiming a gun at her head doesn't leave me with a lot of comfort as we head into the summer break. I doubt Petra would be killed, but I'm also not interested in having Anezka impersonate her again. That storyline should be put to bed.
Leftover Thoughts and Questions
Alba's speech to Xo before the wedding was as heartfelt as it was funny. the acknowledgement Xo's father would be proud of her was incredibly sweet. 
So it turns out Rose didn't kill Scott while wearing Eileen's face. It was actually the real Eileen who killed Scott. Kind of a letdown after all is said and done.
The only upside to the Eileen reveal was the hilarious use of the Dexys Midnight Runners song, "Come On Eileen." Watching Eileen kill Scott as that song was playing made me think the writers chose to make her the killer just so they could use that song.
Loved the use of the song "Una Flor" by Juanes during the wedding. It was such a great callback to Jane the Virgin Season 1 Episode 1.
It's been a terrific season full of highs and lows, triumphs and tragedies, loves and deaths. Even though I'm unsure what lies ahead, I know family will remain the heart and soul of this beloved series.
So over to you! What were your favorite moments from the finale? What are your predictions for Jane the Virgin Season 4?
Sound off below, and don't forget you can watch Jane the Virgin online all summer long via TV Fanatic! 
Amanda Steinmetz was a staff writer for TV Fanatic. She went into retirement in June of 2027. Follow her on Twitter.