NCIS: Los Angeles Season 8 Episode 23 Review: Uncaged
Dale McGarrigle at . Updated at .
It was predictable but not acceptable.
The team's rock, Sam Hanna, suffered an unspeakable loss on NCIS: Los Angeles Season 8 Episode 23.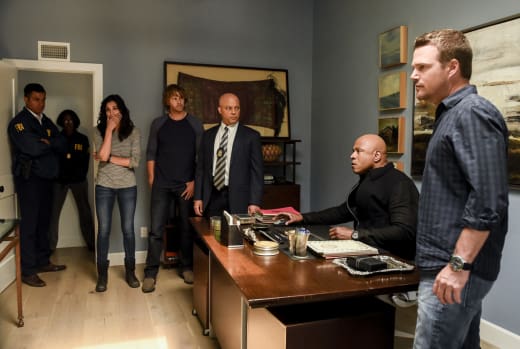 There was no dramatic need to kill off Michelle.
Granted, she was only in an episode or two a season.
But still, Sam's was the only nuclear family in the NCIS universe. It was nice to think about Sam going home to his family, unique among all the NCIS singles. It gave normalcy to an abnormal work situation.
But no. Now that's been stripped away from the franchise.
This whole scenario was accomplished in a very heavy-handed, manipulative manner.
The headless body at the beginning was dropped as soon as it was proven to be a red herring. Once all hell broke loose, that crime was never solved.
Hetty and Sam should have been more suspicious of Charov, who has never been a giver, wanting to give up his secrets only to Michelle. We now know why: to coax her out of her hidey-hole.
NCIS couldn't have been expected to be aware of a connection between Charov and Khaled. It's impossible to keep track of all the bad guys they've put in prison.
And the kidnappers allowing two experienced agents to openly communicate with each other showed they knew Michelle couldn't provide any information that would give away her location.
Let's see the improbabilities: the doctored closed-circuit footage, the untrackable electronic deposit, the untraceable video call, the complicated rescue of Khaled. I understand some criminal organizations are sophisticated, but Khaled's crew has never struck me as being so. And now they're stumping Eric and Nell?
I'm thinking some other group is behind Khaled's extraction, and we'll be hearing more from them in the future.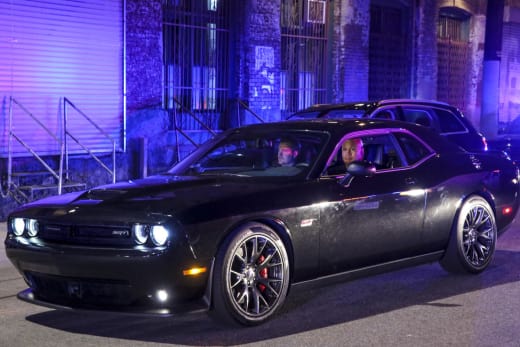 Are Hetty and Nell going to get in trouble for calling off the surveillance of Khaled after it went sideways? I doubt it-*+. With the death of a veteran CIA officer, I'm thinking there are much bigger issues to investigate.
An interesting twist was Sabatino coming out from under his rock, offering to feed Charov to Sam as a gesture of good faith. Kind of saying, "I'm not as bad as those other rogue CIA officers."
Also, there wasn't much surprise that something big was going to happen, after CBS advertising all week that "you've won't believe the last minute." No, especially after they've been giving away the ending.
So now this leads, none too subtly, into NCIS: Los Angeles Season 8 Episode 24, in which Sam goes rogue to seek revenge and a lot of stuff explodes while his team half-heartedly pursues him.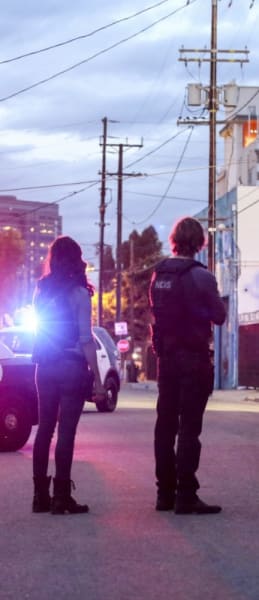 I think Densi fans can forget about a proposal being sandwiched into this episode. So that will happen sometime in NCIS: Los Angeles Season 9. Or whenever Deeks gets more mature.
Which brings me back to this: What's the point?
Why hack away at the team's most stable member? It's like kicking the crap out of a muscular Yoda for the hell of it.
Hasn't the team been through enough? Callen is still getting used to his instant nuclear family. Kensi and Deeks are still grappling dealing with her injuries and the aftermath. The whole team is coping with the loss of Granger and the sense of impending doom that was hanging over them for so long.
Those who would like to see the whole team get blown up and start over may get their wish. I can't see Sam going wild without there being some kind of fallout.
To catch up before the finale, watch NCIS: Los Angeles online.
Are you sad about Michelle's death or OK with it? Could the team have handled it better? Will Sam ever be the same again? Comment below.
Dale McGarrigle is a staff writer for TV Fanatic. Follow him on Twitter.