Hooking up with someone you barely know may seem exciting... until you realize they are terrible, but you still need to be around them constantly. 
Casual Season 3 Episode 5 followed Valerie has she figured out fairly quickly that Byron is not a guy she wants to spend more time with than necessary. 
Meanwhile, Alex connects with Tina, who's Valerie's landlord, and Laura discovers the ballot proposition may not be what it seems.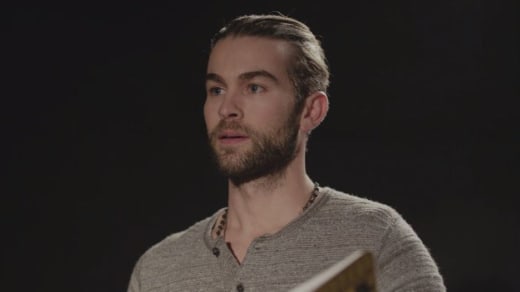 Valerie's decision to sleep with Byron was definitely not her best. Not only is he self-absorbed, he also painfully lacks any ounce of self-awareness. 
The thing about Byron is that he's not a outwardly bad person. However, there were several comments and actions he made when they were having dinner that really irritated me.
He barely allowed her to make her own decisions about her meal, but he also commented on how her humor was rare to see in women. Um, this may be a surprise to Byron, but women are plenty capable of being funny.
Alex, this guy is like raw plutonium radiating poison into my skin and breaking me down with his toxic lack of self-awareness.

Valerie
There's also the little matter of him just not paying attention to Valerie's tone and signals. It doesn't take a genius to see how miserable she was on that date.
After getting a few more drinks in her, Valerie had sex with him again. But she looked like she would rather get a colonoscopy than be under him. 
Valerie has every right to sleep (consensually) with whatever guy she wants. Just because Byron caught feelings for her doesn't mean she should feel bad. Byron is a big boy, and he shouldn't have acted like he just lost an entire relationship.
Byron's story or poem or whatever you want to call it was hilarious. The imagery he was evoking was so over the top. Valerie couldn't contain her laughter as he walked off that stage.
I hope this isn't the last we've seen of Byron simply because he's an entertaining character. Chace Crawford plays Byron with so much sincerity, even when the words coming out of his mouth are completely ridiculous.
While Valerie was having her dumpster-fire date with Byron, Alex was having a surprisingly great date with Tina. We haven't spent much time with Tina since she was first introduced, but there was a lot more to her personality than originally shown. 
She may be bad at calling the plumber to fix Valerie's sink, but she's also very accomplished for her age. I also thought it was great how she owned the fact that her parents helped her along the way. She didn't feel shame, but she also knew that they played a huge role in her success.
Alex has been drifting along without any sort of direction. His finances are a mess, he has no job, and no romantic relationship. Tina's wiser than her years attitude must have seemed heaven-sent. 
I really enjoyed watching the chemistry develop between them. It's amazing what great chemistry and great writing can achieve in a matter of minutes. 
Alex: I just don't want to be an old dad. And if I keep fucking around for five more years, then what? I wake up, and I'm in my 40's, and my knees fuckin' hurt, and I wonder where my life went.
Tina: Yeah, I totally want a family too. You know, but everywhere I look I see the same messaging. Wait until you're older. Don't sacrifice your dreams to have a family. Everyone says that to me. But what if having a family is my dream?
Alex: Well then, I think that's a wonderful dream.
Tina: Any religious affiliation?
Alex: Agnostic.
Tina: Outstanding warrants?
Alex: Not that I'm aware of.
Tina: Disease-free?
Alex: With quarterly checkups.
Tina: Should we go back to my place?
Alex: I'll call the car.
Despite his flaws, Alex can be a really sweet guy, and I think he'd be a much better father than his father was to him. It was nice to see Alex acknowledge how Emmy's pregnancy news shook him. More importantly, his devastation at finding out he wasn't the father.
Alex's house guest spilled the beans about him having no job, and I hate how quickly Tina's feelings about him changed. I don't think Tina is shallow, but I do think having a stable job and income is something that's a deal breaker for her. 
I just wish Alex had fought a little harder to explain his current situation. But seeing Tina walk out the door was probably the incentive he needed in order to accept that job he had zero interest in. 
It's shame Alex isn't in a job that he wants, but he's not exactly in a great financial situation that would allow him to be picky. But maybe it will surprise him or lead to meeting new and important people.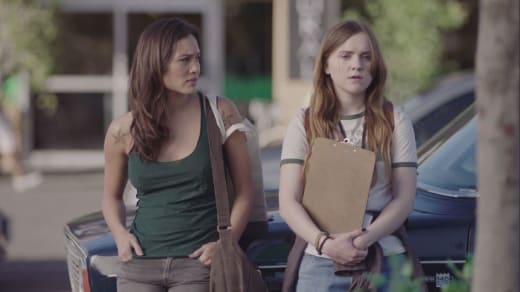 Laura got a wake up call when she looked into who was behind the ballot proposition she's been trying to get people to sign. It's a hard lesson to learn, but many people will use seemingly good ideas and initiatives in order to further their own selfish agendas.
Standing around in a parking lot for numerous episodes hasn't been the best for Laura. I'd like to see her move past this and onto something more fulfilling, or frankly just not boring.
Tracy: Do you ever think about maybe shutting down your phone and just tuning into the world around you?
Laura: Once. Yeah, but then I realized I was standing in a parking lot and it got too real too fast.
The woman that she met should lead her into something more purposeful. Laura is young so she should explore different options and see what sparks her interest.
I feel like purpose has been a recurring theme this season so far. Everyone is trying to find their purpose or change their lives to give it more purpose. 
Valerie, Alex, and Laura are not all living under the same roof anymore, and the series is definitely finding its footing while keeping these characters apart. As much as I've enjoyed watching everyone's separate journeys, I wouldn't mind seeing the three of them occupy the same space for an entire episode.
So over to you! What did you think of this episode? What are your predictions for Casual Season 3 Episode 6? 
Sound off below, and don't forget you can watch Casual online via TV Fanatic!
Amanda Steinmetz was a staff writer for TV Fanatic. She went into retirement in June of 2027. Follow her on Twitter.