SMILF Season 1 Episode 8 Review: Mark's Lunch & Two Cups of Coffee
Paul Dailly at .
Bridgette Bird is one of the best characters on television. 
On SMILF Season 1 Episode 8, Bridgette decided it was time to get the ultimate revenge on her father for sexually abusing her, and it all came when she thought her father was trying to arrange a date with her via Tinder.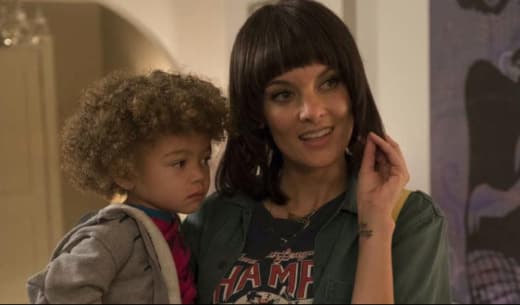 As bizarre as it sounds, the episode successfully managed to weave the serious and comical aspects together into an eye-opening package that showed us at home that Bridgette is trying to make the best of a bad situation. 
Her therapist may have thought she was helping by telling Bridgette to be open about the abuse she encountered at the hands of her father, but Bridgette was just 7-years-old when she was making those phone calls. 
You know it's crossing the line when even Tutu knows it's too far. I can't even begin to imagine how those phone calls elevated Bridgette's struggle to maintain friends in her younger life. We never hear Bridgette speak about any significant connections she made in her younger years, and this could be why. 
The Tinder stuff was crazy, but I was glad that Bridgette was expanding her horizons and realizing that even though she's not had the best upbringing, she is worthy of being in a relationship.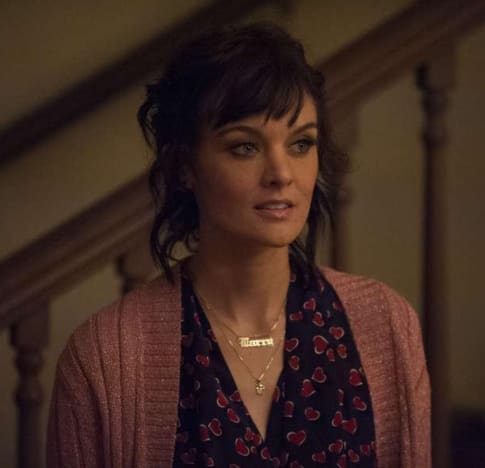 It was heartbreaking when Bridgette thought the man who wanted to date her was her father. It all came flooding back to her, and that's why her excessive eating came to the forefront. 
If you watch SMILF online, you will already know that Bridgette has an eating disorder and when things start to go wrong for her, she turns to food, and that's not healthy. 
Unfortunately, that was not her only way of coping, and that scene of her having sex with Casey was awkward as hell. Bridgette wanted to assert her power over him and wanted him to treat her like crap. 
Bridgette: I would like a ball.
Augusto: A ball, uh?
Bridgette: A ball, like Khloe Kardashian, a ball.
Augusto: You mean a bowl?
Bridgette: That's what I said, a bowla.
Augusto: That doesn't seem very you.

That's when the realization came to her that she was not okay, and she knew she had to get revenge for what happened in her youth. It's going to be scary when the truth comes out that Bridgette has had it off with Ally's son. 
The meeting was awkward, to say the least. The man who Bridgette thought was her father was dumbfounded by the letter Bridgette decided to read out. All she wanted was for the man to own his sh!t and confirm what he did to her. 
There's no telling whether she would have taken the recording to the cops if he did confirm it. It seemed more like Bridgette needed to hear him say it so that she could move on with her life.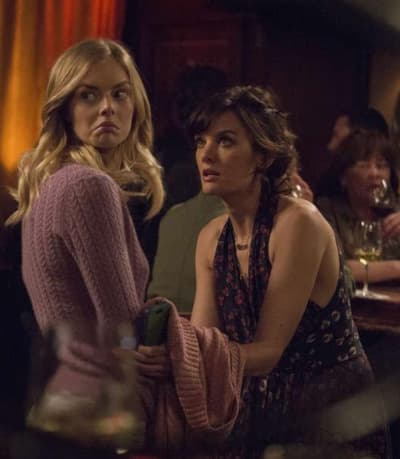 There was an element of uncertainty that the Tinder man was not the man Bridgette thought he was, and I felt horrible for Bridgette when she realized she had just told someone she does not even know about her father abusing her as a child. 
Tutu showing up to support her daughter even after their big argument proved that despite Tutu's cold exterior, she will always be there for her daughter. Will she help Bridgette find her father on SMILF Season 2, or will she want Bridgette to try and move on?
That's one of the more interesting questions as we head into Season 2. 
Bridgette: I'm going on a date with my dad!
Eliza: Yay! So gross.
Nelson showing up to have it out with Bridgette about not being on her side made me roll my eyes because it was inevitable that the two women would bicker eventually. 
Nelson was quick to change her tune when she realized Bridgette was supposedly on a date with her father, and just like that, their feud was gone. 
SMILF is one of few shows that stick to the storylines that matter, and that's why the episodes fly by in a flash.
"Mark's Lunch & Two Cups of Coffee" was the best episode of the series, and I cannot wait to see where this show goes in future seasons. It's already racked up a string of award nominations, and they will turn into wins before long. 
Frankie Shaw is a phenomenal actress, writer, and director and everything about this episode was sheer excellence from start to finish. 
If you've been wondering whether to give this show a shot, you will not look back!
What did you think of the episode?
Sound off below!
Paul Dailly is the Associate Editor for TV Fanatic. Follow him on Twitter.