NCIS: Los Angeles Season 9 Episode 16 Review: Warriors of Peace
Dale McGarrigle at .
Poor Callen can't catch a break.
His newly assembled family got torn asunder on NCIS: Los Angeles Season 9 Episode 16.
I suppose that's one way to get rid of a storyline.
Yes, it took two-thirds of a season before Callen's recently discovered family of a father, a sister and a nephew was brought into the spotlight again.
Nikita, we hardly knew ye. After only two years and four episodes, it's back to the gulag for you. It hardly seems fair.
Related: CBS Sets Season Finale Dates For The Big Bang Theory, NCIS & MORE!
Nikita (it's hard to believe that's the same actor that once played Frank Furillo) just got caught up as a pawn in some international intrigue.
If I followed it correctly, the U.S. would swap Nikita to Iran for two photographers/maybe spies, and Iran, in turn, would send Nikita to Russia in exchange for some missiles and, I'm guessing, a draft choice to be named later.
When Callen asked the State Department stooge why they were doing this, he said to reunite a family. It's obvious that Callen's family of part-Russians didn't rate as well on the optics scale, so it was fine to break them up.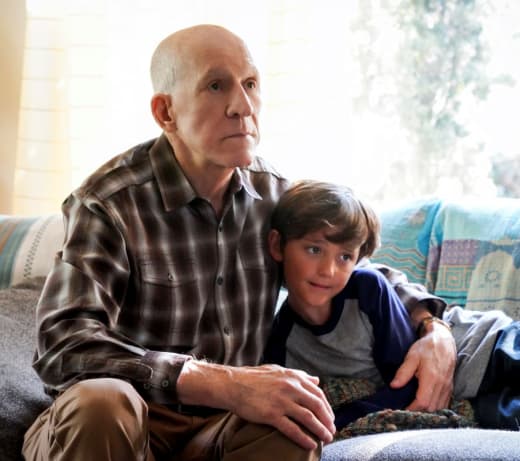 Would Russia actually go to all that trouble for a former spy?
I'd say yes, based on the former Russian spy, who had been living in Britain for decades, and his daughter recently being poisoned with a particularly Russian toxin. It's just another way of putting the fear of Putin in the West.
Now, back to the caper to save Nikita, which went oh so wrong.
Related: NCIS: Los Angeles Season 9 Episode 15 Review: Liabilities
As they have for at least half of the episodes during NCIS: Los Angeles Season 9, the OSP team tried to run an operation behind Mosley's back.
Since she's been sent there to assess the team, they truly don't do themselves any favors going rogue on a regular basis. 
Only now they have Hetty to aid and abet these off-the-book missions, including providing briefcases of money from her Vietnam-era slush fund. She also came up with a somewhat viable "case" that would allow them freedom of movement.
Of course, Mosley quickly caught on to what the team was doing and let Hetty know. But she feigned ignorance to everyone else.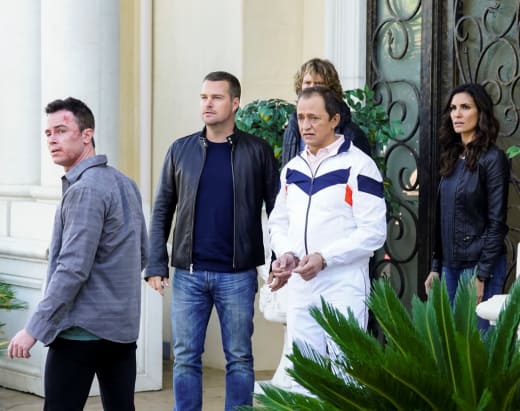 So their ill-conceived plan was to abduct Anatoli Kirkin and offer him up in place of Nikita. If only it were that easy.
First, Kirkin had gone to ground, so they had to find him. So they started shaking trees to see what fell out.
Nell and Eric moved to their mobile lair, the taco truck, and tracked Kirkin's chiropractor hoping to find Kirkin's address. Meanwhile, Callen and Sam, eventually aided by Hidoko, went sniffing around for info from a rival Russian mobster.
Related: Watch NCIS: Los Angeles Online: Season 9 Episode 15
Later, Kensi and Deeks followed up on Nell and Eric's lead and got to meet Kirkin's latest boy toy, a Deeks lookalike (but with better tips). Then Kirkin himself drives in, making Deeks uncomfortable with all kinds of unwanted attention.
Naturally, both at the barber shop and Kirkin's mansion, firefights broke out. That's not the way to run a mission on the DL.
Long story short, Kirkin was in the wind again. Later on, after it was too late, Kensi and Deeks ran into him while walking Monty, and he revealed that he had taken over the mob again with funds he had embezzled from his rich boy toy. So he was back to being untouchable.
Even when Callen offered Nikita a chance to go on the run, he refused. Instead, he went along with the trade, hoping to escape again and get back to his family. Alexandra was pissed, Jake heartbroken, and poor Callen is on the outs with the little bit of family he had left.
It is going to be interesting to watch Hetty and Mosley joust. Hetty has always worked behind the scenes and through back channels, but Mosley seems equally adept at that. Still, my money is on Hetty to come out on top, title or no title.
Related: Get CBS All Access via Amazon Channels for Hit Shows, Exclusive Originals & Live TV!
I did feel bad for Hidoko, whom Mosley blasted because she helped out the others without running to Mosley first. Hidoko truly seems to want to be accepted by the OSP team and to not be seen as Mosley's snitch. 
Is anything going to change over the last few episodes? Or is it going to continue to be the team sneaking around on Mosley, while she compiles evidence against them? Continuity is one thing. Repetition is another. Maybe they ought to try asking for permission first rather than forgiveness afterward.
To see the pattern develop, watch NCIS: Los Angeles online.
How could the team have handled this better? Can Hetty outmaneuver Mosley? Or is there another way to proceed?
Comment below.
Dale McGarrigle is a staff writer for TV Fanatic. Follow him on Twitter.