Lucifer Season 3 Episode 21 Review: Anything Pierce Can Do I Can Do Better
Carissa Pavlica at .
Welcome to my ONE (1) STAR review of Lucifer.
If you read me at all, you know how I feel about love triangles, but sinking as low as things have gone on Lucifer Season 3 Episode 21 is abysmal.
Don't try steering the upcoming conversation off the rail by saying this is a series about Lucifer leaving Hell unattended and on which celestial beings walk the earth because that's entertainment.
A successful career woman raising a beautiful daughter who also happens to be incredibly attractive believing she has to settle for someone she doesn't love in her 30s because he's treating her to dinners and kind words is something I want to happen only in the worst fantasies.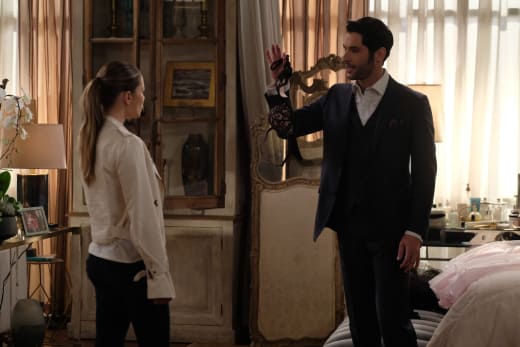 As I originally predicted, this love-triangle storyline has gone off the rails.
The odds that two adult males and an adult female would find themselves in the same orbit and would all be suffering a mid-life crisis at the same time are, frankly, nil.
Add to that the attractiveness of the three involved and it becomes a little more difficult to tolerate. Sure, there are a lot of jerk fish in the sea, but there isn't anything written in stone that says any of the three have to be tied down and living in holy matrimony at this stage, or they're total losers.
Related: Lucifer Season 3 Episode 20 Review: The Angel of San Bernardino
While we're speaking of things being written in stone, at least two of the parties involved could have had personal relationships with Moses, for goodness sakes, so they've had more than ample time to deal with the issues they're just getting around to managing now.
I can only imagine someone thinks putting two death-defying celestial males through these behavioral patterns in some way makes them attractive to millennials with all their needs for "feels." Except these men have grown some thousands of years now, and acting like prepubescents going after the girl down the street is embarrassing.
What made this episode even worse was that nothing wasn't written in stone. The writing was carved on the tablet for all of the characters with few exceptions.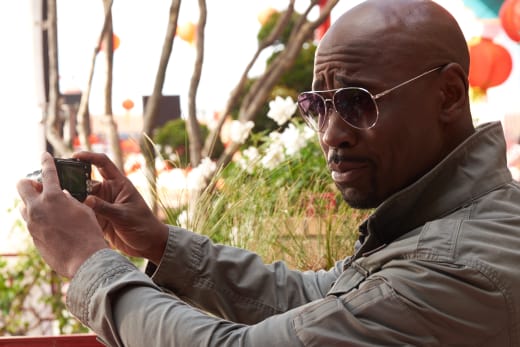 We were saved from an utter disaster thanks to Charlotte, Linda, and Amenadiel. 
Charlotte was golden. I must note that I initially thought she was the ballerina who was pulled off stage. Charlotte on the brain, anyone? She wasn't having nightmares after all but discovering she was wallowing in a 3-star hotel (two more than this review!) drinking vodka from the bottle gave me a chuckle.
Related: Enjoy UNLIMITED access to thousands of Movies and TV shows with Amazon Prime Video. WATCH ANYWHERE. CANCEL ANYTIME!
It always surprises me how soothing Amenadiel can sound even when delivering information the likes of which he did with Charlotte when he shared the news about Chloe. Charlotte took that well, didn't she?
So let me see if I understand you correctly. I help you, I help restore God's will.

Charlotte
Anything to bring the story back around to herself works for Charlotte. But once she was working on the side of God, she was like a dog with a bone. Tricia Helfer has a way with the comedic aspect of her characters and playing with Charlotte always looks like so much fun for her.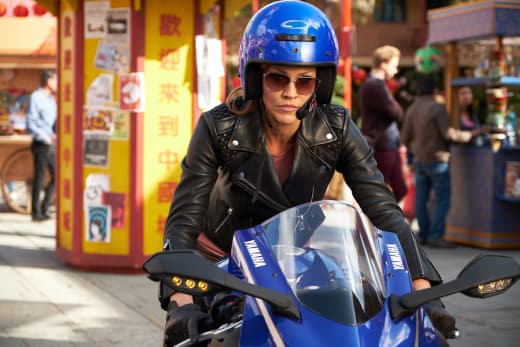 I'm sorry, but I'm going to need to borrow your bike. [Knees guy] Don't worry, it's for God.

Charlotte
She'll go the mat to ger what she needs, and it cracks me up that she can't put goodness and working above the law together with working for God. Then again, Amenadiel couldn't argue with her results, so he's not setting the best example, either.
Linda did her part to try to rein in Lucifer's madness when it comes to Chloe, but it took too long, in TV speak, anyway. Nothing that occurred had to be like it was, nor was it unstoppable. On TV, though, people like to stand back and wallow in misery while their lives get ruined in front of them.
At the very least, Lucifer made a lame attempt to tell Linda the reason he didn't tell Chloe how he felt after he learned about Amenadiel's hand in creating Chloe was that he thought it took away her choice in the matter. Helpfully, Lucifer then took away her choice in the matter, too.
Related: Lucifer Season 3 Episode 19 Review: Orange is the New Maze
Lauren German convinced me Chloe was in pain when she was seated at the table across from Lucifer believing he was finally going to tell her how he felt, but when she kept her mouth shut about how she felt, I just got annoyed. 
She couldn't say, "REALLY, Lucifer? The best ya got is that you can outdo Marcus? I've been right here in front of you for three years, and all you got out of it is that? Well, I had fallen in love with you, but I take it back. You've let me down, and we'll never have a future together because of that."
Why couldn't Chloe take the initiative? Does Lucifer take place in a time-warped 1940? It must. She doesn't love "Marcus." A self-respecting woman wouldn't feel the pain Chloe did, and hours later accept the marriage proposal of another man. 
The Chloe we knew two seasons ago wouldn't have done that, either. 
I hate to say it, but if Lucifer isn't renewed, it's garbage like what we watched during "Anything Pierce Can Do I Can Do Better" that is the reason why. 
And no, we're not talking about Maze. Has she done anything new worth discussing? I didn't think so.
Tell me what you think. If you see things differently, you're up! Take your stand in the comments below. Why do you disagree? Why do you agree? 
You can watch Lucifer online to recall the good times.
Carissa Pavlica is the managing editor and a staff writer for TV Fanatic. She's a member of the Broadcast Television Journalists Association (BTJA), enjoys mentoring writers, wine, and passionately discussing the nuances of television. Follow her on Twitter and email her here at TV Fanatic.