NCIS: Los Angeles Season 9 Episode 17 Review: The Monster
Dale McGarrigle at . Updated at .
OK, that was some weird shit for an NCIS episode.
A patchwork body, including parts from a Naval officer, was discovered on NCIS: Los Angeles Season 9 Episode 17.
I thought it unusual that the team dropped a case seemingly partway through an episode, but surprise! That was just the beginning.
Of course, there was some Mosley madness going on in the midst of the case.
Everyone on the OSP team was on heightened alert as Mom and Grandmom were fighting in the office upstairs.
Related: NCIS: Los Angeles Season 9 Episode 16 Review: Warriors of Peace
Mosley's playing "Spin the Pairings" didn't help matters any. She just had to break up Densi.
Let's assess the pairings. First, let's look at Sam and Kensi. They worked fine together, once Sam established who was in charge. Kensi chafed at that a little bit, since she's used to calling the shots with Deeks. But, all in all, they had been teammates for long enough that there were few issues.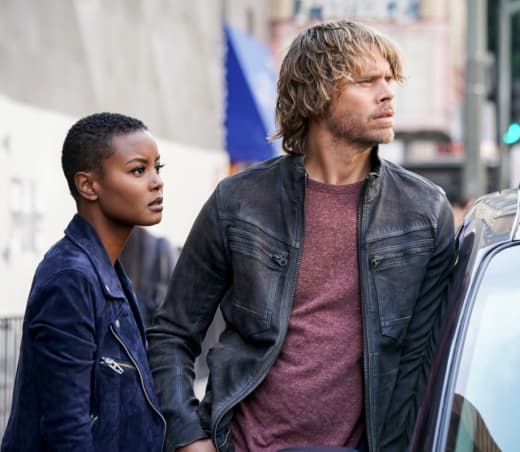 Deeks and Hidoko, in other words, the two that were left, didn't mesh as well. Deeks' motormouth style is an acquired taste, and Hidoko seems to play everything close to the vest. It's nice to see someone not embrace Deeks' shtick.
I have to admit that I'd been wondering about the Japanese surname for somebody that doesn't look remotely Japanese, so I wasn't surprised that Deeks went there.
Of course, they got into it about Mosley. Deeks dislikes her because he fears he's about to be sent back to LAPD, while Hidoko is fiercely loyal to her, even if we've been given absolutely no reason why. Because Mosley gave her a fresh start after her husband was killed, or is it something more?
Fortunately, all the awkwardness of the new teams quickly faded into the background as they got pulled into some bizarre developments.
Related: Get CBS All Access via Amazon Channels for Hit Shows, Exclusive Originals & Live TV!
The missing Naval officer was dating a woman from the Chinese consulate. But, it turned out, both were actually NSA operatives. And she was able to track him with the devices they had both had implanted on their own initiative.
That's how Mandy was able to unintentionally lead Deeks and Hidoko to the Frankenstein body which included her lover.
At the same time, Sam and Kensi discovered a murderer who had mutilated his victims working at an auto-repair shop. However, surveillance footage gave him an alibi.
OSP was soon washing their hands of this strangeness since the FBI was already investigating similar bodies and the case had no implications for national security.
Right? Wrong.
It was a horrifying twist when they found out that the garage workers they interviewed were all imposters, setting up an alibi for the killer. And all that was left when they got back to the garage was another patchwork body.
So, for those who wanted another dangling storyline for the rest of the season, there you go. It seems more like an X-Files or Criminal Minds concept, but whatever.
This left the odd pairing of Mosley and Callen.
It was amusing when Callen, who thought he was about to be fired, instead ended up working on a high-profile weapons case with the ATF.
Mosley was her usual imperious self when she tried to run roughshod over the ATF agent in charge. Still, Callen noticed the desperate edge to her behavior and got her to admit, to a degree, why this case was personal to her.
This case also wrapped up rather precipitously. Naturally, Williams got away, leading to another dangling storyline.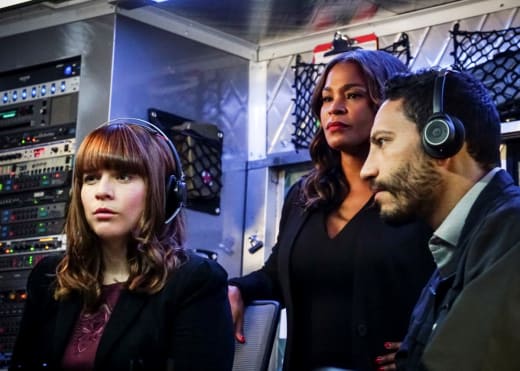 But another worthwhile development happened. Mosley finally turned somewhat human. Up until now, I couldn't believe someone with seemingly no people skills had risen so far in the NCIS hierarchy.
Hetty convinced Mosley to open up to her squad if they are ever going to trust her. So, over Scotch. First, she told Callen that he was the best agent with whom she had ever worked. Then she admitted that Williams had absconded with their son and that she hadn't seen him for five years.
Related: Watch NCIS: Los Angeles Online: Season 9 Episode 16
Did this episode make Mosley a more sympathetic character? Yeah, I guess so. Still, there's all her dictatorial behavior over the past 16 episodes to un-remember.
It took Granger a while to come around to the OSP way of doing things. But then, he and Hetty had a history. So maybe she and Hidoko can fit in too.
So when do we get back to these storylines?
It's hard to tell. NCIS: Los Angeles Season 9 Episode 18 appears to be Eric-centric, then there's the Academy of Country Music Awards on April 15. So it will be a few weeks away.
To re-assess Mosley, watch NCIS: Los Angeles online.
How did you like the new pairings? How do you feel about Mosley now? Did this episode represent a shift in Season 9? Comment below.
Dale McGarrigle is a staff writer for TV Fanatic. Follow him on Twitter.