Riverdale Season 2 Episode 19 Review: Chapter Thirty-Two: Prisoners

Justin Carreiro at . Updated at .
The past came back to haunt the 'Varchie' relationship in a deadly way. This surprising return was out for blood and a lot of cold hard cash!
Archie started Riverdale Season 2 Episode 19 looking for his enemy, and he surely found him. Unfortunately, the enemy he did find was not the one he expected to see again. His luck had definitely taken a turn for the worst.
"Chapter Thirty-Two: Prisoners" was, unfortunately, the regression of Archie's character development. By the end of the hour, he reverted back to his thoughtless and reckless ways. (Why, Archie, why?!)
Veronica seemed to be on the same page as everyone because she warned him not to go after The Black Hood. No one wants the Archie from Riverdale Season 2 Episode 4 coming back. And for a while, it didn't seem possible.
He promised he would be careful and he was more worried about his dad being a target. Everything went downhill when he got sucked back into the mafia storyline yet again.
Seriously, the crime plot with the Lodges is bringing out the worst in him. Nick St. Clair was the perfect foil to trigger his need for revenge.
Veronica: Are you okay? Whether or not The Black Hood is back, I don't want "Death Wish Archie" to come back.
Archie: You saw that note, Veronica. Written in Midge's blood. If The Black Hood is going after victims who escaped him, that means my dad is next, or Moose, or Betty, or you, or me. It could be anyone.
Veronica: That's exactly why I need you sane and steady right now.
Archie: I am. I will be.
Veronica: Promise me you won't patrol the streets or break into Svenson's house.
Archie: Ronnie...
Veronica: It's just, I can't bear the thought of anything bad happening to you.
Speaking of Nick, the rich kid rapist found his way back to Riverdale for his bit of revenge against Veronica and Archie. Did you think he would ever return to town after Archie's last attack?
He looked ever more smug than the last time we saw him on Riverdale Season 2 Episode 10. Nick had his plan of attack ready to go when he came back to town.
The kidnapping scheme was a good way to incite some tension within the Lodge ranks. They don't have many people working for them after the last mutiny, and the St. Clair criminal family did want revenge too. Killing Archie would've sent a big message.
Related: Enjoy UNLIMITED access to thousands of Movies and TV shows with Amazon Prime Video. WATCH ANYWHERE. CANCEL ANYTIME!
Even if Hiram and Hermione had given Veronica the money or Veronica had slept with Nick, Nick's behavior made it seem like he was going to kill Archie regardless.
The rich kid kept talking about wanting to get his bones and thinking Hiram's teen capo would be the good first start. Plus, Nick isn't the type of character to forgive and forget. Murdering Archie would've tied up loose ends and got him the retribution he so wanted.
And he got a few punches in as revenge already, so that made him extra happy.
Nevertheless, Nick was a tad sociopathic. His plot to force Veronica into bed and live stream the entire encounter to Archie was a complicated web. All of those moving pieces would hurt everyone, but it took so much work.
His plans were getting too dramatic.
Though, based on Veronica's cunning, there was no doubt that she didn't have a plan up her sleeve. Even for Archie, she would NEVER sleep with Nick St. Clair and give him the upper hand. The drug in the champagne was a cliche trope, but it worked for this takedown.
Her crowning moment was turning the entire kidnapping scene on its head by blackmailing the St. Clairs for one million dollars.
Veronica took the opportunity to send a bold message to Nick, the St. Clairs and even to her parents. She can get the job done, AND no one messes with her or the people in her life.
Veronica is a queen. Her standing with the million dollars at the table was her boss moment!
Hermione: What's all this?
Veronica: It's ransom money. Not for Archie, I got him back. No, this is from when I turned the tables on Nick and held for ransom instead. His parents gave me a cool million for my trouble.
Hiram: I told you I was handling the St. Clairs.
Veronica: Funny enough, they hadn't heard boo about Archie's kidnapping, but I'll leave that to you to explain to Archie. He's in the study waiting for you.

Archie, on the other hand, let all his courage and character growth get thrown out the window.
Veronica just saved his life. His relentless pursuit to hunt The Black Hood inadvertently got him kidnapped by Nick St. Clair and nearly killed him. This entire encounter should've given him the clarity to step away from the mob life and focus on music/his future/Veronica.
But no, we're talking about Archie Andrews here.
Instead of walking away from the two people (Hiram and Hermione Lodge) who REFUSED to pay a million dollars to save his life, Archie decides its time to get even deeper into the business, and that he wants his bones by killing The Black Hood himself.
What was he thinking?!
These people don't care about him at all. Veronica, his parents and his friends truly love him, but he's turning away from all that for revenge. His mind is completely clouded.
Archie's blind anger and shocking need for retribution continue to surprise, even when he should know better by this point. Hopefully, someone else kills The Black Hood just so that it's not Archie! (We're following Petty Betty's lead here.)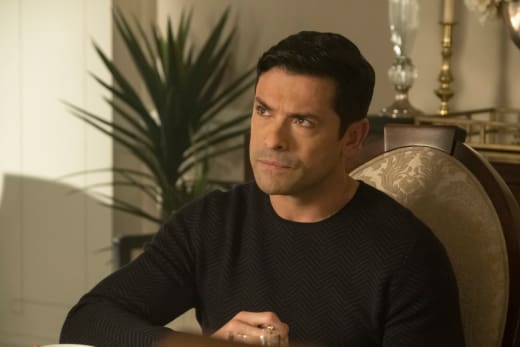 Midge's funeral was the perfect mix of sadness and Riverdale drama. Where else would you see cheerleaders wear black cheerleading outfits and raise pom poms after Cheryl sings?
The entire opening sequence was beautifully shot.
Cheryl's song added a somber note to the already depressing scene, and the grayish coloring it even moodier. And Cheryl's proclamation about going after The Dark Hood tied all the plots together with a central theme of revenge.
Though, what was confusing were the people in attendance. Why would Penelope and Uncle Claudius be there? Cheryl kicked them out, and they had no connection to Midge; their presence did not connect to the scene.
Having everyone else, even the River Vixens with their black pom poms, made more sense.
I also feel it my duty to say that like the furies of ancient Greece who ceaselessly pursue blood atonement when a crime's been committed, the Vixens and I vow that we will not rest until those responsible for the murder of our sister is rightly punished.

Cheryl
The curious case of Charles 'Chic' Cooper keeps getting weirder and weirder. His parentage has turned into an episode of The Maury Show.
We always knew that something was off about the eldest Cooper child. In his short time during Riverdale Season 2, we've seen him murder someone, cause a blackmail stunt, and convince Betty to webcam just like him. But now he might not even be Charles Cooper?!
Related: Riverdale Season 2 Episode 18 Review: Chapter Thirty-One: A Night To Remember
The revelation of what happened to the real Charlies was heartbreaking, especially when you consider everything in hindsight. Alice was happy to have her son back in her life; it explains so much why she always was over-protective of Chic.
Her guilt of turning Charles away was clouding her judgment. She overlooked all the suspicious behavior because she thought her son wanted back in her life.
Chic was evil for manipulating and using that emotion against her.
Chic: Who was that Betty? Who was that who called you? Who was that weird ringtone?
Betty: You'll find out. Now that it's just us, did you do it? Did you kill my brother?
Chic: We got in a fight. I lost control. I didn't mean to hurt him.
He's an evil man, but refusing to tell the truth of what really happened to Charles made him even crueler.
The truth would give the Coopers, Jughead, and FP peace of mind; withholding it only made the pain last longer. He's lucky that FP pulled Jughead off him or else the torture could've gone on all night. The knife cut Chic gave Alice would've paled in comparison to Jughead's revenge.
FP made the right call by keeping away with Jughead. He didn't need him or his son involved with another missing body. On the other hand, Alice telling Hal made that couple a bit stronger.
For everyone who correctly guessed that FP was the father of Charles, you deserve a round of applause!
Regardless of the red-herrings and Alice vehemently denying it, FP was the baby daddy. Riverdale tried to throw everyone off the scent, but the reveal was pretty obvious before any of the lies.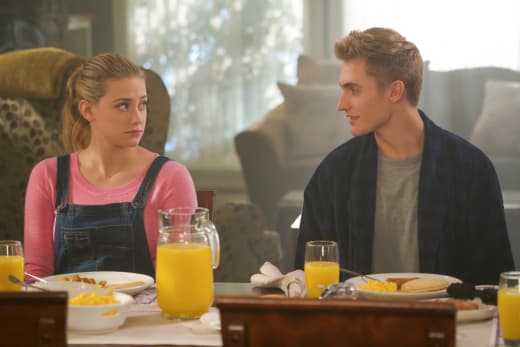 Do you think Chic was killed by The Black Hood?
Betty gave him a fighting chance, but he was running in the middle of winter, and The Black Hood looked like a fast runner. If he didn't get away in time, he'll be the next victim. And we should hopefully find out soon.
We can't ignore the fact that Betty let out her inner Dark Betty. All of the investigating at the hostel/orphanage, lies, and the truth pushed her over the edge.
She gave The Black Hood what he wanted: A sinner to punish. This could be a moment that she'll come to regret in future seasons; Chic may not have been her brother, but she led to his possible murder.
Betty: I'm going to give you a head start. I'd say you have about a 70% chance of making it before he cuts you down. Really, you should start running.
[The Black Hood starts walking closer]
Betty: Sixty per cent. The longer you stall, the more your chances keep dropping. What are you waiting for?
[He gets closer and Chic takes off running]
Betty: Fifty.
[The Black Hood chases after Chic]
Betty: Goodbye Chic.
Everyone was REALLY hard on Sheriff Keller after Midge's murder. Like, he clearly became the scapegoat.
Sure, he cut corners and was too stubborn to listen to any theories by the teens. (Betty, Jughead, and the other teens are smarter than the any adults on Riverdale.) But, he didn't deserve all of the backlash against him.
He did his job to the best of his ability. And, he caught and killed the man who was claiming to be The Black Hood.
Related: Riverdale Round Table: Curtain Call
All of the pieces (at that time) led to Mr. Svenson; he even had the janitor burying Archie alive. Smoking gun or not, the pieces were all there to put together.
The vandalism, article and forced resignation had gone a bit too far. The slap, on the other hand, was thoroughly deserved. Karma needed to dish out some justice for his lack of reasoning and investigative support.
Seriously, why did he keep brushing off Archie's theory of The Black Hood being alive?! Someone just died. He needed to stop being ignorant.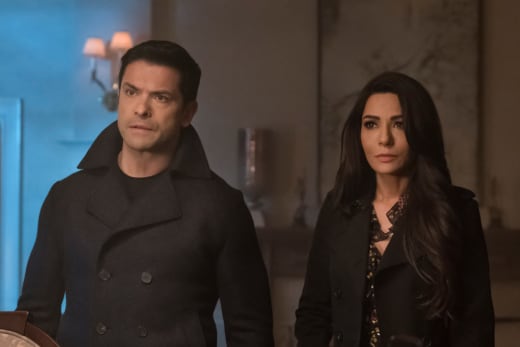 What did you think of "Chapter Thirty-Two: Prisoners"? Is Chic a goner? Why were Hiram and Hermione so focused on getting Sheriff Keller out of power? Who could The Black Hood target next?
If you missed the latest episode of Riverdale, you can watch Riverdale online via TV Fanatic. Come back here and share your thoughts on the episode in the comments.
Justin Carreiro is a staff writer for TV Fanatic. Follow him on Twitter.