Riverdale Season 2 Episode 18 Review: A Night to Remember

Justin Carreiro at . Updated at .
The cast of Riverdale really did have the music in them!
As much as we might cringe at the sight of musical episodes, Riverdale Season 2 Episode 18 turned out beautifully.
An updated production of Carrie: The Musical was more enjoyable than expected. Cheryl, Betty, Veronica, and the whole group killed it with their natural talent. After hearing the songs, we might need to have this show back in our lives again.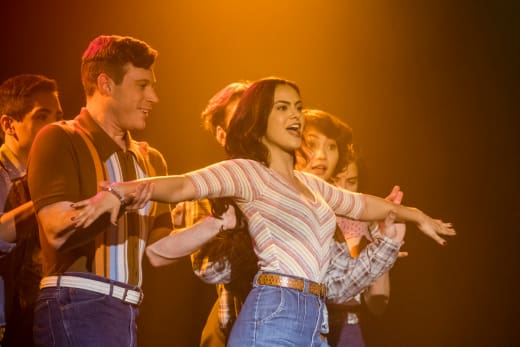 Throughout "Chapter Thirty-One: A Night to Remember," we heard nine tunes from the Off-Broadway Revival sang by the changing cast.
When it comes to musical episodes, one of two approaches is usually taken: (1) The segments are standalone songs thrown in between the real-life episode, and (2) the songs find their way into the dialogue like an actual musical.
Whereas a show like Glee is the former, Buffy the Vampire Slayer Season 6 Episode 7 fits in the latter with its songs being a plot driver. In the case of Riverdale Season 2 Episode 18, the hour predominately sat in the first camp, but it did have elements of the second.
These moments, for instance, especially came through in the performances for 'In' and 'You Shine.' The lyrics were brought out from the stage and into the world to push the story.
Related: Riverdale Season 2 Episode 17 Review: Chapter Thirty: The Noose Tightens
Luckily, we enjoyed more songs in the former style.
Weaving in the performances between the scenes helped to frame the plot structure. Life imitated art with what the characters were doing in the play, so these interjected moments worked perfectly to highlight the tone. And the additions of the songs didn't feel forced in.
Whenever any of the characters started singing, the scene complemented the plot. You could tell that extra thought was placed into which songs were used. And that extra focus did wonders for the finished product.
Speaking of the songs/performances themselves, which ones were your favorite(s)?
We heard nine of them in total. Some were blown out numbers, like 'The World According to Chris' and 'A Night We'll Never Forget' while others were only quick snippets, like 'Carrie.'
'In' and 'Do Me A Favor' were very energetic and fun. And we can't forget the emotional pull of 'Stay Here Instead' and 'Unsuspecting Hearts.'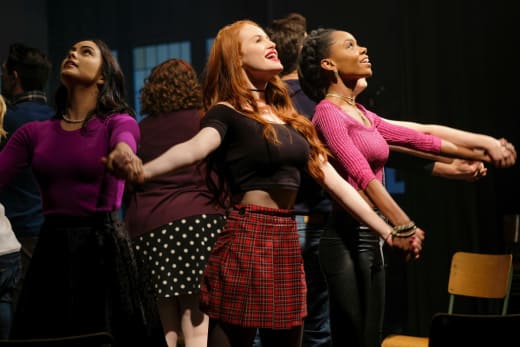 Alice stole the show when she brought the emotion onto the stage. THAT moment was how to bring the house down! (Albeit, she channeled her own heartache, but it worked.)
Even during a musical episode, it's a shame that we didn't see a lot of Josie. Her voice was beautiful; the duet with Cheryl was heartbreaking, especially when it was mixed in with their real-life apology. She needs to have her solo moment.
Many of the songs were shortened for the live hour, so we may need to listen to the full tracks to get a better assessment.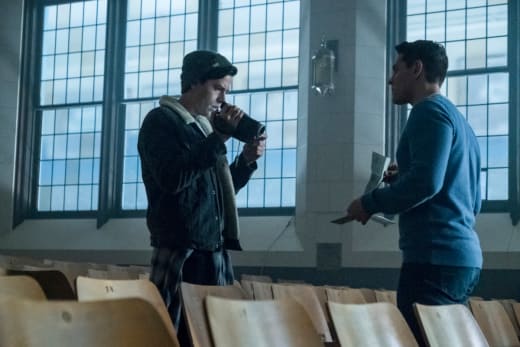 And even though he didn't have any musical numbers, Jughead's behind-the-scenes documentary rounded out the rest of the plot.
The added personal confessions made the characters more human and grounded. With all of the over-the-top musical numbers going on, the tone could've completely gone off the rails. However, the discussions brought out a more serious side to the characters.
This inclusion balanced the rest of the hour perfectly.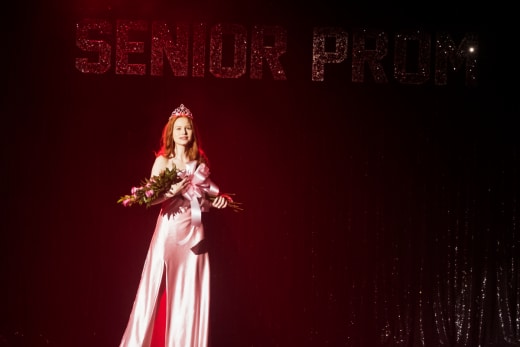 The drama off-stage of Carrie: The Musical seemed like a complete red-herring until the final scene.
All of the threatening notes and cast tension looked like a diversion tactic simply to get Cheryl out of the production. That red-herring plot was further solidified with the discovery of the magazines in Ethel's basket. We were made to think that conclusion going into the big reveal.
So, The Black Hood has returned. And, to make matters worse, he killed Midge in a public spectacle. For everyone who guessed the real killer wasn't defeated, you can cash in your "I told you so!" chip right now.
From my end, there was never any doubt that The Black Hood was completely gone.
The mystery looked sewn up easily on Riverdale Season 2 Episode 9, so something seemed fishy. And the janitor didn't come across as the big mastermind controlling everything. When the letters appeared, there was doubt if it was a red-herring to get Cheryl, but the theory still stuck.
Kevin: I have a dark confession to make. After Cheryl's brush with death this morning, I found a letter in my locker from someone alleging to be, and I can't believe I'm about to say this, The Black Hood. It's bad, just look.
[He shows Jughead and the camera the letter]
Kevin: Why would The Black Hood, who was shot dead by my dad, be demanding the role of Carrie be recast?
Jughead: Yeah, it does seem pretty small potatoes for The Black Hood.
Kevin: Still, Jug, you can't tell anyone about it. As the official documentarian, you're sworn to secrecy. Also, the show, as they say, must go on.
Though, all of the threats from the letters did bring up a good question to ponder: Why was The Black Hood so adamant about getting Cheryl out of the play?
The big demand was to get her out. Midge, who did end up playing Carrie, was killed instead and hung up on the wall. Was Midge targeted for being Carrie to set a statement or was she "evil" like one of The Black Hood's previous victims?
Related: Enjoy UNLIMITED access to thousands of Movies and TV shows with Amazon Prime Video. WATCH ANYWHERE. CANCEL ANYTIME!
Jughead's camera did pick-up a few interesting clips, like Fangs and Midge stepping away from each other and a disgruntled Moose down the hallway. A simple theory would be Midge and Fangs were hooking up and Moose found out.
The Cheryl demand, on the other hand, still throws a wrench into the theory. Could The Black Hood be someone who cares about Cheryl, such as Toni, who didn't want to kill Cheryl as the statement?
Cheryl: If you so much as pluck one hair from Nana Rose's little head, I'll end you. I burned one house down, I'll happily burn down another.
Penelope: Nightmare child, what do you want from me?
Cheryl: I want to be emancipated. I want Thistle House all to myself; my Nana. Start packing for me. You and Uncle Claudius are pig people; you should live amongst the pigs.
Luckily, Cheryl didn't get killed off because this was her "rising-like-the-phoenix" moment. Our favorite Blossom queen bee channeled her inner Carrie White and took back her power!
Seriously, a butterfly gets their wings whenever Penelope Blossom gets a major dose of karma.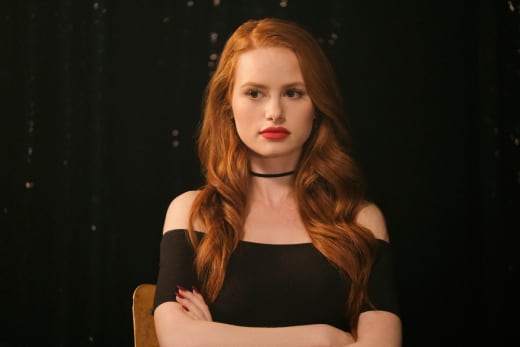 It was great to see Cheryl stand up to her mother in an iconic Carrie White blood dress and demand an emancipation.
Cheryl had the power, and she could've destroyed Penelope/Claudius at any moment after hurting Nana Blossom and sending her away to conversion therapy. But, she took the high road and sought control.
Now Cheryl has everything she's ever wanted: Her freedom from Penelope, her friendship with Josie with restored, and safety in her home. She may have missed out on portraying Carrie, but finding happiness was much more worthwhile.
Betty: Mom...
[Alice is overcome with emotion on stage]
Alice: Don't leave me, Betty. Don't leave me like all the others.
[Alice runs off from the stage]
Kevin: Am I directing a train wreck? Now where's my tea?
Alice getting her happiness too was also important.
As mentioned above, her breaking down on stage was so heartbreaking. She's gone through a lot during Riverdale Season 2, and the pressure she's faced from her family leaving finally boiled to the surface.
Performing an emotional song like 'Stay Here Instead' opened the floodgates.
Betty did the right thing by reaching out to Hal and Chic. Her father and brother were staying away, but Alice needed them in her life.
While they may not be the best for her, especially the sketchiness of having Chic around, Alice is the type of character who wants love and to be surrounded by loved ones. It's a shame it wasn't FP, but he needed to make a move earlier.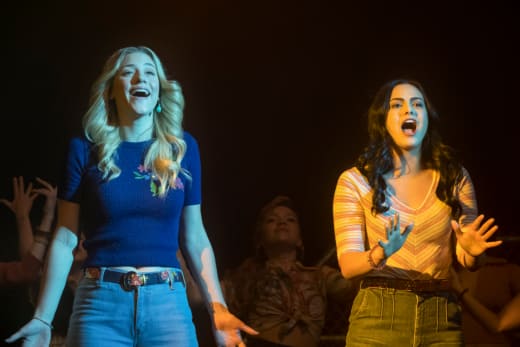 Raise your hand if you were happy to see Betty and Veronica repair their friendship! Their BFF relationship is perfect, and they should never fight again.
Though, the side-eye shadiness that Betty threw out at Veronica needs to be applauded. Say what you will about the girl next door, whenever she brings out Petty Betty, she comes to slay. We should never be afraid of Dark Betty again; Petty Betty is the real savage killer.
Archie's words to Betty were thoughtful. He made her see clearly, and it fixed the drama, which definitely needed to be repaired after Riverdale Season 2 Episode 17. He did a good job as a friend to Betty and a boyfriend to Veronica.
Kevin: Okay, Veronica, I'm obsessed with everything that just happened.
Veronica: Thank you! It helps to be off-book and in full costume.
Betty: Don't be so modest, you are the literally embodiment of Chris. Never has a role been perfectly typecast.
Archie: Betty!
Veronica: What was that, Betty?
Betty: I mean think about it: Spoiled rich girl, check. Major daddy issues, check. Bad to the bone, trying to control everyone around her, including her boyfriend and best friend. Check, check, check.
That same clarity found its way into his own life too, which was very welcomed from a character development standpoint.
Whatever magical pull that Hiram had over Archie finally seemed to be gone. We saw Archie make the right decision when it came to choosing between the Lodges and his own family. And, based on past fan sentiment, this move was a long time coming.
Related: Riverdale Promo: What The First Musical Number!
Archie made up for the poor decisions he did in the past.
Hiram was so smug and petty about revealing the gift. Just think about what it took for Hiram to get this petty: He drove to the school, made sure Fred was there and left after the truth bomb.
Archie made the right call by returning the keys and siding with Fred. Hiram disrespected his family and took it too far in this little election war.
Karma is just waiting to dish out the results for the election. But, Hermione did look like she gained favor with the crowd in the auditorium. Could she be in the lead?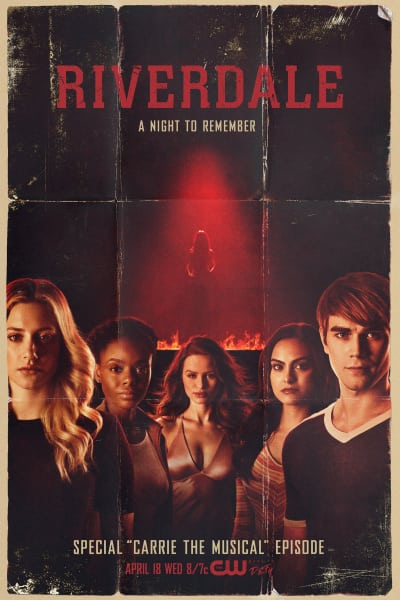 What did you think of "Chapter Thirty-One: A Night to Remember"? Are you sad that we didn't get a Jughead musical number? Who is The Black Hood? Did Chuck's redemption win you over?
If you missed the latest episode of Riverdale, you can watch Riverdale online via TV Fanatic. Come back here and share your thoughts in the comments.
Justin Carreiro is a staff writer for TV Fanatic. Follow him on Twitter.