Arrow Season 6 Episode 21 Review: Docket No. 11-19-41-73

Carissa Pavlica at .
When the going gets tough, don't count out your frenemies. 
Keeping with the recent theme of bygones, Arrow Season 6 Episode 21 took what could have been an incredibly bad situation for Oliver Jonas Queen and turned it on its head.
There are still some bad seeds in town whose attitudes could use a little adjustment, but overall, the value of friendship and never fully torching your bridges after crossing them was understood.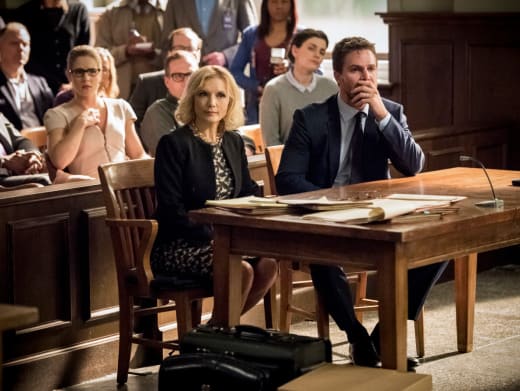 I assume that everyone who's been watching closely over the past couple of seasons knew exactly who Diggle picked up in the middle of a war-torn battlefield in the opening.
As a lax viewer who paid more attention to recaps and internet chatter, it never crossed my mind Diggle went through all that fanfare to extract Chase from whatever mission he was involved in currently. 
Related: Arrow Shocker: Who's Out?
He could have been anybody at that time, so the darkened tent seemed unnecessary, but it did add to the drama of the moment. All I wondered was how that guy would relate to Tommy Merlyn's return. 
If Chase was on the mind, it was a very good play. Chase is almost too easy to have around though. There isn't anything the guy can't do so the team would win at everything.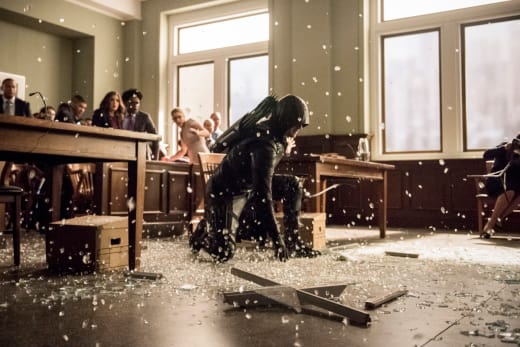 Still, Tommy's entrance was fun, and even if I had no idea which earth version of Tommy he saw the look on Oliver's face worked for the courtroom theatrics. Would it ever get old seeing the dead walk again, whether through other earth versions, Chase, or coming back to life by [insert your method here]?
That the finality of death isn't permanent rips from comic shows (and soap operas) some of the deepest, darkest and most basic emotions we all share as humans. Loss of that caliber is something you never understand until you experience it, and once you do, you're never the same. 
Related: Riverdale Season 3: Who Got Promoted?
Even a sliver of belief in life after death on earth rigs the whole thing to a different level. 
But, Oliver wasn't prepared and seeing his best friend and hearing him talk about the previous years as if he lived them hit him hard. It was a great scene for Stephen Amell for a change, something that, in past seasons, he would have missed out on the chance to emote by being thrust into a flashback.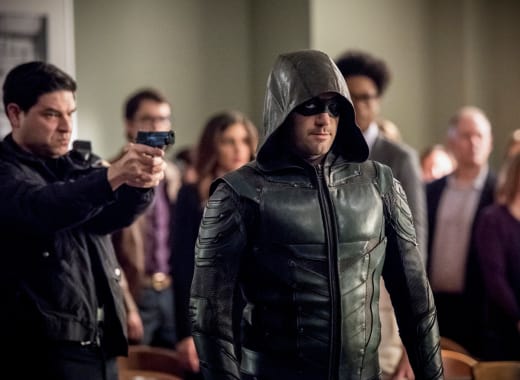 His friends and frenemies not sharing their plans with him was another good choice. He didn't get his hopes raised unnecessarily, and it was easier to roll with whatever was going down in the courtroom.
The courtroom scenes were farcical, as are all of them on the comics shows. Whatever attorney is "our" opposition never makes any sense and gets away with too much. Asking Rene if Oliver "killed or maimed" people was a bit much. Who would use that language in court?
At some point, it was noted that nobody in Star City knows about Ricardo Diaz. How is that possible? The guy is on a significant killing spree. Bodies are dropping all around town, the entire city government is in his pocket, and he hasn't made a single headline? 
Related: Get CBS All Access via Prime Video Channels for Hit Shows, Exclusive Originals & Live TV!
Star City needs an Iris West. Someone needs to be getting the Star City citizens heads out of the sand. One man can't kill everyone. 
Felicity was ready to commit her umpteenth felony on behalf of her husband to keep him out of prison, and so was Rene. He was the only one from Not Team Arrow who seemed at all moved about what Oliver was going through.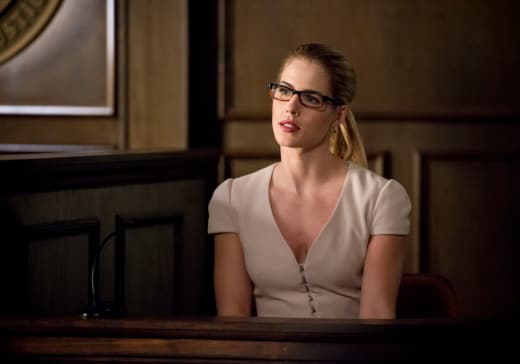 Suddenly, Curtis and Dinah are both becoming bigger pains in the asses while former biggest PITA sees the error of his ways. But it was hard to fault him for calling out Oliver on the stand when Diaz had his girl in the courtroom. They thought of so much, but nobody thought to guard his daughter while he testified?
She should have been in the custody of ARGUS during that time. As we saw later, even answering the doorbells at Rene's house is quite the adventure with hiding time for her and guns drawn for Rene. Yet she was captured by Diaz while he testified. That's a major overlook right there.
Burden of Truth: Kristin Kreuk Fronted Legal Drama Picked Up at The CW!
Even William was better shielded than that, and he's the kind of outlier that would have fallen through the cracks in the past.
Oliver didn't discuss with Felicity his plans for her and William until it looked like he might not make it out of the courtroom into anyplace but Iron Heights. It's WITSEC with ARGUS for his family. That's a huge decision but one she was willing to do for Oliver. She didn't even argue it with him. That's serious stuff.
It means I might be going to prison, OK? If that happens, Felicity has assured me that she is going to ensure that you grow into the man that I know you can be.

Oliver
The conversations with the family were sweet, not maudlin. Everyone was supportive and only looking for the positive. It was rather remarkable. 
Even Laurel was done being taken for a ride. She needed to so less talking and more Canary Cry killing, but I loved seeing her in all black, a callback to her doppelganger's Black Canary days when she made an attempt on Diaz's life. 
Related: The CW Sets Season Finale Dates for The Flash, Riverdale & MORE!
She's had the opportunity to state her case to a few people about wanting to do right now, so I hope she doesn't end up like the Judge. He didn't have time for explanations. Diaz has a soft spot for Laurel that won't last much longer.
Now that Oliver is out of prison thanks to the master of disguise, Diaz is going to go after everyone Oliver loves just like every other villain we've encountered. But Diaz doesn't have the panache or a soul to which anyone can appeal. It's kill or be killed. 
Can they pull it off? With the news Quentin Lance isn't coming back for Arrow Season 7, I think we know who won't make it past the closing credits on Arrow Season 6 Episode 23. 
Thoughts? If you need to catch up, watch Arrow online. Otherwise, share below!
Carissa Pavlica is the managing editor and a staff writer and critic for TV Fanatic. She's a member of the Critic's Choice Association, enjoys mentoring writers, conversing with cats, and passionately discussing the nuances of television and film with anyone who will listen. Follow her on Twitter and email her here at TV Fanatic.