Fear the Walking Dead Season 4 Episode 6 Review: Just In Case

Steve Ford at .
If Fear the Walking Dead has reiterated one thing this season, it's to always expect the unexpected.
Can you believe we're almost through the first half of Season 4. The first handful of episodes this season has continuously toyed with our emotions and contained more twists than a bag full of pretzels, and Fear the Walking Dead Season 4 Episode 6 was no exception.
After taking a break from the situation at the stadium last week, we were thrust right back into the happenings at The Diamond.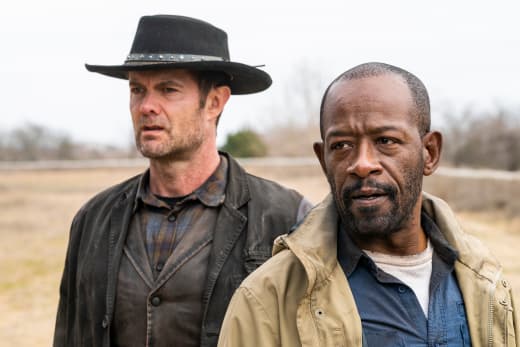 To no one's surprise, Naomi was -- once again -- trying to ditch the group. First, she lied about not trying to leave, only to come clean with Madison and Strand later on during their run that she really was trying to leave.
As much as I like Naomi, I've been finding it increasingly difficult to pull for her as she never gives anyone a reason to trust her.
Naomi has moments that give us a reason to like and trust her, such as revealing little tidbits about herself that make us sympathize with her character. But then she goes off and does something completely asinine that doesn't do her image any favors.
Related: Enjoy UNLIMITED access to thousands of Movies and TV shows with Amazon Prime Video. WATCH ANYWHERE. CANCEL ANYTIME!
Her whole story to Madison about her plan to leave the map for them at the gate was ridiculous. Naomi hasn't had the greatest track record as of late, so I knew right off the bat that she was trying to run again, but that was a pretty lame explanation she gave.
Seriously, the BS has been piling up so fast that I need a bigger shovel.
When Madison and Strand went with Naomi, it came as no surprise that she ended up ditching them overnight.
One would think that Strand taking the truck keys would be enough to deter Naomi from attempting to flee, but as we learned during her time with John, Naomi is a resourceful gal, so hot-wiring a vehicle was a cinch -- thanks to picking up that skill from someone from her last camp.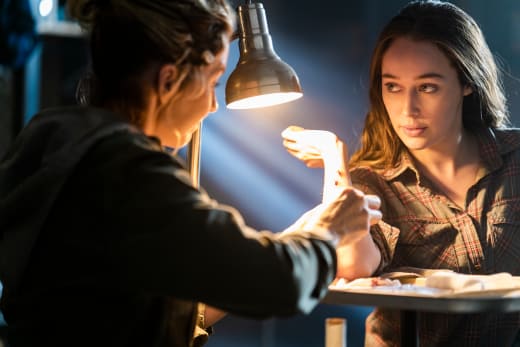 I'm surprised that Strand voluntarily came clean to Madison about the car he stashed away for a rainy day. Even though it was to get his point across regarding Naomi and how people don't change their ways.
It didn't take long for Naomi to find herself in a dire situation surrounded by walkers. Fortunately for Naomi, Madison and Strand reached her before she could end up being walker chow.
Something that bothered me was when Naomi was hiding on the scaffold surrounded, it never budged.
Alicia: You rig this yourself?
Althea: Thought I was the one asking the questions.
Alicia: How many rounds does it fire?
Althea: Enough.
Alicia: What's the spread like?
Althea: I know what you're thinking, but my guns aren't for hire and my bullets aren't for sale.
You mean to tell me that a handful of unruffled walkers were able to effortlessly push a two-ton truck out of the way during the previous episode, but 20 plus riled up walkers couldn't budge that scaffold?
Once again, the walkers only exhibit certain capabilities when it suits the story at hand. Perhaps if these two separate situations were spaced out a bit, it wouldn't have been nearly as noticeable.
Related: AMC launches ad-free streaming service
Naomi finding the key for the truck stashed with supplies was great and all, but there seemed to be a lot more useful items in that building. It likely would have been worth mentioning that to Madison and Strand to figure out a way to loot the rest of the building since it was obviously a location that the Vultures hadn't hit up yet.
I'm glad that Naomi's child was touched upon again, although my theory of Charlie being her daughter was quickly debunked.
I wouldn't put it past Naomi to be stirring up more lies, but the details and circumstances surrounding her child's death were so vivid that it most likely was the truth, and if that's the case it's incredibly heartbreaking.
All seemed right with the world again after Madison and the group returned with the goods. However, given the present timeline, we know a fact that things don't stay that way. Their luck in finding those supplies are merely delaying the inevitable.
But that does pose the question of what could possibly go so awry at the stadium given their recent fortune?
It was so awesome and satisfying to see the look on Mel of defeat on Mel's face when Madison arrived back with the truck. But I found it peculiar how quickly Mel caved and told his group to move on.
A small truckload of goods was really enough to deter the Vultures after hanging around for weeks on end? Something didn't seem quite right there.
Related: Fear the Walking Dead Season 4 Episode 5 Review: Laura
Strand's confession regarding his stash of rations combined with the "Just In Case" truck they found was enough to inspire Madison to have Alicia make their own getaway vehicle should things go south.
In the present timeline, I loved seeing how ruthless and dark John became when interrogating the Vulture. It was great to see those additional layers to John's character that we haven't seen before. Could you imagine if John completely lost it? It might be enough to give even crazy Rick Grimes a run for his money.
It was a bit confusing as to why Alicia, Strand, and Luciana were so apprehensive and aggressive towards Morgan and John when they arrived. It felt completely off and as if they didn't know who Morgan and John were.
When the group finally encountered the Vultures, an interesting exchange of words followed between Mel and Alicia.
Mel: I'm sorry about your brother.
Alycia: Really? I'm not sorry about yours.
Does that mean that Ennis, the that Nick killed a few episodes back was Mel's brother? That's basically what was implied.
Mel's words to Madison prior to leaving the stadium merely foreshadowed the coming events of the close of the episode. I almost expected Madison to step out of the truck, but to see that it was actually Naomi totally threw me off.
Not only is alive, but she's basically been in cahoots with the Vultures.
I want to give Naomi the benefit of the doubt, but given the history of not being the most trustworthy individual, it's hard to justify her betrayal.
Related: Fear the Walking Dead Season 4 Episode 4 Review: Buried
There is definitely something more to it all. If Naomi has been working with the Vultures the entire time, why the elaborate ruse with Madison's group, and why not just tell Mel about the JIC truck? Something doesn't quite add up.
You be careful, Madison. In my experience, the really bad stuff ... you never see coming.

Mel
Then again, now that we know Naomi has some sort of role with the Vultures, Naomi could have had a hand in the downfall of the Stadium.
John and Naomi's reunion was full of mixed emotions. Sure, I was happy for John but confused as all hell about Naomi's sudden appearance. Add in the fact of John getting shot trying to protect Naomi.
I'm in a glass case of emotions right now.
As shocking as John being shot was, it's extremely unlikely that he'll die. Then again, Fear the Walking Dead has been relentless thus far this season with their willingness to off a character without batting an eye.
We'll have to wait a painstaking two weeks until we find out John's fate, but in the meantime, I'll leave you with these words: If John dies we riot!
Who Would You Rather Have Your Back In A Zombie Apocalypse?
Let's turn it over to you, TV Fanatics!
What did you think of "Just In Case"? Where you surprised to learn that Naomi is not only alive but is likely working with the Vultures? What are your thoughts on John being shot? Will he survive?
Hit the comments below and let me know your thoughts!
Don't forget to watch Fear the Walking Dead online right here at TV Fanatic.
Fear the Walking Dead will return with a brand new episode on Sunday, June 3rd on AMC at 9/8c.
Steven Ford is a staff writer for TV Fanatic. Follow him on Twitter.