Lethal Weapon Season 2 Episode 22 Review: One Day More

Lisa Babick at . Updated at .
Are you serious?! Are you flipping serious?!
Saying goodbye to Clayne Crawford and his version of Riggs on Lethal Weapon Season 2 Episode 22  was hard enough, but at least it seemed as though the character was going to have a happy ending.
After two seasons of heartbreaking drama, Riggs deserved to ride off into the sunset with Molly and Ben and live a happy life.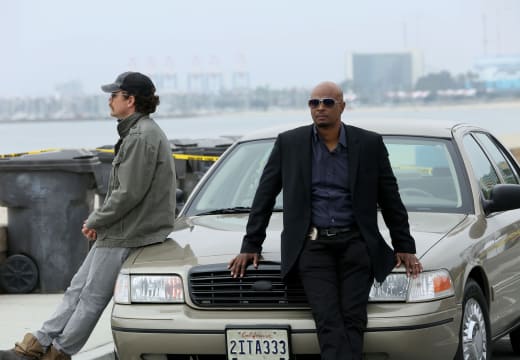 Instead, Riggs was shot in the chest and left for dead. What made it worse was that he was visiting Miranda's grave to say goodbye, but he was happy and a completely different Riggs than the one we were introduced to on Lethal Weapon Season 1 Episode 1. Riggs deserved a better ending.
Fans deserved a better ending. 
It's true that we don't know for sure whether Riggs will live or die, but what we do know for sure is that Clayne Crawford won't be returning as Martin Riggs. So even if Riggs does survive, which he will if Lethal Weapon is renewed for a Season 3, the character will be played by a different actor.
I doubt there are very many fans who will stick with the show if a new actor plays Riggs. It just won't be the same. Clayne Crawford made us fall in love with Martin Riggs. He's the one that made us fall in love with Lethal Weapon.
Related: Lethal Weapon: Clayne Crawford FIRED! Will Riggs Be Recast?!
There is no substitute. Period.
And then there's the problem of Riggs' dad. The bastard is still alive because Roger wouldn't let Martin smash Nathan's brains in with a rock. Nathan not dying leaves it open for the boring daddy saga to continue. 
I know that I don't want to watch another season of Riggs fighting his rotten, no-good daddy. I don't even want Nathan lurking around whether he is in a hospital in a coma or back in jail for murdering that lawyer and kidnapping Trish.
Oh, wait. I'm not going to be watching Lethal Weapon anymore, anyway. I forgot Lethal Weapon is dead to me now.
Still, the fact that Nathan Riggs wasn't killed off is maddening. If anyone deserved a miserable ending, it was Nathan Riggs, not Martin Riggs.
Another maddening piece of this crazy puzzle was Garrett being the one who shot Riggs.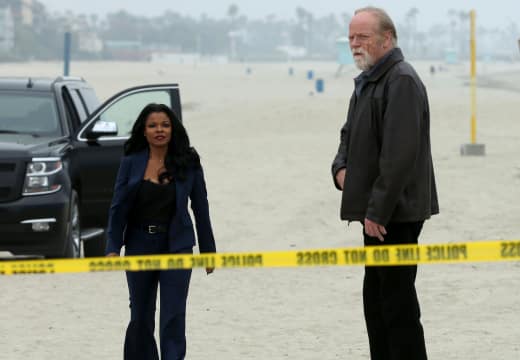 The chicken shit who ran off when it became too intense during the fight at the beach between his father and brother all of a sudden showing up at Miranda's grave to shoot Martin doesn't even make any sense.
I never understood why his character was even introduced in the first place. Why add more silly drama to a situation that should have died episodes ago?
There are plenty of questions regarding Garrett's relationship with Nathan. When did Nathan even have time to create a bond with his other son when he was too busy beating up on Martin?
Nathan Riggs is not the type of guy who is going to form tight bonds with anyone, so the idea that he was as close to Garrett as was portrayed is completely unbelievable.
Related: Lethal Weapon Season 2 Episode 9 Review: Fools Rush In
And how did Garrett end up in jail with a couple of million dollars bond? The last we saw of him, he was still in a coma in the hospital. Was there a time jump I missed?
Even if there weren't all sorts of behind-the-scenes issues, and even if Clayne Crawford wasn't fired, there were all sorts of problems with this season finale besides Nathan and Garrett Riggs.
I'm still miffed about Captain Avery leaving the LAPD, not just because we won't be seeing Kevin Rahm anymore, but because Captain Avery was a hell of a lot of fun -- especially when he was out in the field with Riggs and Murtaugh.
I appreciated that we got to see him on his final day before Roger took over as captain, but it's still not satisfactory. I'm still puzzled as to why he changed his mind about running for office when he had previously said he wasn't going to do it.
And I'm still puzzled as to when Roger decided to throw his hat in the ring to be captain. There are some glaring gaps in the overall story which is beyond annoying.
Nathan Riggs taking Trish hostage made complete sense because he wanted that money, but I go back to the relationship between Nathan and Garrett. I had a hard time buying the idea that Nathan cared so much about his son that he was willing to kill and kidnap to get the kid out of jail.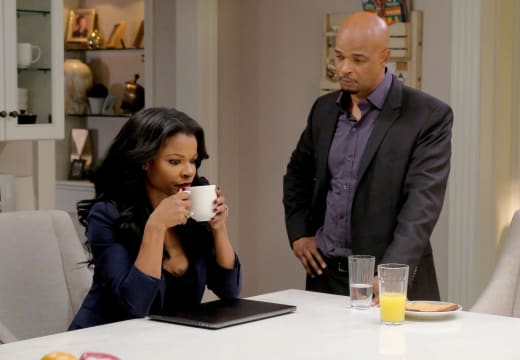 I also had a hard time with Nathan willing to give up Trish to get Garrett. First, how were Riggs and Murtaugh able to get Garrett out of prison to make the exchange? 
Second, there is no way in hell anyone who was ready to put a bullet in the head of someone who witnessed their crimes would let a phone call interrupt them from doing the deed.
And, again, was Garrett that valuable to Nathan that he would allow Trish to live knowing that she was witness to everything he did before he kidnapped her and forced her to transfer money?
Let's just chalk it up to sloppy writing.
The only parts of "One Day More" that were decent was Trish and Riggs' exchange at the end when she thanked him for keeping his promise of always making sure Roger returned home safe, Riggs thanking Roger for saving his life, and Riggs' sessions with Cahill.
Those were the only enjoyable parts of this season finale that made me feel all warm and fuzzy like I did during all of Lethal Weapon Season 1.
Related: Lethal Weapon Season 2 Episode 2: Dancing in September
Unfortunately, those few moments weren't enough to save this installment, and even if they were, those warm and fuzzy feelings were destroyed with the ridiculous cliffhanger ending.
I'll say it again -- Riggs deserved better. The writers could have continued the story of Riggs and Murtaugh a different way and given fans the happy ending they so desperately wanted for Riggs.
There could have been other drama introduced that didn't include Riggs getting shot or involving the worthless characters of Garrett or Riggs' rotten father.
Happiness shouldn't be that elusive for anyone. It's like the rabbit never getting his bowl of Trix or Wile E. Coyote never catching the Roadrunner. It stops being fun to watch after a while.
Over to you.
What did you think of the season finale of Lethal Weapon?
Were you shocked at the ending?
How do you feel about Clayne Crawford not returning as Riggs? Will you watch?
Hit the comments and share your thoughts!
If you need to catch up, you can watch Lethal Weapon online right here via TV Fanatic!