Take Two Season 1 Episode 3 Review: Taken

Rachelle Lewis at . Updated at .
Sam and Eddie are on the case again in Take Two Season 1 Episode 3, but this time they work together. They are still disagreeing about pretty much everything, but they are finally starting to listen to each other.
The latest episode starts off with a familiar formula. Sam is showcased as the kind-hearted trusting woman, while Eddie is the man who holds a grudge and doesn't forgive anyone.
However, by mid-episode viewers see a new side of both characters making Sam and Eddie even more likable. There are a couple of defining moments in this episode.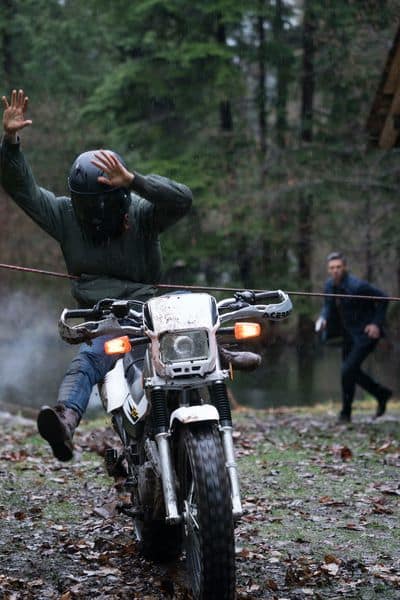 Sam and Eddie both have secrets and are both determined to find out what the other is hiding. They are doing it to be nosy, but it also shows they are taking an interest in each other. The writers are doing a great job of slowly making these two characters become friends.
They tolerate each other right now, but that is changing.
Related: Enjoy UNLIMITED access to thousands of movies and TV shows with Amazon Prime Video. WATCH ANYWHERE. CANCEL ANYTIME!
Monica and Berto have some great scenes together.
There is romantic interest on his part, but she is keeping him at arm's length. However, by the end of the episode, both characters prove they deserve to be part of the agency. His computer skills and her psychology background are crucial to solving the case. 
The case this week was not the focus of the episode which is very interesting.
It is nice to see the writers are trying to switch the formula of the show up a little bit to keep viewers interested. In this instance, it was great. The show was very entertaining tonight.
Sam: Oh road trip! We should get some snacks.
Eddie: We do not need snacks.

Eddie Cibrian and Rachel Bilson continue to entertain as Eddie and Sam.
The play off each other very well. As the characters continue to develop Cibrian and Bilson, make viewers want to know even more about them. These two are proving it takes more than star power to have a summer hit. It takes chemistry and good acting.
Related: Whiskey Cavalier, Grand Hotel & More Get Series Orders at ABC!
Zeus and his super security surveillance skills were back in this weeks episode.
He not only showcases his talents but also shows his softer side when he clues Sam in about the beef between Eddie and Aram, the man who hired them to find his kidnapped son.
Berto: I got this. I am a confident and together dude.
Monica: Hey confident and together dude, do you want to get coffee? Get to know each other a little bit better.
Berto: I a…
Monica: Cool let's go.

Their talk is a pivotal moment for Sam as she learns Eddie is not just a man with a chip on his shoulder.
He is also a man who always does the right thing. Once she learns from Zeus that Eddie turned in dirty cops that were working for Aram and it cost him his job, she realizes part of her has misjudged him.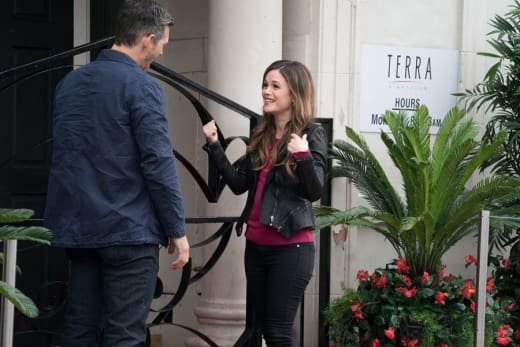 Sam deals with an acting dilemma, and it is Eddie who gives her the sound advice she needed.
Although he has no idea he is giving her advice on her dilemma. His desire to do the right thing regarding the case leads her to do the right thing with an acting job she doesn't want to take. 
Eddie also has a moment when he realizes Sam is more than the annoying actress he is forced to work with. When he thinks her life is in danger, he doesn't hesitate to run to save her.
There is no denying by the way he reacted that Eddie has grown fond of her, even if he won't admit it to himself. But he quickly reverts back to bantering with her when he discovers Sam's secret and shows up on her acting set to make fun of her.
Sam: Is that a broach. I don't really do broaches.
Zeus: You are going to want to do this one. It is going to be our eyes and ears out there.
Sam: Zeus what is up with Aram and Eddie?
Zeus: You will have to ask Eddie.
Sam: He won't tell me.
Zeus: He will when he is ready.
Sam: I'll be retired by then.

One of the greatest moments of the episode is when Sam uses her sleuth skills to find the final clue to solve the case. Eddie tells her good job, and she grins like a child whose parents finally told them they are proud of them. 
In the end, Sam and Eddie solved the case which is par for the course.
However, they also brokered peace between two men who both wanted revenge on each other. It was a different twist even if it did wrap up the case in a nice pretty bow. 
Related: Take Two Season 1 Episode 2 Review: The Smoking Gun
Three episodes in and Take Two keeps getting better.
This light-hearted comedy is now a Thursday night must see and is quickly becoming this summer's guilty pleasure. The creators are doing a great job of keeping the show fresh, entertaining and making people forget it was once referred to as Castle 2.0. 
Sam: Is that what I think it is?
Eddie: It's a fingerprint. They wiped down the room.
Sam: But they forgot the shoes.
Eddie: Nice work.
Sam: Thanks

If you have any thoughts on Take Two Season 1 Episode 3 feel free to share them with us in the below comments section or connect with TV Fanatic on Facebook and Twitter.
You can watch Take Two online with TV Fanatic any time you want!
Rachelle Lewis was a staff writer for TV Fanatic. She retired in 2019..